Rockslide causing grief for businesses and travelers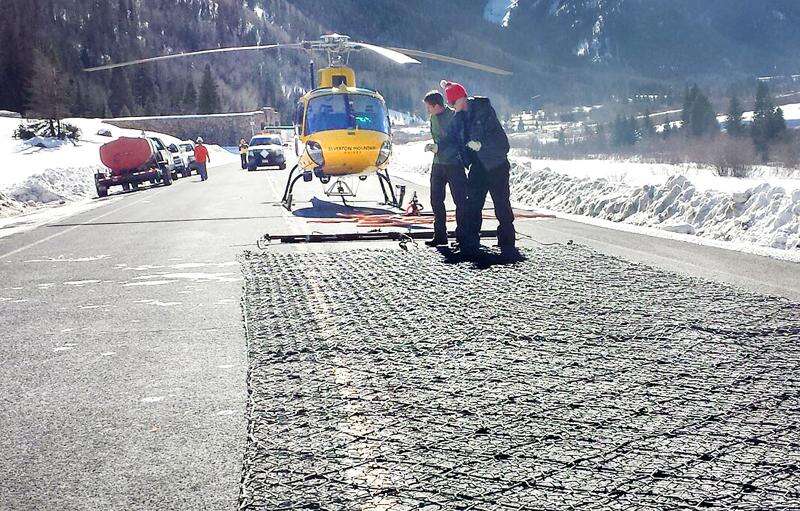 An official with the Colorado Department of Transportation said Wednesday that Red Mountain Pass is closed indefinitely as crews work to stabilize falling rock that first cut off traffic on U.S. Highway 550 just south of Ouray on Jan. 12.
"Indefinitely sounds like a long time," agency spokeswoman Nancy Shanks said. "But we just have to see what each day brings."
Two helicopters, from Silverton Mountain Ski Area and Helitrax, a heli-skiiing business, are laying 40,000 square feet of steel netting Wednesday and today to contain rock in the slide area, Shanks said. Each panel, which resembles chain-link fencing, measures 72 feet by 12 feet, she said.
Each panel weighs 600 pounds, Shanks said. The work will continue into Friday.
The rolled-up panels were trucked to Ironton Park and laid on the closed stretch of Highway 550 to be picked up by the helicopters, Shanks said.
Already in place are 1,500 feet of safety line to allow workers to move downslope to anchor the steel nets. They had been using the safety lines to work their way to boulders that could be loosened and sent hurtling downslope before they fell on their own, Shanks said. Rigging for Rescue of Ouray put the safety lines in place for workers.
Meanwhile, CDOT crews set off 10 30-pound bombs used in avalanche control to bring down debris, Shanks said. The waste covered 200 feet of highway to a depth of 10 inches, she said.
Closure of the pass has inconvenienced individuals and businesses.
Warren Wieboldt, who works in the Silverton Visitors Center, stopped by The Durango Herald offices on Wednesday en route to Montrose for a dental appointment Thursday.
Instead of taking Highway 550 north through Ouray to Montrose for a 60-mile drive, Wieboldt had to come south through Durango to take U.S. Highway 160 to Mancos, then swing north through Dolores, over Lizard Head Pass and then to Montrose.
"It'll be about 200 miles," Wieboldt said. "I have to stay overnight in Montrose tonight and then drive home after my appointment."
Wieboldt said the U.S. Postal Service is detouring to deliver mail. Mail for Silverton arrives in Montrose from the Grand Junction processing center, he said. Under present conditions, one mail carrier delivers to Ridgway and Ouray while another follows the route he's taking to reach Silverton.
Rose Raab, director of the Silverton Chamber of Commerce, said town businesses are being impacted, but she didn't have specific statistics.
"We still have free ice skating and a free ski hill," Raab said. "But after two drought winters and now the rockfall, we hope we don't have to wait much longer."
Jen Brill, co-founder of Silverton Mountain along with husband, Aaron, was blunter.
"We've been patient," Brill said. "But I think we've reached our point of patience."
Silverton Mountain had a lot of no-shows last week, Brill said. Bookings are down, she said, because the resort doesn't give refunds if there is at least one way to arrive there.
Red Mountain Pass, which is the most direct link for Silverton to communities to the north, was closed the evening of Jan. 12. CDOT crews cleared about 1,000 cubic yards of debris from the highway.
But the next day, boulders again rumbled down the slope, which is close to perpendicular, from 900 feet above. A slab of rock about the size of a football field come loose as the result of a freeze-thaw cycle that make slopes unstable.
An average of 2,200 cars travel over 11,200-foot Red Mountain Pass. The pass is closed briefly about once a year, CDOT says.
daler@duangoherald.com
People who would like to travel north on U.S. Highway 550 from Durango to Ouray and points beyond must take an alternate route until rockfall mitigation work is completed by Colorado Department of Transportation crews near Ouray.
The best route is over Lizard Head Pass on Colorado Highway 145: Go west on U.S. Highway 160 to Mancos (27 miles), turn north on Colorado Highway 184 toward Dolores (17 miles), take Colorado Highway 145 over Lizard Head Pass to just past Placerville (75 miles), and take Colorado Highway 62 east to Ridgway, where it intersects with U.S. Highway 550 (23 miles). (To get to Ouray you must go back south 10 miles on U.S. 550.)
The 143-mile route from Durango to Ridgway will take about three hours under good driving conditions.