But BLM says it documented illegal use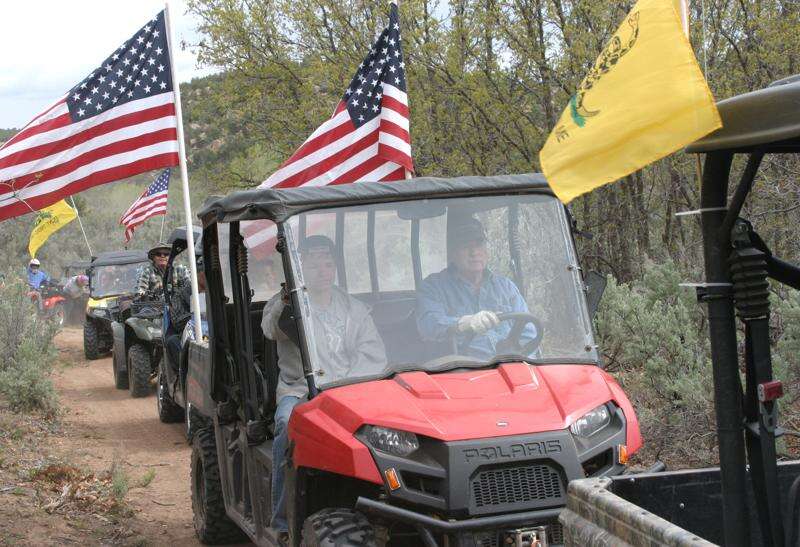 BLANDING, Utah – ATV riders drove at least a couple miles into an off-limits area Saturday to protest the closure of a trail in a popular canyon with ancestral Puebloan artifacts just east of town.
A rally before the ride and the ride itself both went off peacefully Saturday morning. But there were some testy moments at the morning rally at Centennial Park on the southwest edge of town as visitors from outside the area exhorted San Juan County residents to fully flaunt their right to the part of Recapture Canyon in question, located on Bureau of Land Management land and closed to ATVs in September 2007.
Also, a statement issued after the ride from BLM Utah Director Juan Palma said the agency had documented those who rode Saturday into the area closed to motorized use.
"The BLM was in Recapture Canyon today collecting evidence and will continue to investigate," Palma's statement said. "The BLM will pursue all available redress through the legal system to hold the lawbreakers accountable."
About 300 people attended the rally, organized by San Juan County Commissioner Phil Lyman, a self-described libertarian certified public accountant. As children played and shouted on swings at an adjacent playground, Lyman and several others spoke.
Lyman and the locals who talked emphasized that they wanted to keep the rally peaceful, and that they would have to live with any actions taken by anyone at the event, including those who'd traveled from hundreds of miles away to support the cause.
Lyman said the case of the trail closure is being tried by the court of public opinion and in the news media.
"My fear ... is that it's looking like conflict for the sake of conflict," Lyman told the crowd. He talked about growing up in Blanding and living within easy access of the canyon.
"I can't picture Recapture Canyon as a place of conflict," he said. "To see it become the focal point of conflict is very, very painful to me."
Among those in attendance was Ryan Bundy, son of Cliven Bundy. The Bundys recently had a standoff against the BLM, which had rounded up Bundy ranch cattle in Nevada that the agency said were trespassing. The BLM eventually backed down.
Several out-of-state plates were seen, including Montana, Missouri and Wyoming. Some protesters held yellow "Don't Tread On Me" flags or handmade signs, such as "Disband BLM paramilitary units" and "Transfer federal land to western states."
"I believe this is the protest here, and I think we've sent a strong message," Lyman said at the rally. "I have no moral problem with crossing that (closure) line. But I believe it'll cause more harm than good to cross that line today."
Ryan Bundy challenged Lyman and the crowd to take action, to show that the land is the people of San Juan County's, not the BLM's. He brought with him small pamphlets of the U.S. Constitution to hand out.
"I'm glad to be here," Bundy said. "I'm here to support (Lyman), and I'm here to open a trail. If we're not opening a trail, I'm going to get in my truck and go home."
Several others in the crowd challenged Lyman to take a stand and lead those gathered into the canyon.
One man said Lyman's words showed "a language of weakness."
"There's no language of weakness here," Lyman replied. "It's not wimping out. I think it's an intelligent move to do this morning."
Mike Swenson, an ATV activist from Salt Lake City, quickly came to Lyman's defense, saying he was there to support Lyman and backed whatever decision the commissioner made.
Several miles of Recapture Canyon that had been used by ATVs were closed to motorized use not long after a group of locals did an extensive reconstruction in 2005 to make a better route for ATVs. Two local men were fined a total of $35,000 by the BLM. The route was officially closed in September 2007, and at the time, many locals were given the impression it was a temporary closure while the BLM studied the issue.
San Juan County in 2006 and again more recently applied for a right of way for off-highway vehicles in the canyon. The BLM is in the process of doing an environmental assessment, but many locals are frustrated by the seven-year-plus gap for the BLM to make a final ruling.
Two organizations not favored by the gathering were the news media and environmental groups from outside the area, most specifically the Durango-based Great Old Broads for Wilderness, which has been outspoken in its wish to keep the section of trail closed to motorized use.
After the rally, many rode or trucked their ATVs to an access point just below Recapture Dam north of Blanding. From there, it's a little more than a mile on a dirt road to the closed area. San Juan County sheriff's deputies, most on horseback, patrolled the area but did not stop the dozens of ATVers who went through the ungated closure. Lyman and Bundy were among those who went through.
Stefnee Turk, who started the Blanding-based San Juan Alliance in October over several land-access issues, stood at the closure observing. She emphasized that the plan was never to have the rally be this big and attract a large cadre of those from outside the area and the media, which included several Utah TV affiliates and several newspapers from the region.
"We don't want to get any more bad publicity," she said. "We're not heathens. ... We shouldn't be able to go on every single acre."
But, Turk said, when the BLM closes an area that has been used as a road for 100 years, "We have problems."
Blanding resident Anthony Bayles said, "We want to do this the right way."
"A lot of the places getting closed down we've grown up going to," he said. "The ones we think are real important are the ones we want to stick up for."
The BLM says that in its Monticello district there are 2,800 miles of trails and roads open to ATVs. In the Recapture Canyon closure area, there are 14.3 miles of trails closed to ATVs, said Megan Crandall, BLM Utah spokeswoman. The closed area in Recapture Canyon is rich archaeologically and is hallowed ground to Native Americans who are ancestors of the ancestral Puebloans who once lived there.
About half of San Juan County's population is Native American, mostly Navajo.
Part of Palma's BLM statement:
"Regrettably, after a peaceful rally in Blanding, Utah, a number of individuals broke the law by driving ATVs through Recapture Canyon where ancient artifacts and dwellings may have been damaged by the riders.
"As always, our first and most important priority is the safety of the public and our employees, and our actions today reflect that. The BLM's law enforcement presence today focused on recording and documenting individuals who chose to violate the law by traveling into the closure area on ATVs."
Great Old Broads for Wilderness, which has been vocal in its support to keep the canyon closed to ATVs, decided not to come to Blanding to present its side of the story.
"I've had people prevail upon me to reconsider," Director Rose Chilcoat said Friday afternoon. "We felt like we didn't need to add another target."
Upon exiting the canyon at the intersection with U.S. Highway 191, Phil Lyman was asked how he thought the event went.
"It was good," he said. "A beautiful day."
johnp@durangoherald.com. Cortez Journal Staff Writer Jim Mimiaga contributed to this report.