'Paranormal Central' show looks into it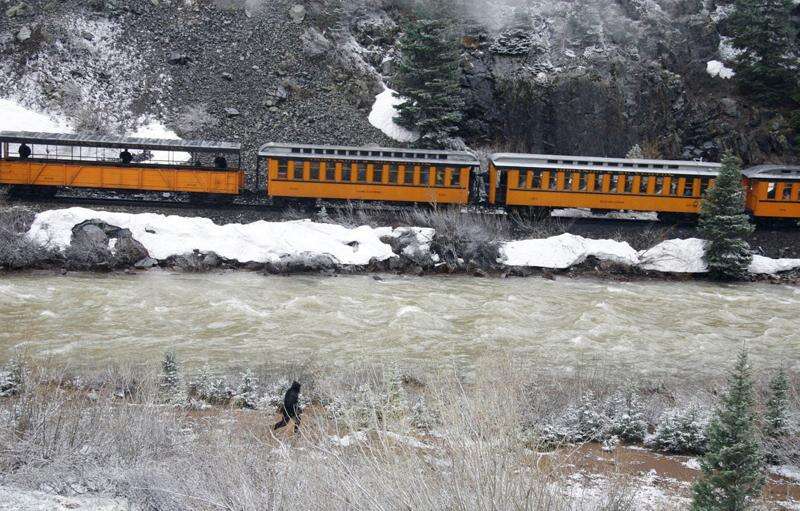 Silverton, with a population of 629, is gaining attention for a possible 630th resident: Bigfoot.
A recent episode of "Paranormal Central" on the Dark Matter Radio Network resurrected discussion about possible Bigfoot sightings in Silverton. Much of hosts Danny Valderrama's and Jeff Gonzalez's debate centered on one photo taken in 2008 that allegedly captures Bigfoot trotting beside the river across from the Durango & Silverton Narrow Gauge Railroad.
In 2010, Rick Lewis, owner of the Bigfoot Central gift shop and the Legend of Bigfoot Museum on Blair Street in Silverton, tried to organize a "Hunt For Bigfoot," an event offering a $1 million award in return for a verifiable photograph of Bigfoot. But the hunt was canceled after skeptical town officials raised questions about "whether it (the event, not Bigfoot) was actually real," reports the Silverton Standard & the Miner.
According to Wikipedia, "Bigfoot" is the name "given to a cryptidape- or hominid-like creature said to inhabit forests, mainly in the Pacific Northwest region of North America. Bigfoot is usually described as a large, hairy, bipedal humanoid. The term sasquatch is an anglicized derivative of the Halkomelem word sásq'ets.
The "Paranormal Central" episode on March 8 involving Silverton – and the photos discussed on it – are mentioned on Art Bell's blog, "Midnight in the Desert."
While the podcast no longer appears available for streaming, a post about the Silverton Bigfoot sighting can be found at http://artbell.com/paranormal-central-bigfoot-report-3-8-2015.
cmcallister@durangoherald.com