Fish count not 'great,' but some trends are up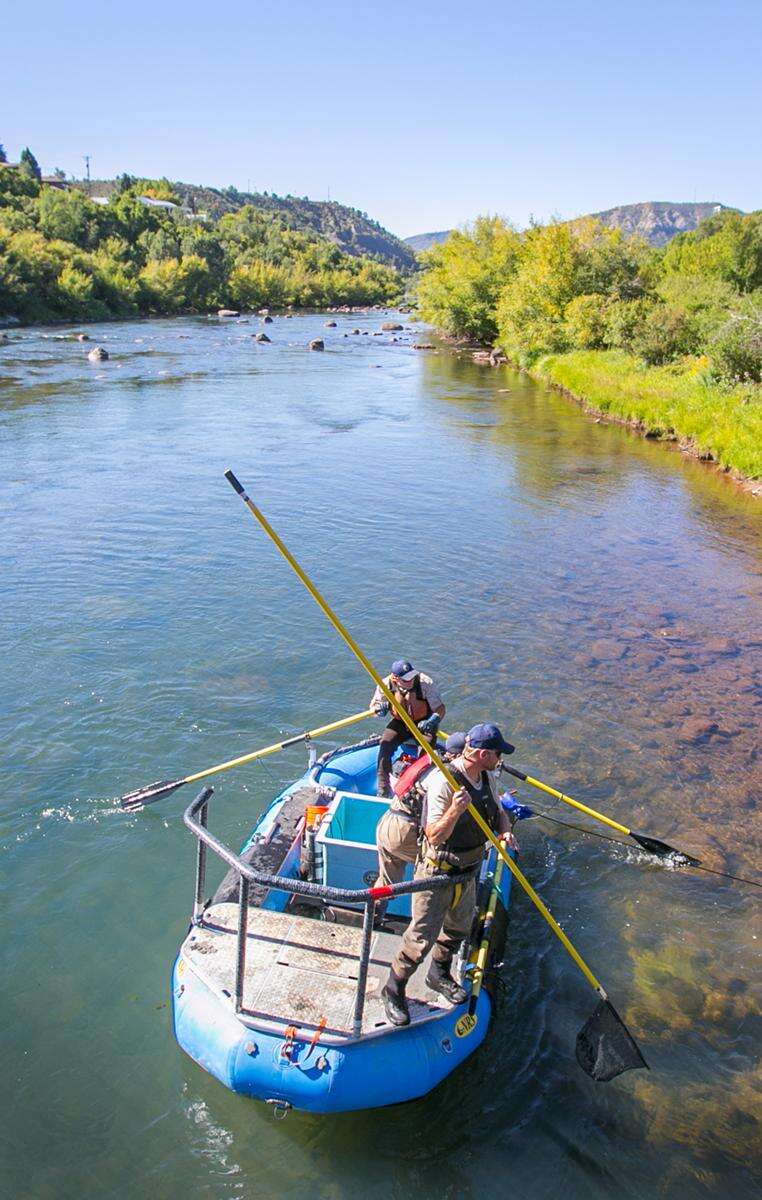 This year's fish count in the Animas River generated results the opposite of what some expected more than a year after a plume of mustard yellow mine wastewater passed through town.
"It's been a really nice fish year," said Colorado Parks and Wildlife aquatic biologist Jim White. "It's definitely been more abundant than years past."
Each year, the Parks and Wildlife department conducts an annual survey of fish populations in different stretches of the Animas River. Recently, crews focused on the portion of the river from the bridge behind Durango High School to High Bridge, near the La Plata County Humane Society.
For more than a decade, fish populations in the Animas have been on a steady decline, attributed to a number of factors, including less water in the river, urban runoff, higher water temperatures and elevated levels of heavy metals.
As a result, Parks and Wildlife stocks about 20,000 brown and 20,000 rainbow fingerlings a year, which usually have a survival rate of 3 to 5 percent, about the state average.
Although White said this year's count didn't indicate a turning point for fish in the Animas, he did say certain population trends are encouraging.
"The good news is we captured twice as many fish of quality size – 14 inches or better – compared to last year, so that's really good," he said.
White said another positive sign was crews caught a lot of 2-year-old brown trout, which means more juvenile fish stocked last year survived winter.
"We haven't seen that recruitment for a while," White said. "We also saw a higher number of larger rainbow trout. We've seen lots of small fish over the years that don't seem to make it through the winter, but this year we're seeing a lot more relative to the past several years."
White said it would take a couple weeks to generate a population estimate, but he expects that number to reach or be very close to the Gold Medal Standard the river currently holds on the 4-mile stretch between the confluence with Lightner Creek and the bridge near Home Depot that contains 60 pounds of trout per acre and at least 12 14-inch or larger trout per acre.
Local fishermen, too, noted the better than usual fishing season, with larger trout, more bugs and quality catches throughout summer.
"Its been one of our better years for sure," said Jimmy Largent, a guide at Duranglers. "We're seeing a lot bigger and healthier fish, and more bugs than we've seen in decades. The whole ecosystem is on its way up."
Cole Glenn, a manager at San Juan Angler, said the uptick in fish has led to a busier season for guides, especially after last year's Gold King Mine spill, which closed the river for eight days and left lingering questions about the river's health.
"We were a lot busier than we were last year," Glenn said. "All last fall it was nothing but call after call after call (about the mine spill). It was endless through the winter, and we were really concerned.
"But once people started making summer plans after a year had passed, and it was out of national headlines," he added, "it seems like it's water under the bridge."
White did not speculate on why certain trends in the fish population were more encouraging this year, saying only the spill, despite concerns, did not have any immediate impact on the trout.
One reason floated by local fishermen is the Environmental Protection Agency's temporary treatment plant north of Silverton, which since October has been treating about 500 gallons of mine waste discharging from Gold King Mine.
However, EPA officials last week were not ready to chalk up a supposed improved fish population as a result of the treatment plant.
"This anecdotal info is great to hear, especially since this particular reach has had a number of stressors to the fish community," Region 8 toxicologist Dan Wall wrote in an email. "However, the agency's water quality experts aren't prepared to say there's a direct causal relationship with EPA treating discharge from Gold King Mine."
He said the EPA anticipates to release the next round of results from data collected in spring and summer in November.
Regardless, much work remains to improve the health of fish in the Animas, White said. Though the one-time blowout event did not have significant immediate impacts, he said the issue of long-term exposure to heavy metals has stunted fish reproduction.
Also, wildlife officials are awaiting test results taken this spring that will show if levels of metals have accumulated in fish tissue over longer periods of time. Kristy Richardson, toxicologist with the Colorado Department of Public Health and Environment, said test results were delayed, and should be available in the coming weeks.
"There is promising news about the current condition of the fishery, even in this first summer after the 'spill," said Trout Unlimited's Ty Churchwell. "With that said, none of this should diminish the fact that we have a major problem in the top of the watershed with draining mines and poor water quality. The Animas gorge below Silverton remains a 'dead' stretch of river, and we have lots of work to do to make this watershed healthy as a whole."
jromeo@durangoherald.com