One- and two-bedroom units would be spread across 12 buildings
Durango City Council this week approved preliminary plans for what could be the largest apartment complex on the north side of the city. Called the North Main Apartments, the project proposes 153 one- and two-bedroom units spread across 12 buildings.
The North Main Apartments have come before city officials several times, and several times it was turned down because more planning was needed in regard to parking, building size, location, drainage, utilities and other design aspects. But the project finally received unanimous preliminary approval by City Council and is on its way to final approval by city staff members.
Mark Meadows, with Durango community development, said the proposed apartments would be the largest residential project on the north side of the city.
"Most of the big stuff is going in south of town, like Rocket Point and the Gauge Apartments in South Fork. So it's good to get something on the north side of town," he said.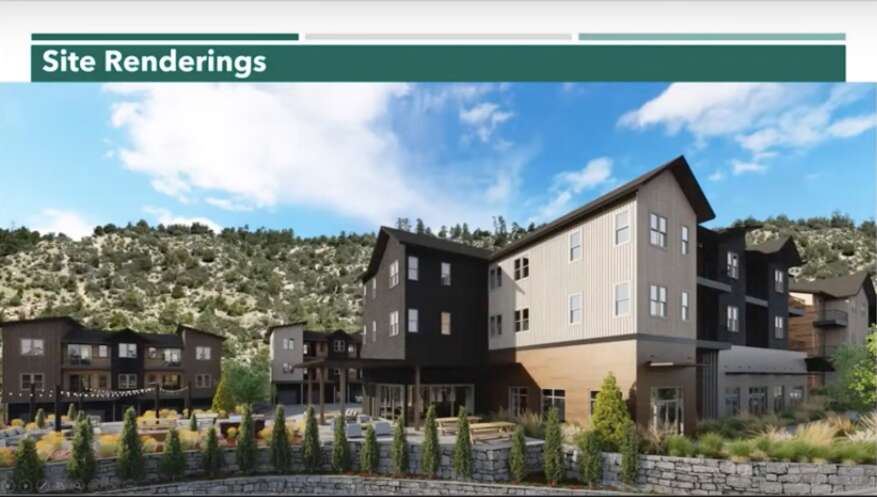 The complex, formerly dubbed the Boxcar Landing, would be located at 3801 Main Ave., on the west side of Main Avenue near the Colorado Department of Transportation offices and just north of the Hampton Inn.
Eva Henson, housing innovation manager for the city of Durango, said housing affordability parameters have not been applied to this particular development.
The apartments will be offered at market rate, although short-term rentals are not allowed, she said. The intent of the development is to target long-term local workers.
Meadows said building height was a concern when the project was originally proposed. Currently, most of the 12 buildings are planned to be between 39½ feet and 41½ feet tall, with one exception for Building A, the largest planned building, that would stand about 50 feet tall as a result of equipment needed to facilitate an elevator.
An existing trail to X-rock will remain intact along with four dedicated parking spaces for trail users, Meadows said. A playground, dog walking area and other nearby amenities are also planned.
Meadows said the owner of the adjacent Hampton Inn hotel expressed concerns in earlier project pitches about runoff from Animas Mountain. Rain causes dirt, debris and other runoff to spill into the hotel's parking lot. The development of the North Main Apartments would actually help that situation, he said, because development would allow for channeling the runoff into the city's stormwater system.
Specific rocks and boulders on Animas Mountain that are hazardous to developments below were identified in a geotechnical study, which was reviewed in a Colorado geological survey, he said.
A "Jurassic Park-style" safety fence is in place to protect properties from the boulders, he said.
He described the apartments' architectural style as "fairly contemporary and typical for Colorado."
Traffic concerns were raised during a Tuesday public hearing about the planned apartment complex.
Meadows said the city received one comment from a Claudia Anesi, who said she is concerned about left-turning movements from 37th Street onto Main Avenue.
West 37th Street is steep, and increased traffic born from the apartments could exacerbate issues there, she said in her comment that was read by Meadows.
Meadows said the city is working with CDOT on an access-control plan, looking at 38th Street to 14th Street, with one goal being to slow down traffic speeds on Main Avenue.
Isabelle Schueller, a Durango resident in the 32nd to 36th streets area, logged into the virtual public hearing on Tuesday to share her concerns about the proposed apartment complex, which focused on problems with turning left northbound from Main Avenue.
"Access just remains a problem," she said.
Williams said the city performed a traffic study for the area, focused on the intersection at Main Avenue where the apartments are planned. The study determined that an additional left turn lane was warranted and it would also protect southbound traffic headed into Durango and right-turning drivers.
cburney@durangoherald.com