High school junior Ethan Bustamante has his eye set on Stanford, Duke or Oxford University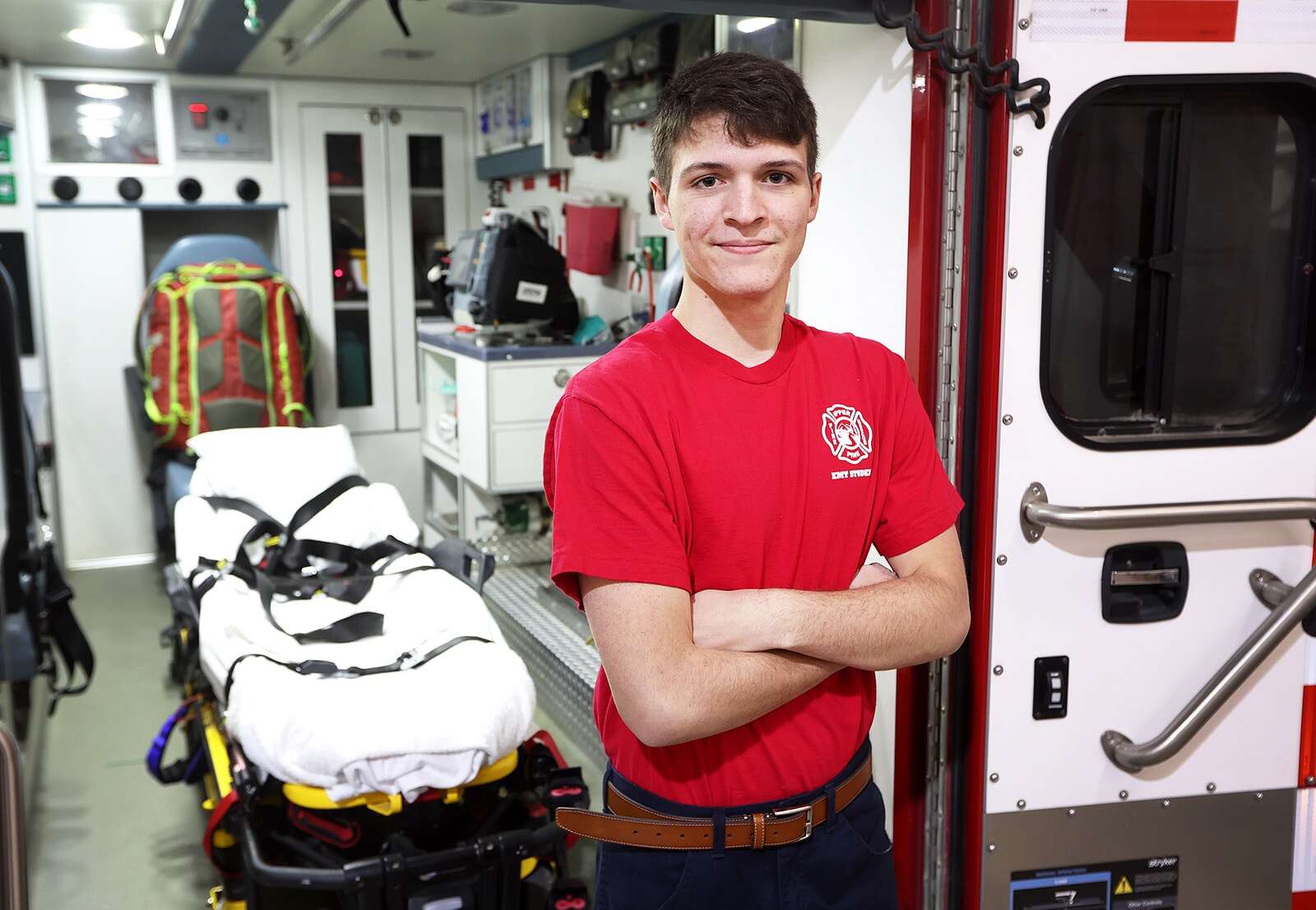 Ethan Bustamante has plans. Many teenagers his age do, but 16-year-old Ethan knows exactly what he has to do to make those plans a reality, and he's been looking toward a career in the medical field for years.
Over the summer, Ethan took an Emergency Medical Technician course through the Upper Pine River Fire Protection District to enhance his academic profile and appeal to potential universities and their medical schools.
"Taking the course was all his idea," said his father, firefighter Richard Bustamante, who works in Durango but commutes from Aztec. "That's what he wanted to do this last summer."
"We run an EMT training program," said Upper Pine River Fire Chief Bruce Evans. "We usually have about eight or nine students. We use federal grant money to run free paramedic and EMT training. We run these classes all the time. He (Ethan) was the youngest kid we've graduated."
Evans emphasizes the advantages Ethan has being a resident from New Mexico and not Colorado.
"In New Mexico, an EMT can be certified at the age of 16," Evans said. "In Colorado, you have to be 18. To take the national certification program in New Mexico, you can be 16. We're trying to get the regulations changed here in Colorado, so high schoolers like Ethan can get an early start on the medical side of their education."
Ethan's father believes his son's interest in medicine goes back 16 years to his traumatic birth at the University of New Mexico Hospital.
When Ethan was born, he had a severe coarctation of the aorta, which is a constriction of the artery, as well as a bicuspid aortic valve, a congenital heart disease. Near death, he was life-flighted from UNM Hospital to Lucile Packard Children's Hospital Stanford, where at just 3 days old, he underwent open-heart surgery to repair the valve.
"The severity of the coarctation has remained a UNM case study for cardiologists," Richard said. "Ethan flatlined several times."
He believes the event is one of the reasons Ethan is so interested in the field of medicine and Stanford University, and Ethan agrees.
"I think that all has something to do with it," Ethan said. "I'm definitely looking at the field of cardiology because of that. I also wanted to be a surgeon for a long time, but it takes so much time. I'm not sure at this point. We'll see."
Ethan is also considering a career as a traveling nurse, a position that caught his eye during the COVID-19 pandemic.
"They travel around the country helping different hospitals," he said. "I would definitely be interested in doing that."
"Ethan aced his PSATs as a sophomore," his father said with a heavy amount of pride in his voice. "We get correspondence from Duke and other universities because of that."
The father and son also know what they're doing this summer.
"We're going to Boston this summer," Richard Bustamante said. "It's this whole correspondence with a young medical leaders conference. It's for the winners of the Congress of Future Medical Leaders Award of Excellence. We got correspondences from Harvard and Yale because of that. We might go visit their campuses if there's time."
According to the National Academy of Future Physicians and Medical Scientists website, The Congress of Future Medical Leaders established the Award of Excellence as a way to help high school students who want to pursue a career in medicine. Attendees to the Boston conference get to interact with Nobel laureates, medical school deans, Ivy League leaders, top professionals in the medical field, award-winning inventors and scientists.
"I'm excited about going and meeting all the people there," Ethan said.
Programs and conferences like Congress of Future Medical Leaders encouraging American youths to aim for a career in the medical field has been steadily growing over the years.
The shortage of health care workers has been rapidly increasing since the late 2000s, according to U.S. News, and officials are looking to recruit students right out of high school.
The Care Forward Colorado Program, using the money from Federal COVID stimulus funding, is currently providing free schooling for students interested in becoming certified nursing assistants, emergency medical technicians, pharmacy technicians, phlebotomy technicians, and medical assistants or dental assistants, as reported earlier this year by The Colorado Sun.
The need for medical personnel, especially EMTs and paramedics, is also the reason Bruce Evans wants to begin teaching EMT courses to Durango and Bayfield's high school students, creating a pathway to those careers once they graduate.
"There is such a need for medical personnel right now," Evans said. "We could employ students by the summer."
Ethan agrees that EMT courses would be beneficial to high school students.
"It would expose kids to something different," he said. "There's really nothing offered in the medical fields in our school unless the student has an outside interest like me. It could be a senior elective."
Now that Ethan has his EMT certificate, he will go through the EMT program in New Mexico and then take a National Registry exam to become an official EMT. He also has to finish his studies at Durango High School, if he's going to be accepted into Stanford or Duke University. He's currently taking all advanced placement classes like AP physics, biology and calculus. He is eligible to graduate early, but he is still assessing all of his options.
"I think about all the doctors preparing us for the disabilities he (Ethan) would have because of the lack of oxygen to his brain when he was born," Richard Bustamante said. "They said he would be slower, and he would have learning disabilities, and it's clearly the opposite of that. He's proven them all wrong."
molsen@durangoherald.com