Hikers being asked to carry jugs up the mountain to water seedlings
Earlier this month, Gary Schroeder coordinated a volunteer effort to plant 300 trees in the Haflin Creek Trail area, but silviculturist Tim Leishman said many of the seedlings are now at risk of dying as a result of the unusually dry climate this year.
"We're looking at anywhere from a 25% to 40% seedling survival rate," Leishman said.
The Haflin Creek Trail, which begins north of Durango along East Animas Road (County Road 250), is part of the Missionary Ridge trails system. Schroeder said the trail had once been a hidden gem in Durango, passing through different vegetative zones with stunning intermittent views of the La Plata Mountains and the Hermosa Valley. But after the Missionary Ridge Fire burned the area in 2002, the vegetation never completely recovered.
"I used to hike there when I lived here in the '80s," Schroeder said. "I moved back to Durango a couple of years ago, and was sad to see that the area had changed so much."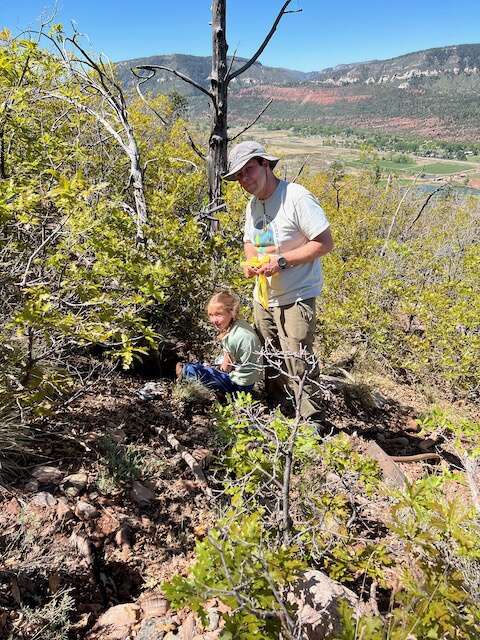 The fire burned hot enough to wipe out most species in the area. The Missionary Ridge trail system once contained ponderosa pines, Douglas firs, piñon pines and junipers, but since the fire, the region has mainly consisted of scattered oak brush.
Schroeder wanted to restore a place that was close to his heart. He contacted Leishman, who said ponderosa pine seedlings were left over from a U.S. Forest Service planting project in the Dolores area.
In a five-day effort, community members and local nonprofit organizations, such as Conservation Legacy, Southwest Conservation Corps, Great Old Broads for Wilderness and Mountain Studies Institute, planted the trees. There were about 10 volunteers in total, ranging in age from 7 to 66. They used a technique known as microsite planting, which is designed to target locations where seedlings will have a better chance of survival, including shaded regions and areas that retain moisture.
Haflin Creek Trail sits on a west-facing slope, meaning the vegetation gets the largest amount of sun in the afternoon, the hottest time of day. This makes the seedlings particularly vulnerable, and many of the new trees are now at risk of dying.
"It's hard to determine a definite survival rate for microsite planting, as opposed to conventional, more commercial planting efforts," Leishman said. "But this drought that we're currently in certainly isn't helping anything."
The challenge is getting water to the trees. Haflin Creek Trail is more than 3 miles long, and ascends about 3,000 feet. The lowest planting area is about 1 mile up the trail, which is about 750 vertical feet from the base.
Schroeder is now organizing an effort to bring water up the trail. He set up a station at the base of the trail with water jugs, and another drop-off station about a mile up.
"The community has been great," he said. "Today, there were about 10 gallons up there. People who were going on hikes would just carry them up the trail with them."
Despite the low projected survival rate, Leishman is optimistic for the long-term effects that the effort will have.
"When we start looking through the lens of climate change, having a seed source of ponderosa pine, which is a fire-adapted species, is a great thing for that fire scar," he said. "Even if we just have a subset that survives, the area will have the potential to regenerate ponderosa pines."
gholst@durangoherald.com