Satellite imagery, ground surveys show robust regrowth of vegetation
As more research is done within the 416 Fire burn scar, it's becoming increasingly clear the blaze that burned in summer 2018 was a healthy fire for the landscape, which is already showing strong signs of recovery.
"It's exciting to see a fire in the contemporary era behave as we'd except," said Michael Remke, a forest health research associate with Mountain Studies Institute. "It's not like the fires we're seeing burn in California."
The 416 Fire broke out June 1, 2018, during a time of extreme drought in Southwest Colorado, and went onto burn an estimated 54,000 acres, mostly in the Hermosa Creek watershed in the San Juan National Forest.
Initially, estimates showed the 416 Fire burned more acres at a higher intensity, raising concern from forest researchers about the prospect of vegetation recovering within the burn scar.
While not completely unnatural, high-intensity burns were historically less common and are considered to occur more frequently in recent years, in part because of a longstanding practice to suppress wildfires and the drying out of the landscape associated with climate change.
But as more studies were completed on the 416 Fire, it became clear the blaze did not burn soils as intensely as initially thought.
A follow-up assessment of the burn scar in November 2018 found only about 3% of the fire burned at a high intensity, while 30% burned at moderate intensity and 54% burned at low intensity. About 13% of the burn area is considered "unburned."
"You just don't have extensive areas of cooked, scorched land," Jonina Vanderbilt, a spokeswoman for the Forest Service, said at the time. "It really is a mosaic burn when you look at the map, and that's really good news."
Satellite imagery
More recently, a study that looked beyond just soil damage and took into account vegetation, such as the tree canopy and shrubs, found much of the same.
Seth Bogle, a remote-sensing analyst who works as a contractor for the Forest Service, said the Monitoring Trends in Burn Severity program tracks fire recovery by taking satellite images before and after fires.
"We look at an image after the first growing season, then look at an image before the fire, and determine where was the largest change," he said.
The MTSB program this summer released results for the 416 Fire, which shows satellite imagery taken in September 2019, more than a year after the fire, compared with imagery taken in September 2017.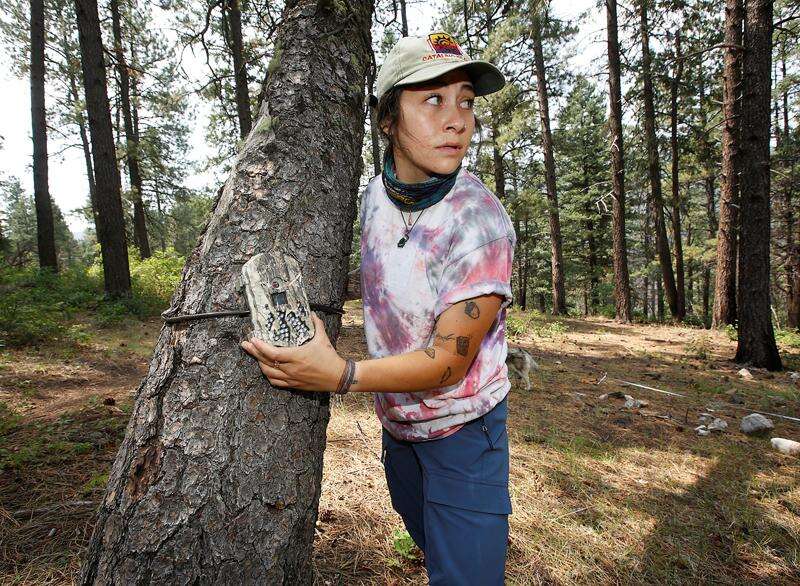 In all, the MTSB survey found the 416 Fire burned at about 6% high intensity, 25% moderate and about 50% low. About 20% of the area was found unburned.
"Most people were concerned it was an uncharacteristically severe fire," said William Baker, a Durango resident and an emeritus professor at the University of Wyoming who studies fires.
"But (this study) suggests this was not an unusually severe fire. It was within the range of fires that have occurred historically and is probably at the low end of most fires that have occurred in this sort of landscape."
Indeed, groundwork within the 416 Fire burn scar corroborates the studies.
Vegetation returns
Fire ecologist and Fort Lewis College professor Julie Korb said monitoring research has found productive revegetation on the burn scar, with Gambel oak, shrubs and select bushes returning fast.
Korb's students this summer set up their own research projects to look at how certain plants respond to fire, as well as how wildlife such as deer and elk are now using the landscape after the fire.
"We're seeing really good, healthy generation," Korb said.
Mountain Studies Institute has also been leading long-term research plots, Remke said.
The most obvious trend researchers see, he said, was that the 416 Fire had minimal burning into tree canopies. With about 70% of trees still green, that means they are likely to survive and produce seeds for future regeneration.
"That really shows us the 416 Fire is not out of line from historical fires in these landscapes," he said.
It's not all good news: Rapid Gambel oak spread could slow tree regeneration. And on steeper slopes, like along Tripp Creek, vegetation was scorched, leading to flooding that has previously killed fish and caused property damage.
The firefighting effort in 2018 cost an estimated $40 million and lasted weeks to keep the fire from destroying homes and private property.
But for the most part, the 416 Fire was healthy burn, Remke said.
Bud made a difference
The main reason why a fire which broke out during an historic drought was able to benefit the forest, he said, was because a tropical wave off the west coast of Africa, which traveled westward into the Pacific Ocean and north along the west coast of Mexico, turned into a strong storm system that made landfall June 15.
Hurricane Bud arrived two weeks after the fire sparked and put some much needed moisture on the ground, slowing the fire's spread and allowing firefighters to make serious gains on containment.
"The drought was so bad, it's easy to forget that significant rainstorm," Remke said. "That moisture really helped make the fire what it was. It's really remarkable."
Korb added that a strong 2018-19 winter season for snowpack also aided in allowing for vegetation to reappear.
"A lot of that moisture allowed the understory to regenerate," she said.
Korb said four factors play into forest recovery: burn severity during the fire; the type of vegetation that burns; precipitation that arrives; and the slope of the hillsides.
For the 416 Fire, these factors worked out, unlike for the Missionary Ridge Fire in 2002. By comparison, about 30% of the 70,000 acres burned in the Missionary Ridge Fire burned at a high intensity.
Baker said continued studies on fires in the region are important, especially as more blazes burn year over year, because not all fires are catastrophic or bad for the landscape.
"We're seeing an awful lot of fires across the West," he said. "But that doesn't mean we're going to see the same trends here locally in the San Juan region. It's very important we look at what's occurring here."
jromeo@durangoherald.com