Sport's association launches youth clinics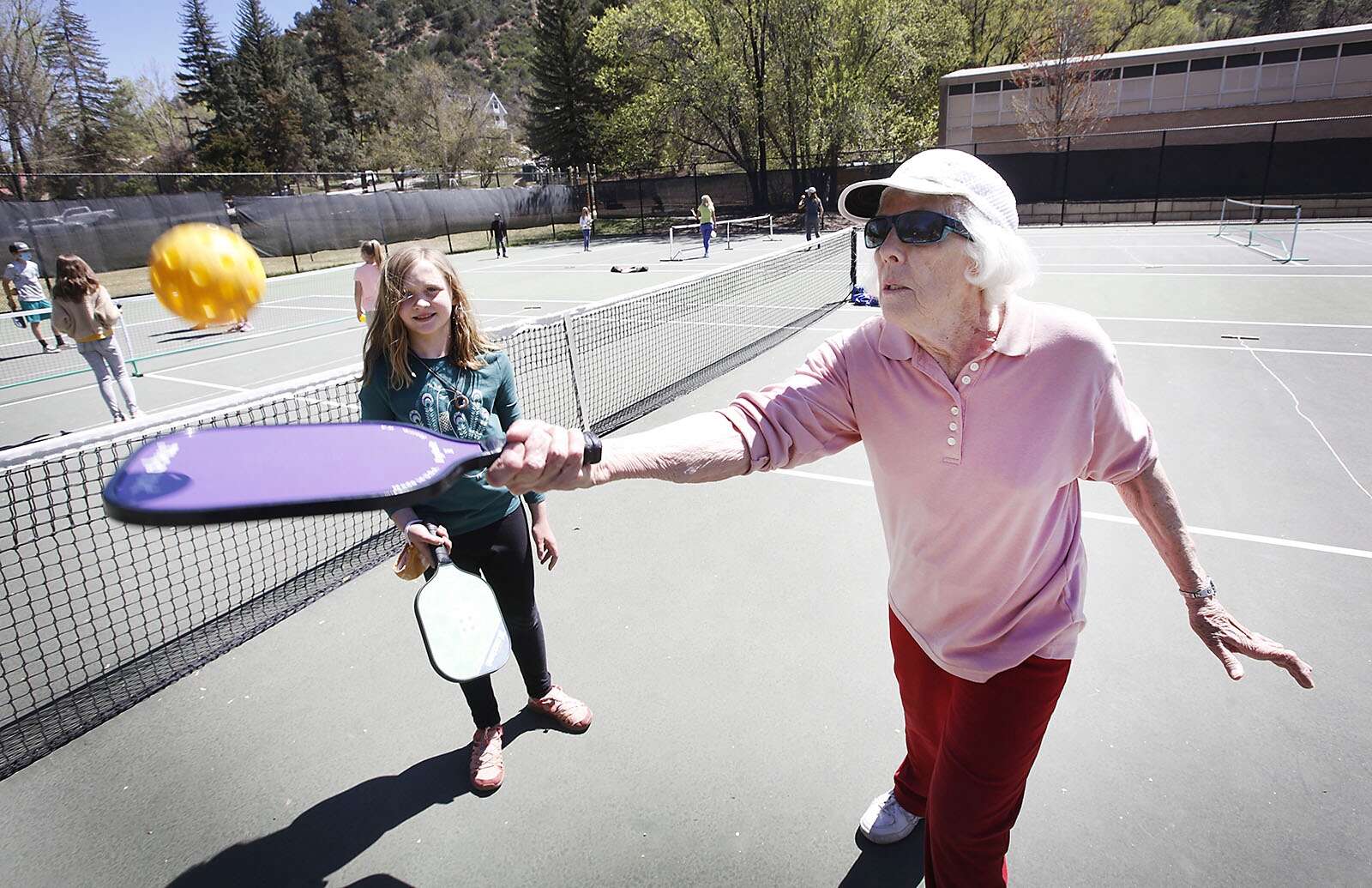 Mary Ann Crist, known as a "vivacious" 89-year-old, recently spent a week teaching the sport to dozens of racket-bearing Durango Montessori School students as part of a new youth clinic series offered by the Southwest Colorado Pickleball Association.
"As a physical education teacher, I enjoy working with all ages in sports or whatever that they have fun with," Crist said. "That's why I keep doing this."
The sport, created by three dads in 1965, combines elements of tennis, badminton and pingpong. Named either after a boating term or a dog called Pickle, it involves paddles, whiffle balls and a specialized court with a zone called the "kitchen."
Before Crist moved to Durango, she spent her time teaching tennis and pickleball at a senior center through Denver Parks and Recreation.
Around 2010, she realized Durango people of all ages would like pickleball and soon fashioned pickleball nets out of volleyball nets and lined the floors of the Durango Community Recreation Center with tape to mark the sport's courts.
That's when the sport really started to become popular – and occasionally controversial when sharing court space with other sports. In 2016, the Southwest Colorado Pickleball Association had six members; in 2020, it had about 150, according to the association.
Last year, the pickleball association began kicking around the idea of youth clinics, but the COVID-19 pandemic delayed its plans.
"We wanted to reach out to the local schools to start getting kids playing pickleball because it's such a great family sport," said Shonny Vanlandingham, who heads the association's community outreach committee. "Kids can play with their parents and even with their grandparents. ... It doesn't matter how old you are, or your size or your strength."
Crist even brought Vanlandingham into the sport.
"She's just a beautiful person. You can tell she has a passion for teaching," Vanlandingham said.
The Durango Montessori School, which prioritizes connecting their students with a variety of dynamic activities, was the perfect partner.
"At Montessori schools, we celebrate diversity, and I think that's ingrained within our culture," said Jessica Miller, lead teacher for upper elementary. "Being able to connect with this diverse sport in our community that isn't necessarily mainstream, it gives our kids the opportunity to experience something that is not mainstream."
Earlier this month, a group of first to fifth grade students lined up to learn the sport with Crist. Almost 30 students enrolled in the free two-day clinic, which the association says can be adapted for other school groups in the future.
Crist's goal for the clinic was to give students an introduction to a sport they can play for their whole lives.
"If they can hit a few balls where they aim them and have some success in their goals, then they can carry that over into any sport they want but still have pickleball in their background," she said.
She also sees the sport as an intergenerational pastime. She has seen older players teaching younger people how to play. Not only has she spent the last 15 years practicing her strokes and strategy, she has also gained friendships through the sport, Crist said.
"We go from generation to generation helping younger people know what to do," she said.
For Miller, the clinic is a way to introduce students to a new, unique sport, and to get them outside and engaged in a challenging activity. It's a lesson in brain-body coordination, she said.
Vanlandingham said the association wants to get more kids and families involved, in part to help grow the sport. Last year, it hosted the first tournament at Durango High School and raised about $1,500 for the high school sports fund. She sees more tournaments and pickleball courts in Durango's future.
"I just want them to see that, here is a game that they can gather to play that's not so organized as school sports," Crist said. "They can go just say, 'Who wants to go over to the pickleball courts?' and the neighbors go with them. That's what I enjoy watching."
smullane@durangoherald.com