Local education effort 'an amazing success story'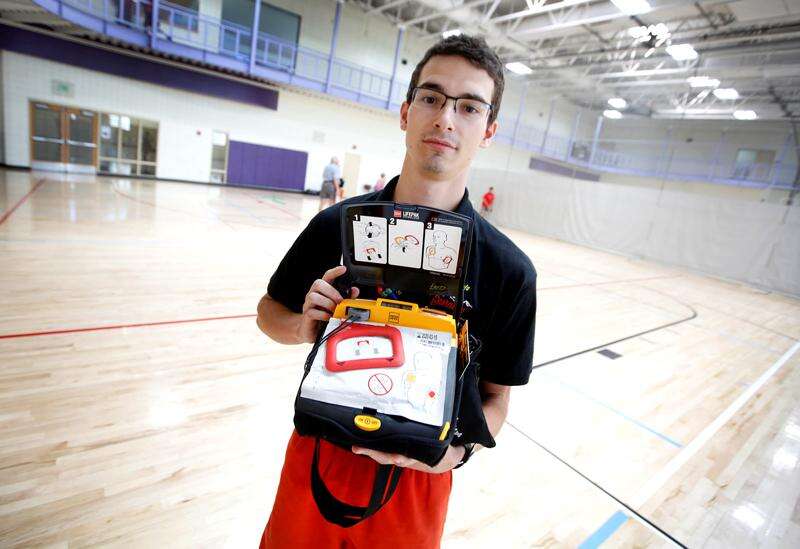 Doug Close, a 63-year-old Durango native, was in the middle of a game of pickleball at the Durango Community Recreation Center on the evening of June 21 when he started to feel faint.
"I went down and put my hands on my knees, and all I remember was seeing a (fuzzy) black and white TV screen," Close said. "And then I hit the ground."
A fellow pickleball player who Close met that night immediately recognized Close had gone into a sudden cardiac arrest and began chest compressions while emergency personnel were notified.
Zach Earles, a 20-year-old head lifeguard at the rec center who also volunteers for Durango Fire Protection District, was at his lifeguard stand when an emergency radio call came in at around 7:45 p.m.
Instinctually, Earles put another lifeguard in charge of the pool, grabbed a first-aid kit and an automated external defibrillator and ran into the gym, where Close was on the floor, not breathing and without a pulse.
With DFPD on the way, Earles instructed a bystander to continue chest compressions while he set up the AED. After the first shock, Close showed no signs of life, and Earles went back to chest compressions.
After about 20 to 30 compressions, Close "just popped up," Earles said.
"It was pretty unbelievable," Earles said. "I've done CPR quite a few times, but this is the first time it's brought someone back."
Minutes later, members of DFPD arrived to take over and eventually transfer Close to Mercy Regional Medical Center for further care. He was released four days later.
"Luckily, Zach was there and had the training," Close said. "I was at the right place at the right time."
A successful program
This scenario, according to emergency personnel, is a "classic save" in what they call the "Links in the Chain of Survival" – a term used for a series of actions, that if properly executed, greatly reduce the number of deaths associated with cardiac arrest.
And in Durango this year, the survival rate for out-of-hospital cardiac arrest is far surpassing the national average.
"We're so excited," said DFPD Battalion Chief Scott Sholes. "It's phenomenal how successful our program has been."
Sudden cardiac death – a sudden, unexpected death caused by the loss of heart function – is the largest cause of death for adults in the U.S., accounting for about 325,000 deaths every year.
According to the American Heart Association's Heart and Stroke Statistics from 2015, a person who undergoes a sudden cardiac arrest has a survival rate of about 10 percent.
But this year in Durango, the survival rate has been well over 50 percent, and in just the last two months, every patient – about five – that experienced a sudden cardiac arrest has survived.
"Time will tell whether we'll see that rate increase or if we're riding on lucky streak right now," Sholes said. "But I think it's a combination of both, honestly. The system is working."
Educating the public
In the early 2000s, emergency personnel in Durango started to look at ways to educate the public about how to properly respond to a cardiac arrest and created the nonprofit Heart Safe La Plata.
By the end of the decade, Sholes said the robust educational effort worked. In 2009, the International Association of Fire Chiefs awarded Durango Fire Protection District the "Small Community Award" for communities "that have used creative approaches to implement or maintain public-access defibrillation programs within the communities they serve."
Bills Koons, an EMT paramedic and Heart Safe La Plata coordinator, said the program offers classes for businesses and schools, as well as CPR and first-aid classes on the first and second Wednesday of every month.
Koons said there are about 360 AEDs in La Plata County, and emergency personnel would like to see that number continue to grow, especially in highly populated areas. Businesses can purchase AEDs through Heart Safe La Plata for about $1,400.
And through Heart Safe La Plata, an average of 1,600 people a year take some sort of CPR/AED class. Most of those people are locals, Sholes said, and some are taking it for the second or third time.
All this, Sholes said, contributes to a highly educated and alert public that can keep each other safe.
"It's an amazing success story for us," Sholes said. "We love seeing all the hard work pay off and lives saved. And that's what we're seeing."
How the chain works
The "Links in the Chain of Survival" goes something like this:
If someone finds an unresponsive person, before anything else, call 911 or get someone else to call so that someone can attend to the patient, first checking to see if the patient is breathing by tilting the head back to open the airway.
Then, if the person is not breathing, start chest compressions (to the beat of "Stayin' Alive"). New methods show it's better to continue compressions rather than stopping to give breaths.
All the while, someone should be tracking down an AED. Once it arrives, follow the instructions and voice prompts on the device, which will ask the caregiver to remove the patient's shirt and attach pads to the chest. The AED will then analyze if a shock is necessary.
After the shock, if the person is still unconscious, continue chest compressions until paramedics arrive. Koons said CPR started right after unconsciousness can keep a person alive for an hour or so. And he added, there's no liability.
Once paramedics reach patients, they are usually transferred to Mercy. There, Dr. Alex Fraley, medical director of the catheterization laboratory, said staff members have already been alerted and prepped care for the patient.
"It's a really slick operation with a lot of work toward integration," Fraley said. "We're especially blessed here by having a very well-trained group of individuals who are really passionate."
Close meets his savior
Close said he turned the corner Tuesday, feeling good for the first time since his cardiac arrest nearly a week before. He said a scan for blood clots showed his heart is healthy, it's just not "firing the way it needs to be firing."
"We don't know what the problem is yet," he said.
Shortly after his release from the hospital, Close and his wife, Kathryn, went to the rec center to meet Earles. Since he was unconscious at the time, he technically never met the person who played a major role in saving his life.
"I wanted to meet him personally," Close said. "I thanked him and gave him a hug. That's all you can do."
jromeo@durangoherald.com
Heart Safe La Plata will offer basic first-aid and CPR classes in July at Durango Fire Protection District Station 1, 142 Sheppard Drive, in Bodo Park.
On July 5, a basic first-aid class will be held at 3 p.m. and an adult CPR class will be held at 6 p.m.
On July 12, CPR for health care providers will be held from 6 to 10 p.m.
To sign up or for more information, email classes@heartsafelaplata.org, call 799-3260 or go to
www.heartsafelaplata.org
.