Resurgent Wolverines host red-hot Scorpions
Bayfield and Farmington both know what it is like to be on the wrong end of a lopsided game against the Durango Demons this year. Both high school football teams recovered well from their Demon destructions, though, and now the Scorpions will visit the Wolverines for a homecoming showdown in Bayfield.
Fresh off a season-changing 28-10 win in the Class 2A Intermountain League opener at Alamosa, Bayfield (2-3) is set to host New Mexico Class 5A Farmington (5-1) at 7 p.m. Friday at Wolverine Country Stadium, where the Wolverines have yet to win this season after having a program-record 24-game home win streak snapped Week 1 by San Juan out of Utah.
"We've seen a young team that's taken their licks, but they're getting better every single week," FHS head coach Jeff Dalton said of Bayfield. "You can see it on film, and we're not taking them lightly even though they struggled early. They looked like a completely different team last week, and that's the team we're preparing for is the one that showed up in Alamosa."
Last week, Bayfield got four touchdowns out of sophomore Cael Schaefer, who also had an interception in the game. Schaefer leads the Wolverines with 446 yards and seven touchdowns on 88 carries this year. He also has added a team-high 66 receiving yards and another TD on four receptions. In the win at Alamosa, Schaefer benefited from the lead blocking of fullback Brecken Espinosa as well as the return of some key players on the line.
"The Scorpions are very athletic this year," Schaefer said after the win in Alamosa. "They've got a lot of kids playing from my age group, and they're a good football team. We've got to go in, same mentality or even better than we had this week and just execute better, play more physical."
Crosby Edwards and Dillon Vroman lead the Wolverines in receptions this year with five each from quarterback Isaac Ross, who has thrown for 226 yards, one TD and three interceptions while the sophomore has completed less than 30% of pass attempts.
"We've just got to get our run game established and it opens up our whole offense," Ross said after last week's win.
Two weeks after Farmington fell 53-13 at home to Durango, the Scorpions returned to the field and thumped Rio Grande 38-6. So far this season, FHS has averaged 40 points per game but has been beatable with a defense that has allowed 28 points per game.
BHS also has allowed 28.6 points per game this season. But, in the two games surrounding the 55-0 loss to Durango, the Wolverines have held Aztec to 16 points and Alamosa to only 10. Bayfield fell 16-14 to Aztec, while the Scorpions held on to beat the Tigers 56-33 this year.
FHS quarterback Caleb Carrillo, a junior, has been a force this year. He has thrown for 1,811 yards and completed 62% of his passes for 19 touchdowns, though he does have nine interceptions. He has a pair of go-to receivers in sophomore Chance Carrillo, who has 553 yards and six TDs on 34 receptions. Thomas Montoya has come out of the backfield to haul in 42 passes for 506 yards and two TDs.
Montoya also has six rushing scores this year to go with 453 yards with an average of 6.2 yards per carry.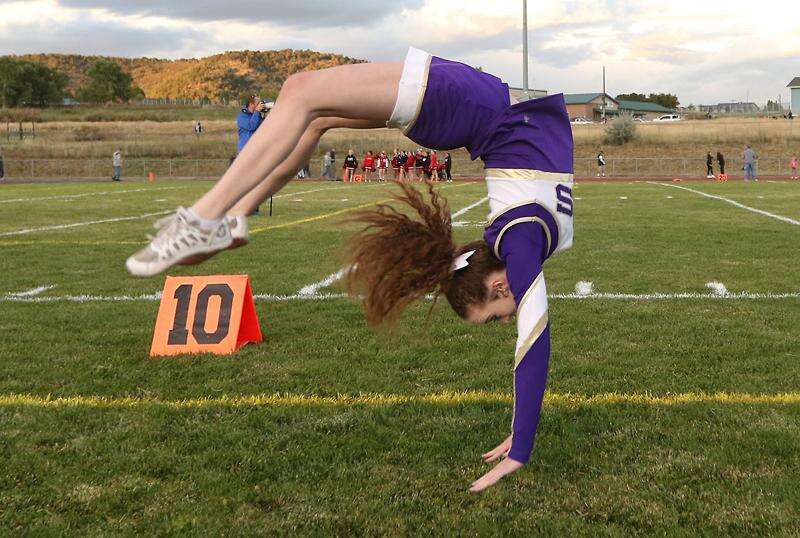 All of the Bayfield secondary will have to be on alert against the Scorpions, though. Six different FHS receivers have caught multiple TDs this season, and junior Max Montoya has another five receiving scores while Ethan Thomas has three.
A sustained pass rush will be key to homecoming success for BHS. Senior John Foutz has led the way with 60 tackles, while Hunter Bayles has four sacks and Ethan Morris has three for a BHS defense that has 11 sacks this season.
"We've just got to come up with something that's going to stop them," Edwards said of Bayfield's defense. "Farmington's a really good team, they always are, and they're going to be gunning for us after we beat them last year. We're really going to have to work."
If the Wolverines are going to be successful, it's going to come on the legs of Schaefer and the back of a historically stout defense that last year helped BHS beat Farmington 54-13 in Farmington in the first meeting between the two schools since 1947.
"We try not to emphasize that stuff too much. We just want to play football," Dalton said when asked if his players had talked about last year's defeat. "But they're teenagers. It's definitely in the back of their minds. Not a whole lot of guys played last year, and a lot were watching from the sideline. Now, they definitely want their shot at Bayfield."
Pine River Times sports writer Joel Priest contributed to this report.
jlivingston@durangoherald.com
Who:
Farmington (5-1) at Bayfield (2-3)
What:
High school football
When:
7 p.m. Friday
Where:
Wolverine Country Stadium, Bayfield
Listen Live:
KPTE 92.9 FM, KLJH 107.1 FM
Twitter:
@BrendanPloen