Across the state, blue counties are getting vaccinated at higher rates than red ones
When Gov. Jared Polis last week burst onto the screen during his regular livestreamed news briefing holding a giant novelty check to announce a sweepstakes aimed at boosting coronavirus vaccination rates in Colorado, it was a reminder of how he has become the face of the state's pandemic response.
"Rather than gamble on getting COVID," the governor barked in the manner of an over-caffeinated game show host, "let's take a chance on winning a million dollars!"
But all across the state, there is now ample evidence of the limits to having the state's Democratic governor serve as its vaccine promoter-in-chief – no matter how enthusiastically he pitches.
Partisanship has become one of the best ways to guess whether a county is doing well or lagging behind at vaccinating its population in Colorado, confirming months of polling predicting just that. Counties that went heavily for now-President Joe Biden, a Democrat, in the 2020 election have some of the highest vaccination rates in the state. Counties that went heavily for former President Donald Trump, a Republican, in 2020 have some of the lowest.
In Colorado in 2021, how you vote is how you vax.
"It shows up in just about every poll where they ask about vaccines and ideology," said Joe Hanel, director of communications at the nonpartisan Colorado Health Institute who has examined the partisan dynamics of coronavirus vaccinations. "It looks to me like it's one of the more reliable predictors of who is saying they either don't want to get a vaccine or never will."
The Colorado Sun analyzed data on both vaccination rates and the 2020 election. Biden won the state with 55.4% of the vote in 2020. Of the state's 64 counties, 24 went for Biden and 40 went for Trump.
As of Monday, slightly over 61% of the state's vaccine-eligible population – those 12 or older – had received at least one dose of a coronavirus vaccine. But the geographic and partisan divide in vaccinations is striking.
Of counties that voted for Trump in 2020, only two – Mineral and Douglas – have coronavirus vaccination rates higher than the statewide average. Of counties that voted for Biden, 10 have vaccination rates below the statewide average.
Nine of the top 10 counties in the state for vaccination rates voted for Biden. Twenty-nine of the bottom 30 counties for vaccination rates voted for Trump.
The roots of GOP vaccine hesitancy
Like a prophecy come true, this is a schism that had long been foretold.
Since last summer, when the earliest polls about Coloradans' willingness to get a coronavirus vaccine were conducted, a partisan divide has been evident. An AARP poll from early September showed more than half of Republicans said they did not want to receive a coronavirus vaccine – while more than half of Democrats said they did. A poll commissioned by the Colorado Health Foundation in September showed 85% of Democrats said they intended to get vaccinated, compared with 52% of Republicans.
And the pattern hasn't really changed much since then. When the GOP pollster David Flaherty surveyed Coloradans in February and asked whether they intended to get a coronavirus vaccine, nearly 88% of Democrats said yes. Only about 29% of Republicans did, while 57% of Republicans said they would not. About 57% of unaffiliated voters said they would get vaccinated.
People who voted for Trump were even less inclined to get the vaccine, with 64% saying they didn't want to be vaccinated. And people living in rural areas also showed heavy skepticism – 66% said they would not get a shot.
When Flaherty asked people in the online survey why they wouldn't get the vaccine, most Republicans expressed misgivings about the speed at which the vaccines had been developed and concerns about unknown long-term side effects. But some repeated misinformation about the vaccines or showed a general distrust of government, especially one now by a political party different from their own.
"(I) think it's a big sham that was created by the Democrats for control," wrote one survey respondent, identified as a middle-aged man living in a small town.
Hanel with the Colorado Health Institute said the trends in Colorado match those nationwide, with Republicans far less likely to get vaccinated than Democrats. There has long been a strain of vaccine hesitancy among some conservatives, Hanel said – with Republican hesitancy often focused on conservative beliefs in individual liberty. But now that partisan division threatens to undermine efforts to end the pandemic for good.
"The way we're going to stamp out coronavirus or at least make it a manageable everyday threat is to get a lot of people vaccinated," Hanel said.
Finding a solution is not so simple, though. Democratic politicians won't cut it as messengers to sway vaccine-hesitant Republicans. Neither will national figures who have become politicized during the pandemic – like Dr. Anthony Fauci at the National Institutes of Health. Not even Trump, who undermined public health efforts to fight the pandemic but who was quietly vaccinated in January and has since urged his supporters to get vaccinated, appears to have had an impact.
"The further we go into the vaccination process, the more passionate the hesitancy is," the Republican pollster Frank Luntz told The Washington Post in April following a focus group examining GOP vaccine hesitancy. "If you've refused to take the vaccine this long, it's going to be hard to switch you."
But Hanel said there is one kind of person who might be able to break through.
"The family doctor is the most trusted messenger," he said. "And that pretty much holds true for a lot of other groups, too."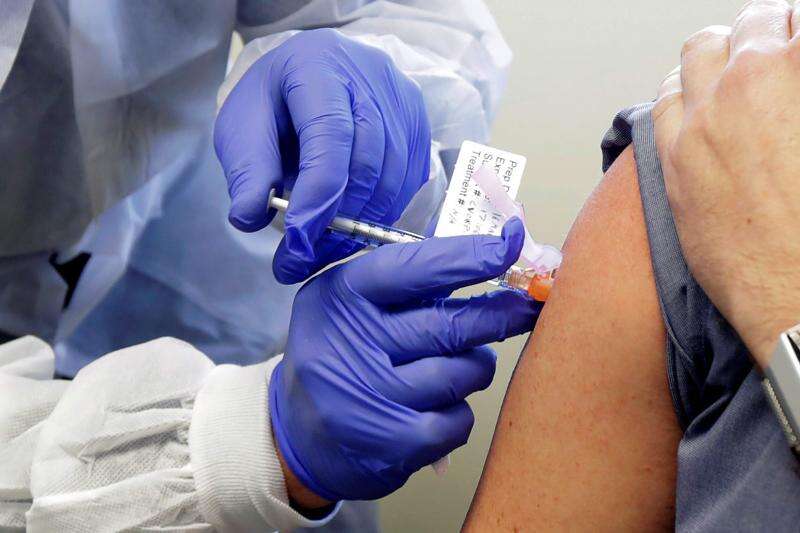 On-the-ground complexities
With only 29% of its eligible population vaccinated, Cheyenne County – on the state's Eastern Plains – has the fourth-lowest vaccination rate in the state, according to numbers from the Colorado Department of Public Health and Environment.
It also is one of the more right-leaning counties in Colorado. More than 87% of the votes in the county during the 2020 presidential election were cast for Trump, the second-highest percentage in the state. Around 1,800 people live in the county.
Kelli Adamson, director of the county's public health department, said the reasons for the low vaccination rate are complicated, though. Politics plays a role.
"I think we are a very conservative population," Adamson said. "None of us like being told what to do."
But convenience is also potentially an issue. The state lists just one vaccine provider in the county. Because the county lacks the ultracold storage needed for the vaccine made by Pfizer and because of production issues with the Johnson & Johnson vaccine, the only vaccine available in the county is the one made by Moderna – which requires two shots and takes the most time to get from the first shot to full immunization.
Adamson said she's heard a lot of concern from residents that the vaccines were rushed. But with so few medical providers in the county – when the county's lone emergency room doctor contracted COVID-19, it wreaked havoc – it's much tougher to have the one-on-one conversations that might change minds.
And then there is a bit of a pandemic paradox: Despite having one of the lowest vaccination rates in the state, Cheyenne County likely has some of the highest rates of immunity to the virus, at least for the time being.
The state's COVID-19 Modeling Group has been estimating immunity rates across the state by combining vaccination rates with a projection of how many people are immune because they already had a coronavirus infection. The team then reports the results by region, to try to smooth out any data anomalies that might occur in counties with small populations.
As of the most recent report, published in early May, the state's East Central region had the highest percentage of people estimated to be immune – nearly 55%. The region, which includes Cheyenne County, also had the lowest vaccination rate and the highest estimated prevalence of COVID-19. One out of every 32 people was estimated to be infected and capable of spreading the virus.
State health officials have been pointing to these kinds of numbers for weeks as a way of trying to boost interest in the vaccine.
"We continue to see that the communities in Colorado where we have the highest infection rates are the communities where we have the lowest vaccination rates," Dr. Rachel Herlihy, the state epidemiologist, said during a news conference last month.
But Adamson said, out in Cheyenne County, the high prevalence of the virus can become an argument not to get vaccinated for some people. They think the vaccine isn't necessary, even though health experts recommend that people who have had COVID-19 should still get vaccinated to make sure their immunity is solid.
Still, all in all, Adamson feels pretty good about how the county is doing.
"We've had a better turnout for vaccinations than I anticipated," she said.
The Colorado Sun is a reader-supported, nonpartisan news organization dedicated to covering Colorado issues. To learn more, go to coloradosun.com.