City of Durango grant programs empower artists
Maddie Sanders breathed new life into the intersection of Main Avenue, 14th Street and Camino del Rio last year.
With each stroke of yellow and red paint, she turned a mundane retaining wall into a canvas pulsating with vibrant energy.
Her mural at one of Durango's busiest intersections features a red and black horned serpent that gracefully winds along a radiant yellow background.
"It's a piece that makes you stop and think," she said. "Murals are a way of bringing the community together and starting conversations."
The mural is titled "Uepucase" (wee-bo-juh-ze), which means "Master of the Water" in Muscogee. She said the water serpent appears in many Native American mythologies and is believed to protect the Earth.
Sanders, 24, grew up in Tahlequah, Oklahoma, and has been an artist her whole life. Over the years, she has practiced various art forms but has become known in Durango for her large-scale murals featuring bright colors and Indigenous culture.
"I'm Muscogee Creek and Mohave, so something that I really wanted to do was create an Indigenous presence in the contemporary art scene in Durango," she said.
Sanders' brush strokes have adorned walls across Oklahoma and New Mexico. She graduated from Fort Lewis College in 2021 and completed her first mural in Durango at the college arts building. She recently finished a mural at Manna soup kitchen in June.
Sanders is able to pursue her passion for art through the city of Durango's grant programs. In 2022, she applied for the Arts and Culture grant, receiving $10,000 to paint "Uepucase." She also applied for the Durango Creates grant and received $5,000 to paint the Manna soup kitchen mural.
Who funds art?
The Arts and Culture grant is one of two funds provided by the city of Durango for creative projects. The fund was established in 2022, after 14% of the lodgers tax increase was dedicated to enhancing Durango's arts and culture.
The program allocates $500,000 to prospective artists, who can apply for the grant on the city's website.
Tommy Crosby, Durango's economic opportunity manager, said money is spread across a wide spectrum of projects, including murals and sculptures, live performances, facility improvements, education and scholarship programs, theater performances and storytelling projects like podcasts.
"We do an intentional job of trying to represent what the broad scope of arts and culture looks like in Durango," he said.
The Durango Creates grant is the second funding source for art projects, with a lower budget of $30,000 per year. Crosby said this program began in 2018 and money is drawn from the city's general fund.
While there is no limit on the amount of money the Arts and Culture grant can provide a prospective artist, the Durango Creates grant only offers up to $5,000 per applicant.
"The difference between the two funds is really the scope and scale of types of projects, programs, events and experiences that folks are applying for," Crosby said. "The lodgers tax Arts and Culture application opens the door to funding bigger, more impactful projects across the city."
The two grant programs are administered by the Creative Economy Commission, whose role is to manage and advise City Council regarding public art projects. The commission holds two application periods for each grant.
In 2023, the lodgers tax Arts and Culture grant received 49 applicants in the first round and 24 applicants in the second round. The Creative Economy Commission awarded money to 41 of the 73 applicants.
The Durango Creates grant had eight submissions in the first application period, which ended in April. Six of the eight applicants received funding.
Crosby said the largest amount that the commission has ever granted was $35,000 to the Powerhouse Science Center in 2022.
How is art selected?
Before applying for the Arts and Culture grant in 2022, Sanders prepared a proposal for "Uepucase," which included an exact digital rendering of the mural, the location, her budget and goals of fusing Indigenous perspectives with contemporary art.
Her application was scored by the commission on nine evaluation guidelines. Crosby said these include: quality of project, creativity, diversity, equity and inclusion components, community engagement, collaboration, off-season impact, duration, environmental sustainability, and quality of proposal.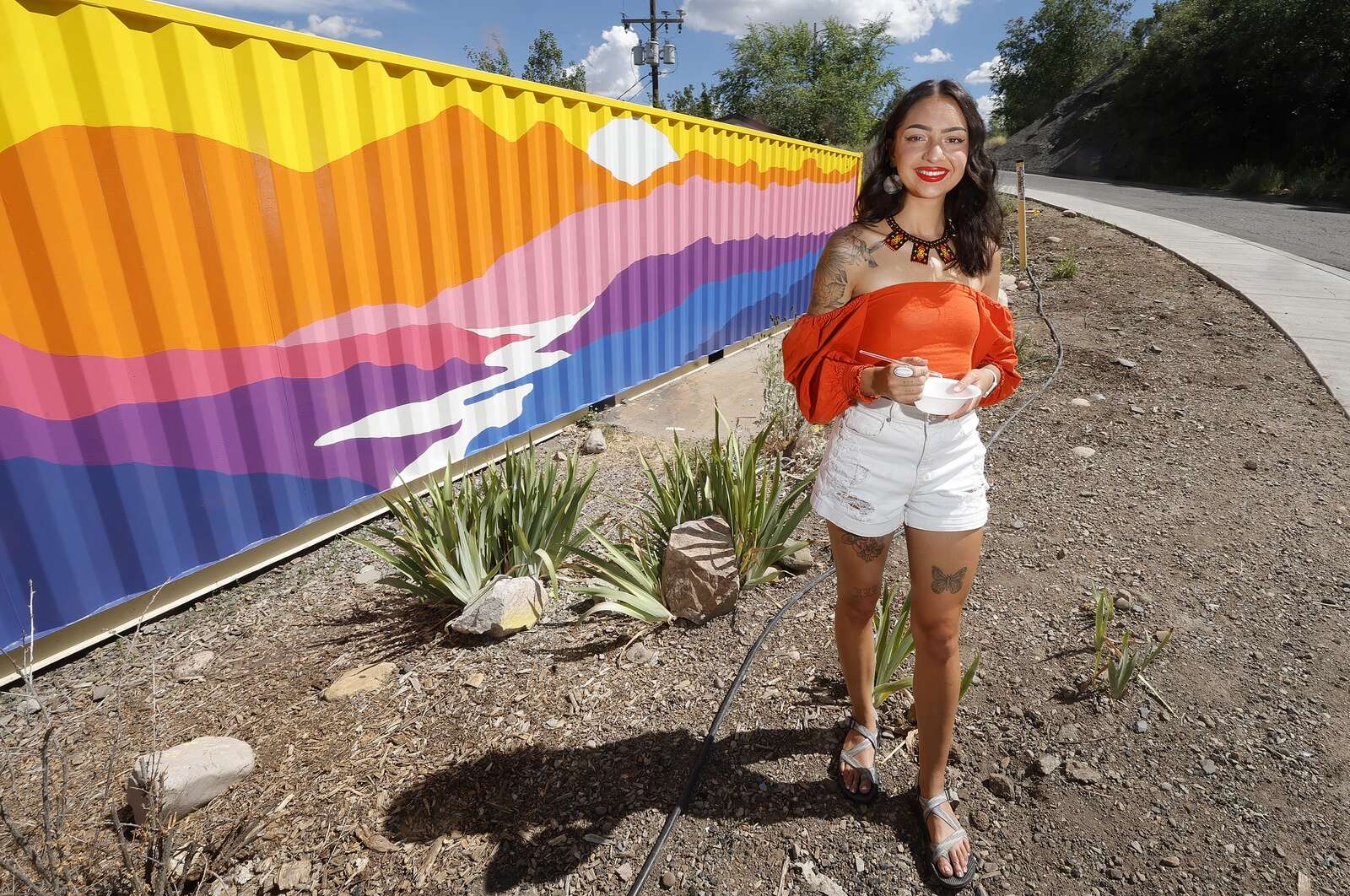 "Every project that does not receive funding will get constructive feedback," he said.
Scott Smith, chairman of the Creative Economy Commission, said he and four other members spent more than 20 hours reviewing the last round of submissions for the Arts and Culture program.
Applicants for both grants range from businesses to individual artists and nonprofit organizations.
"Ability to aesthetically enhance Durango's community is probably the No. 1 most important thing," he said.
The commission examines proposals for preexisting projects or pieces like "Uepucase" that are created after receiving funding.
"The sculpture by the 32nd Street bridge, 'Celestial Sailor,' was done by Jeff Wise and it was already made," Smith said. "So the city essentially purchased it."
The lodgers tax Arts and Culture program has funded 77 projects since its establishment in 2022, while Durango Creates has funded 33 projects since its inception in 2018.
Plans for future art
Durango showcases 42 pieces of public art, each gracefully placed throughout the nooks and crannies of the small mountain town. A multitude of arts and culture projects and performances complement the collection.
The city's public art collection is currently valued at $1,266,113.
Businesses and developers even include placeholders for public art in their future development plans, with the Holiday Inn Express on Camino del Rio -- which features metal design panels -- as a prime example.
Crosby said plans are also underway to feature artwork in the new Three Springs housing development southeast of Durango. City officials, together with developers, are teaming up to integrate captivating public art installations into two roundabouts within the project area.
"The CEC and the funding has not only sparked the creation of vibrant public art in Durango, but also has supported various cultural initiatives, startups, performances, scholarships, education and really enabled artists to propel their careers in the creative economy," he said.
glanderyou@durangoherald.com