Energy hard to come by on flat night inside Whalen
Each team spent a half playing like the better team Friday. Unsurprisingly, it was the team that had the better second half that prevailed.
After the Fort Lewis College men's basketball team led 32-29 in a first half in which it shot 50% from the field and from 3-point range, the Adams State University Grizzlies roared back in the second half to take a lead as large as 50-39 before holding on in the final minutes to secure a 74-69 road victory inside Whalen Gymnasium in Durango.
"I thought Adams State played really well tonight," FLC head coach Bob Pietrack said. "They are hard for us to guard, and they have some really good players, and we didn't do a very good job in the second half of guarding them. The level of competition is extremely high, and I thought they played excellent."
Adams State (7-7 Rocky Mountain Athletic Conference) went on a 17-4 run to open the second half before the Skyhawks began to come out of a slumber. FLC got back within 54-50 on a 3-pointer by Riley Farris with 7 minutes, 45 seconds to play, but big shots from Destan Williams, Kaelin Crane and Frederick Jackson down the stretch helped the Grizzlies maintain their advantage.
Jackson scored six consecutive points to restore Adams State's lead to 10 after Farris' shot had gotten the Skyhawks within two baskets of the Grizzlies. When Jackson briefly checked out with an ankle injury, Crane would score four timely points to stretch the lead even further.
Still, the Skyhawks (5-7, 4-7 RMAC) refused to go away despite a deficit as large as 16 points with 1:47 to play. Farris hit two wild 3s in the final minute, and Eric Jamerman added a long bank-shot 3 to get FLC within 72-69 with one second to play. But Williams made two free throws with 0.4 seconds on the clock to put the game away.
"I thought we played hard until the end. We have a lot of guys who care," Pietrack said. "Just disappointing that we didn't play better sooner."
Williams finished with a game-high 20 points, while Jackson added 16 and eight rebounds.
Adams State shot 59.3% from the field in the second half, while FLC cooled down to 35.5% in the second half as the teams reversed roles from one half to the next. That FLC number was improved by the late flurry, but FLC was flat and lacked energy in am empty and unusually dead Whalen Gymnasium, even during a season with no fans because of the COVID-19 pandemic.
"We had an off night shooting, and we didn't have great energy," Pietrack said. "With the COVID year and you're at home, you're not really at home. You're just playing. Tonight would have been a night where you needed the crowd desperately to help you, but that's not what we got. No excuses, I thought Adams State played better than us, period."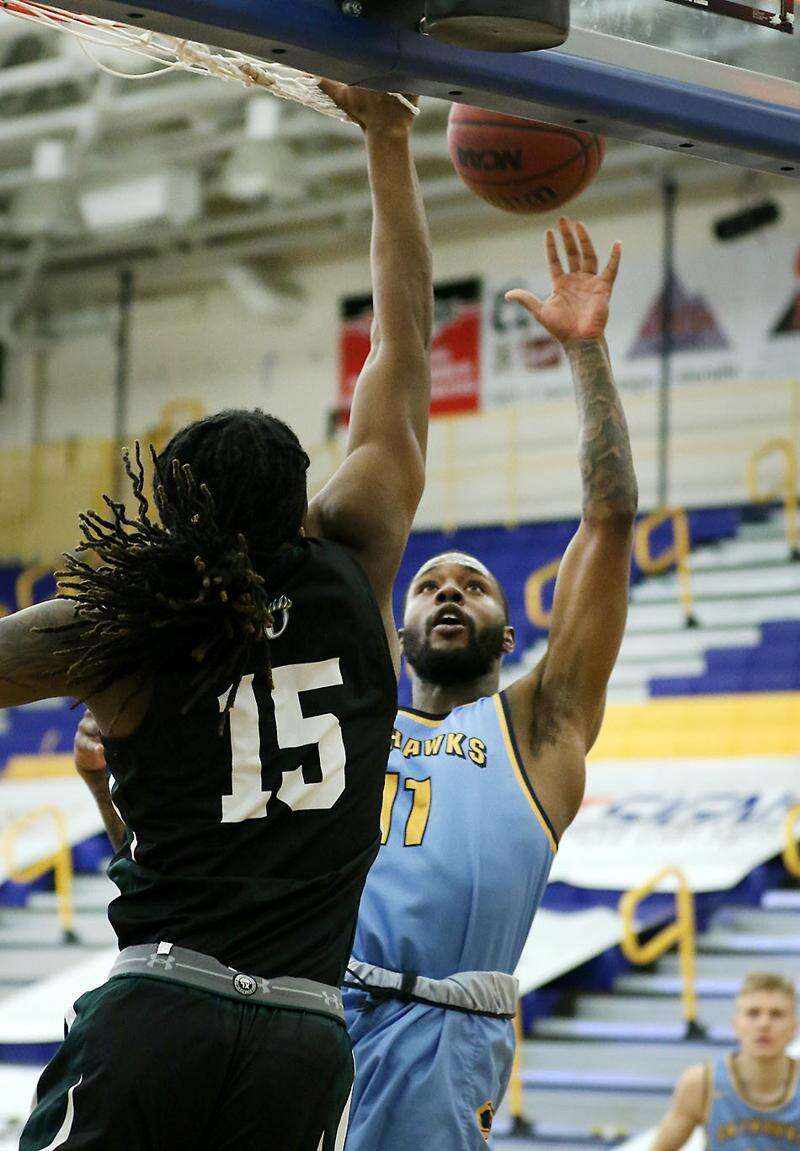 Farris led FLC with 16 points and eight rebounds. Dunnell "Scottie" Stafford added 13 points, while Jamerman had 12 points on 4-of-7 shooting from 3-point range. Brenden Boatwright had 10 points for FLC to go with six rebounds.
FLC had 13 turnovers that Adams State turned into 19 points. Adams State also had a 34-14 advantage scoring in the paint, a rarity for an FLC opponent this season.
"Kaelin Crane in the second half was a huge difference. I thought he was outstanding, and Destan Williams really was good in the second half, too," Pietrack said. "Frederick, he's really good, especially going left."
The Skyhawks will host CSU-Pueblo at 4 p.m. Saturday.
"It's senior night for Cesar Molina, a young man who has meant a lot to our program and is our captain this year. We just want to send him out on a good senior night, and that will be our focus," Pietrack said. "We play a Pueblo team that gives us some matchup problems. They're a bit smaller and we're bigger. We are going to have to find a way to play better and play with better pace ."
jlivingston@durangoherald.com