Men lose by 1 in OT, women lose by 2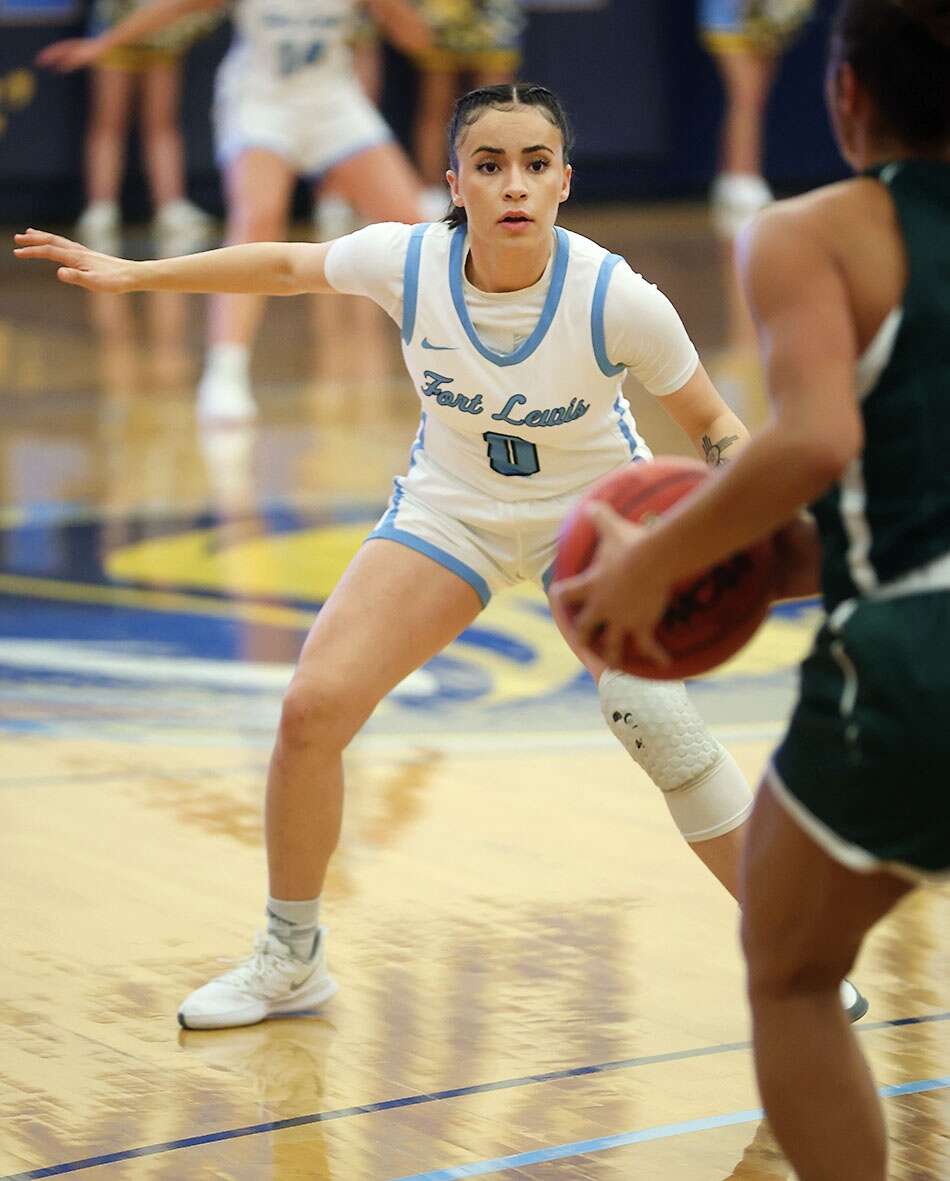 The Fort Lewis Women's basketball team shot 43 free throws on Friday against Adams State University, but struggled at the line and only made 23. Trailing by 2 points with 15 seconds left, FLC went to the free-throw line twice, but missed all four shots and Adams prevailed 64-62.
The FLC men, however, tied their contest with Adams State from the free-throw line in the game's last second with Akuel Kot sinking three straight. Adams, however, pulled out a victory in overtime, 90-89, to win both rivalry games in Durango.
The FLC men trailed 72-63 late in the game, but Kot led the team's comeback with 27 points in regulation and 29 total. Riley Farris and Corey Seng made baskets to cut the lead to 73-76 in the last minute. After Adams made one free throw with 13 seconds left, Kot dribbled down the court, found an opening at the top of the key and drained a 3-pointer with 6 seconds left. Seng fouled right away and Adams made both free throws, going up 79-76.
Kot got the ball and again, put up another 3-pointer and was fouled with .8 seconds left in the game.
With the game on the line, Kot made all three free throws to tie the game and send it into overtime.
In the extra period, Brenden Boatwright won the tip off and then made two free throws. Adams made a basket at the other end and was called for charging only to have the call overruled as blocking on FLC.
Adams made the and-1 and then two more free throws to take an 84-81 lead. Boatwright made another basket and then Kot hit a field goal to give FLC a 85-84 lead.
Adams responded with a 3-pointer, then Riley Farris responded with a 3-pointer for Fort Lewis. Adams took an 89-88 lead with two free throws, and then Boatwright made 1-of-2 to tie it at 89-89. After Adams made 1-of-2 from the line, , FLC turned the ball over with 36 seconds left, but got the ball back with 12 seconds left after a shot-clock violation. JacQuess Hobbs got the ball in the corner and put up a 3-pointer, but missed and Adams grabbed the rebound. After a foul with 2.3 seconds left, Adams missed two from the line, but FLC's full-court shot at the end was off target and the Grizzlies took the win.
In the women's game, FLC trailed 11-1 after missing five of their first six free throws, but then went on an 11-1 run of their own with Alissa Adams making two free throws and a 3-pointer. The teams were tied 16-16 after one, but Adams State went back up by 10, 34-24 in the second.
Fort Lewis managed to cut the lead to five at halftime, 34-29, with Sydney Candelaria scoring seven late points.
FLC came out with more energy in the second half, opening the third quarter on a 10-1 run to take the lead.
The Skyhawks had a 6-point lead in the fourth, but Adams Sate went on an 8-0. The teams traded the lead couple times after that. Kelsey Sorenson made four free throws in a row to tie it at 60-60 and then grabbed an offensive rebound and scored on the putback to give FLC a 62-60 lead with a little over a minute left.
Adams State tied it with 1:04 left with two free throws. Alyssa Adams had a chance to put the pressure on Adams State from the line with 15 seconds left, but was off target. Adams managed to push a field goal in with 1.1 seconds left. Trailing 64-62, FLC caught a break when the Grizzlies fouled as FLC was trying an inbound pass. Ava Strange, however, missed and Adams State took the win.