Robert 'Bicycle Bob' Gregorio building eco-friendly dream home brick-by-brick in Aztec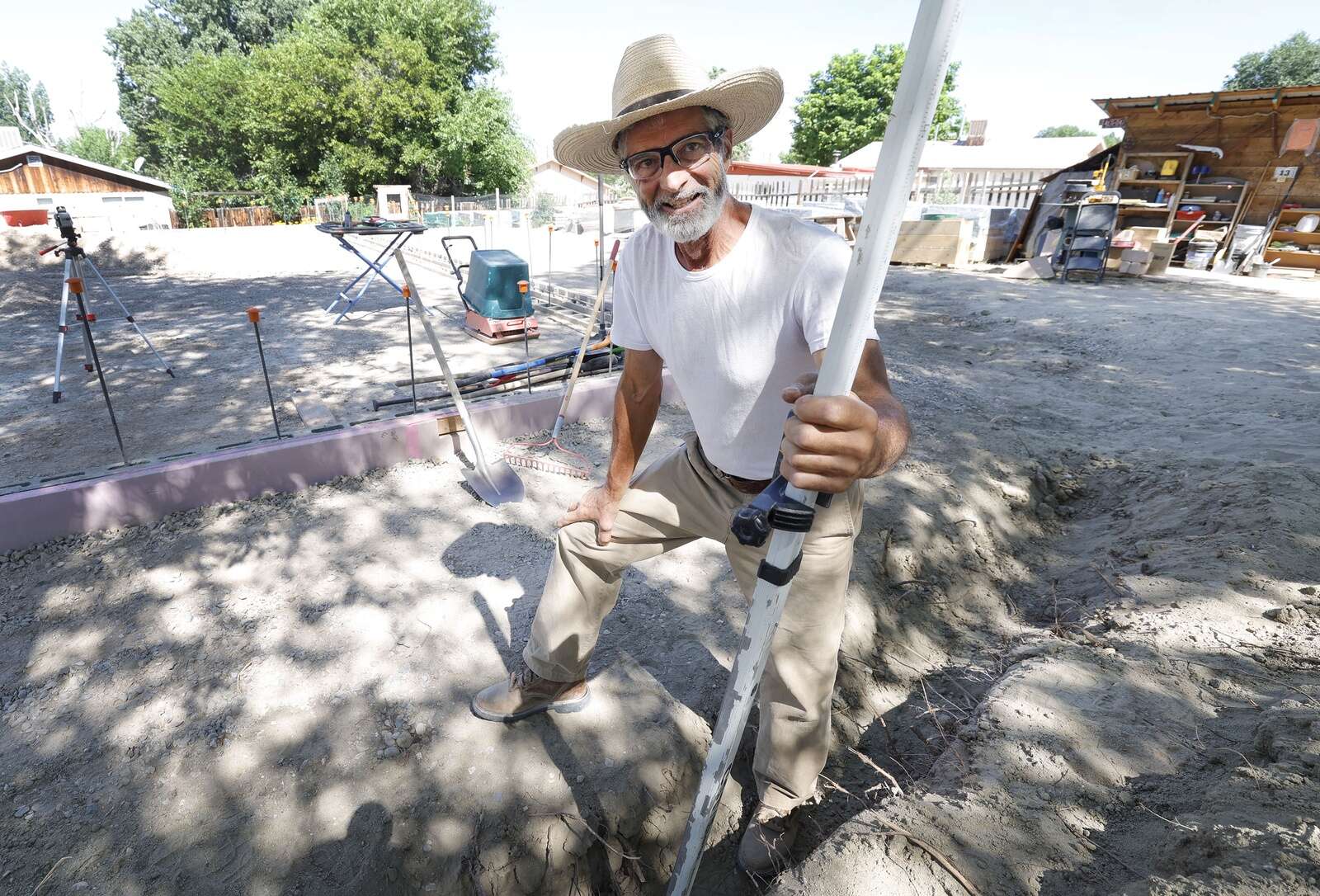 AZTEC – Robert Gregorio, known to many as Bicycle Bob, is something of a local legend in Durango. Known for his mechanical prowess with bicycles, he lived through the emergence of mountain biking, biked across Latin America, crewed Olympic cycling teams, conquered the Iron Horse Bicycle Classic ride to Silverton countless times and repaired countless more locals' bicycles.
He has a fond love for cycling and the smooth geometry of a well-built bicycle. With the perfect alignment and tuning of gears, wheels and other mechanisms, a good bike just rolls ahead on its own. That's what he appreciates: The ability of a bicycle to propel him forward.
Gregorio has spent his life immersed in cycling, but he is pursuing another long-held passion these days. In Aztec, he is hard at work building his dream home brick by brick for himself and his wife.
He still thinks of Durango as his home, he said. He's "still a Southwest Colorado guy." His daughter lives in the city with a son of her own. His son lives in Bayfield with three children. Most of his friends and acquaintances also call Durango home. But the city's become too expensive for this local legend.
"He's in Aztec," Chip Wallace, a longtime friend of Gregorio, said. "He couldn't afford Durango anymore. So he's down in Aztec and he's busier than hell because he's trying to build his own house."
Wallace said he met Gregorio in the 1980s. Wallace bought an old 1964 Schwinn frame bicycle with a 1954 Bendix coaster hub and brake from Gregorio, who offered to take him for a ride up Hogsback, the ridge visible to the west from downtown Durango.
"We got to the top of the hogback and I was anticipating a gruesome death," he said.
But Wallace made it up the mountain and back down in one piece. He still has the bicycle he bought from Gregorio and rides it to this day, he said.
He said Gregorio is extremely well known and well regarded in Durango. He was inducted into the Mountain Biking Hall of Fame in 2006 and had been known for his custom built mountain bike, a concept that was unheard of in the 1980s.
Gregorio worked for the original owner of Durango Cyclery on 13th Street for decades. He was a mechanic for mountain biking icon John Tomac, spent several years as Lance Armstrong's on-the-course mechanic and traveled the world crewing competitive bicycle teams.
Gregorio said bitterness isn't a productive emotion, but he is disappointed in the state of housing in Durango and how rising housing prices pushed him out of the city he loves.
Gregorio's troubles began in the early 2000s. He said he and his past wife divorced, which resulted in her keeping their house in Durango West I and Gregorio being awarded a lump sum of money.
With a sizable chunk of change, he called up his friends in real estate – cycling being the common thread in their relationships – explained his situation and asked them to keep an eye out for modest undeveloped properties. He wanted to realize his dream of building a home for himself.
"I found a property that I thought I could creatively afford. If I worked two jobs and found a woman that would have me, maybe had some money, maybe, we could make this work," he said.
He organized his financing, turned over earnest money and signed a contract. But while he chased his ambitions, the real estate bubble in the lead up to the 2007 market collapse was getting close to bursting.
"And the bubble burst," he said.
"My mortgage guys called me – they were also my friends. They were like, you know that loan we were talking about the other day? It doesn't exist anymore," he said.
Gregorio was devastated. "Despondent" is how he put it.
"It's like, how is this possible?" he said. "That I can't even make it happen in my own town and I know people everywhere? ... The fact I couldn't afford a humble property in Durango where I'd been a contributing member of the community for four decades – people still know me up there – I don't know."
Some time went by. One day, after dropping his daughter off at the airport in Albuquerque, he made the split decision to drive across 30 miles of rough and bumpy dirt road to Chaco Culture National Park.
"It'd beat you to a pulp," he said of the route.
Chaco is known for its massive stone structures called Great Houses, found about Chaco Canyon. Gregorio hiked to outlying ruins, far from any person, and fell asleep in the shade. Some time later, he was slapped awake by sudden inspiration.
"It's time for the bike tour," he said.
He had yearned to tour Latin America and figured if he couldn't realize his dream of building a homestead, he could still pursue other dreams. The divorce left him with plenty of money for such a trip and he would travel frugally, he said.
He said he spent a minimal amount of money. He camped as often as he could. When that wasn't feasible, he'd get a hotel in Mexico for $5 a night. Sure, the showers were community showers, but after spending three days cycling and sweating, it's hard to beat a refreshing shower, spectators be damned.
Building the dream home
Gregorio's travels ultimately landed him in Panama. Along the way, he found himself impressed by the regional architecture, adobe and terracotta structures that needed only nominal heating and cooling apparati to be comfortable. And he started to reimagine what his dream home could be.
"First off, adobe really caught my fancy," he said. "That (bike tour) showed me a lot about construction styles and Indigenous communities and low-income communities, where they utilize what they have outside the door. Or maybe they don't have a door yet. So they utilize what's under their feet. Earth. It's wonderful."
He said he found a terracotta yard where bricks are made while traveling through El Salvador. He was peeking over the fence to watch the workers and they noticed him. An admin at the yard invited him in to see how it's done.
He drew inspiration from the experience and eventually settled on handmade compressed earth blocks, also known as adobe prensado, for his dream home in Aztec, he said. It took him two years to make 7,000 blocks from scratch. The blocks are being used for his foundation and will be used for the walls.
The blocks consist of 20% to 30% clay content, red dirt and coarse sand and 7% Portland cement, which helps hold the rest of the materials together, he said. He scoured YouTube for tutorials to perfect his mix of ingredients over the course of about a year. He said the process was comparable to soil science and he found it fascinating.
"It's not just the mix. It's the mix in the proper quantities, proper percentages, mixed dry, thoroughly, before you add any water," he said. "... The beauty of it is its super low carbon footprint."
Gregorio said he has dabbled in small construction projects over the years, but it isn't his trade like bicycles are. Still, he finds similarities between construction and bicycle mechanics.
To construct his home successfully, he has to plot out a sequence of events, account for needed tools and materials, and develop his technique as he goes, he said.
People regularly ask Gregorio when he plans to complete his new home. But he doesn't want to put pressure on himself or his wife, Tami Kuczka, by setting an end date on the project. That said, they are motivated to get it done eventually, thanks to ever-rising rent prices in Aztec.
"I'd love to live in this dream home that is in the process of manifesting," he said. "But I don't want to, like, struggle through the project, like sweating bullets all the time, right? Because that affects the quality of your work."
He has the same attitude about building his home that he approaches long bike rides with.
"What I learned from being a cyclist, being around cycling athletes, is how to have that determination and the knowledge of your pace and how to just keep going," he said.
Another bright spot to building his home himself is that it has proved significantly cheaper than it would be to purchase a home in Durango, he said. He was uncomfortable going on record with a precise dollar amount.
Let it pass
Gregorio said despite his qualms with the area housing market, he has to let it pass. Rampant income inequality has set the "haves" and the "have-nots" on separate trajectories, and for Bicycle Bob, it's a matter of values.
"Do you value the material world and material things, like lots of money? Or do you value life experience and the love and friendship and connections you've made, the accomplishments you've had in life, you know, your family?" he ssid.
He said he leans toward the latter. He is bummed out that he can't so easily take a ride on Durango Test Tracks, but he still loves the town and has family in the area, and Aztec has great bike rides, too.
cburney@durangoherald.com