Should Durango-La Plata County expand existing terminal? Or build a new one?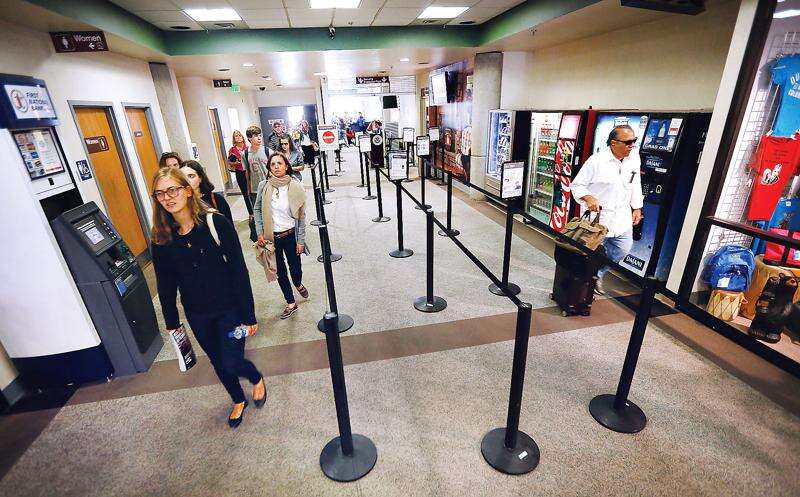 Durango-La Plata County Airport is bursting at its seams. Passenger traffic at the airport grew nearly 28 percent between 2009 and 2013. That growth has overwhelmed virtually all passenger facilities and often leads to congestion, long check-in and security lines, and lengthy waits for bags.
Two plans are being developed to address the many shortcomings. One is a terminal area master plan. It also is a component of the larger airport master plan. The master plan is expected to address the anticipated needs of the entire airport for the next 10 to 20 years, said Kip Turner, airport director.
Under industry standards, the airport's ticketing area, baggage loading and claim areas, security screening checkpoint, passenger departure lounges and administrative office space are too small to meet existing needs. Turner said the delays and congestion can trigger customer complaints that can strain relations between airport and airline staff.
Effectiveness of airport terminals are evaluated by industry experts using on an A to F scale, with terminals built to a "C" rating in the United States.
"Our terminal facility is basically an 'F' rating all the way," Turner said recently. "We fail on every single point."
Examining solutions to the challenges facing the airport started in March and accelerated in May after the Planning Advisory Committee was formed with more than 40 members of the public, business community and city and county staff. The advisory committee is separate from the Durango-La Plata County Airport Commission, which advises Turner about operations, budget and policy issues.
Steve Parker is a member of the airport commission and the advisory committee. He also served on the Colorado Transportation Commission for 12 years. He said the choices are to expand the current terminal or build a new one. Estimates for building a new terminal have hovered around $25 million.
"We've got to decide what's going to be best for the facility that we want to have, and we don't know what that facility's going to look like yet," Parker said. "If we don't know what it looks like, we sure don't know what it's going to cost."
Expanding the terminal could eat into current parking areas, which also are at capacity. Workers completed an overflow parking lot south of the terminal last fall that created 222 additional parking spaces. "If you expand the existing facility, you've got to take out parking," Parker said.
There currently is a proposal to expand the departure-lounge restaurant at the airport to offer additional food and drink options after passengers clear security, according to agenda documents from an airport commission meeting last month.
Airport documents show enplanements – people who board planes at the airport – were down compared with the same months the previous year for August through December 2013 and January, February, April and May this year. The last report to date, June, showed traffic was up nearly 1.5 percent compared with June 2013. American Airlines, United and US Airways service the region year-round. Frontier Airlines offers seasonal service, from mid-May to January.
Turner noted that the airline industry has undergone massive consolidation during the last decade, with mergers leading to smaller fleets. Because of these changes, airlines are able to choose the markets where they can make the most money. That means Durango has to compete fiercely with other regional airports for airline service. Despite the airport's deficiencies, Turner said he is looking for new carriers to serve and for existing carriers to offer new destinations. There's little room for additional staff and equipment, but he said he is working on new business from Houston.
The airport is a vital piece of infrastructure for the area, he said. A 2013 Colorado Department of Transportation economic impact study said the airport contributes about $282 million to the local economy.
Taxpayers are expected to foot the bill on a new or expanded terminal. Future improvements could be made with federal, state or local funding.
Community meetings are planned for this month, but there are no specific dates. Local leaders hope to put the issue of payment to voters as a ballot measure in November 2015.
smueller@durangoherald.com