Quick ascension to pinnacle event of road cycling was never in the life plans for Durango star
Sepp Kuss didn't grow up watching the Tour de France idolizing the rider in the yellow jersey. His heroes weren't suffering up brutal mountain climbs on road bikes. They ripped around on dirt and slid across snow.
So, at age 25, perhaps nobody is more surprised the American cycling star from Durango is set to make his Tour de France debut Saturday than Kuss himself.
"I wouldn't have expected this at all," Kuss said Wednesday in a phone interview with The Durango Herald on the eve of team presentations in Nice, France. "I also think that's the nice thing about it. None of this was ever in the crosshairs for me. Every year, it is something new and always a surprise when I do well and I am racing in a Giro or Vuelta or, now, a Tour de France. It's been special in that way. I have always worked hard and shot for the best, but it's a bit surreal at times being in these kind of positions."
Now considered the best American climber of his generation, few in the road cycling world knew Kuss' name before his breakthrough performance at the 2018 Tour of Utah. As a rookie prospect, he won three stages and the overall title in his first year with Team Jumbo-Visma, the Dutch squad that signed him after he climbed to a 10th-place finish atop Mount Baldy during a stage at the Tour of California days after he graduated from the University of Colorado.
Jumbo-Visma team bosses liked what they saw, gave the 22-year-old a physiology test and signed him to his first WorldTour contract away from American continental team Rally Cycling four months later.
"As a family, we are all still learning the ways of road bike racing and the way things are organized and how one moves from one level to another," said Kuss' father, Dolph. "But, three years later, I guess we really aren't that surprised that Sepp was picked to do the Tour because of the way his team manages their riders and monitors them. They know more about them than sometimes they know about themselves. They've really been bringing Sepp along."
Three years into his WorldTour career, Kuss has remained with Jumbo-Visma and completed two Vuelta a España races and last year's Giro d'Italia, leaving the Tour de France as the only one of the three Grand Tours in which he has yet to compete. That all will change Saturday when he sets out on the 21-day race that will cover 2,165 miles and pass through all five of France's mountain ranges: the Alps, the Massif Central, the Pyrénées, the Jura and the Vosges.
Kuss will have one of the most important roles at the 107th edition of the Tour de France. Jumbo-Visma has two riders, Slovenia's Primož Roglic and Tom Dumoulin of the Netherlands, who are among the top-three betting favorites to wear the leader's yellow jersey to the finish line Sept. 20 on the Champs-Élysées in Paris.
Kuss is one of the top climbers on the WorldTour, and he will look to help pull Roglic and Dumoulin along a route that features eight summit finishes among double-digit brutal climbing days. The Jumbo-Visma goal is to dethrone defending champion Egan Bernal of Colombia and end the reign of the Ineos Grenadiers, formerly Team Sky, which has won seven of the last eight Tour de France titles with Bradley Wiggins (2012), Chris Froome (2013, 15, 16, 17), Geraint Thomas (2018) and Bernal (2019).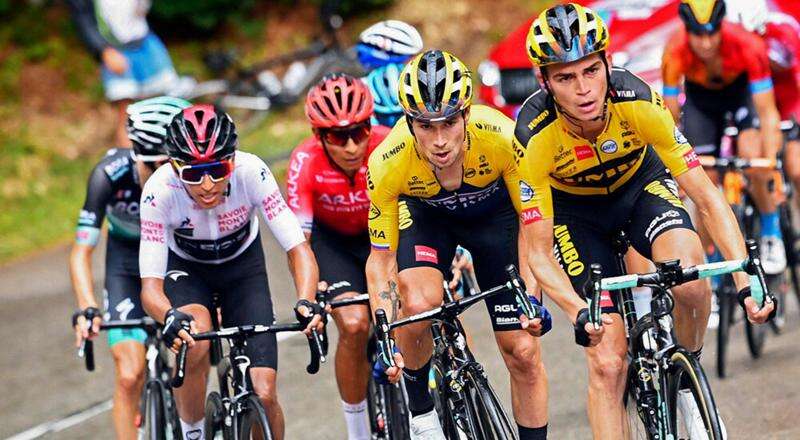 "I think the route suits me really well," Kuss said. "It's hard to say as a support rider what to expect. I know this race is hard in the beginning, hard in the middle and hard at the end. I have to distribute myself in a smart way for the whole race. The third week will be so decisive, and I want to be there in the end for Primož and Tom.
"A lot will come down to the uphill individual time trial on Stage 20 if there aren't big gaps before that. It's tough, and a lot of it is in the mountains, and that makes for a really hard Tour. You might lose some time here and there, but in the end, I think we have some of the strongest riders for that third week. Everything is going in the right direction. I hope to have good luck, good health and come into that third week really strong."
'Let Sepp be Sepp'
Kuss has remained as calm and cool as ever in the week leading up to the Tour. His usual smile and easy-going nature hasn't been overtaken by nerves or pressure that are inherent when an athlete reaches the pinnacle of their sport.
"That's just our little Seppy," his mother, Sabina, said. "He's the same guy he has been all his life, and his personality never went through different stages in life. He has this real gentlemanly, elegant approach to things. I think that composure stays with him in all of his actions. He never set out to be an Olympian or WorldTour racer, none of that. He has gotten there with total personality and because he just loves riding his bike. He loves what he does."
Kuss' foundation comes from his family. Dolph was a famed coach for U.S. Ski Team from 1963 to 1972. Kuss was named to the USA Cycling Olympic long team for the 2020 – now 2021 – Olympics in Tokyo. If he is selected, which is nearly a guarantee, it won't be the first Olympics for his immediate family. Dolph coached the U.S. at the 1964 Olympics in Innsbruck, Austria, and the 1972 Olympics in Sapporo, Japan.
Dolph also coached at Fort Lewis College from 1965-76 and was an organizer for the 1975 NCAA Championships held at Purgatory Resort, which he helped develop along with Chapman Hill ski area in Durango. Dolph was inducted in the Colorado Ski Hall of Fame in 1990, and his contributions have laid a foundation for generations of Durango athletes.
Dolph admits he didn't have the same calm demeanor as his son when it came to competing and coaching. He said his son has come by his unwavering positive attitude naturally.
"Sepp's dad was such an elite coach, but he let Sepp be Sepp," Cheeney said. "They are such a Nordic family, and Sepp was really into skiing when I met him. But they let him do whatever he kind of wanted to do, whether it was mountain biking or hockey, which he played forever. They fostered his passion whichever way he took it."
'Love for bikes at an early age'
Road cycling was a new challenge and a fun project for Kuss in 2015 when he was still a college student at the University of Colorado. The 2013 Durango High School graduate grew up a mountain biker in a mountain biking mecca. Kuss didn't have to look further than up the trail to see his heroes who called Durango home after the first World Mountain Bike Championships were held in 1990 in Durango and led to world champions such as Ned Overend and John Tomac calling Durango home.
Kuss grew up in the Durango Devo youth program while Durango's Todd Wells was in the midst of three consecutive Olympic selections for the U.S. mountain bike team and Travis Brown was capping off a hall of fame career of his own.
Kuss' early idols came out of Devo such as Tad Elliott, who had pro mountain biking and cross-country skiing careers. Kuss admired Adam Craig, who did super-D and cross-country mountain biking while skiing and boating in the winter.
Durango Devo started in 2006. Kuss and a couple of his friends, including pro mountain biker Stephan Davoust, were in the middle school and caught wind of Devo co-founder Chad Cheeney coaching a high school team. They showed up at Cheeney's house and convinced him to take them out for rides like he did with the high school group. A year later, Devo had a middle school team.
What Kuss knew about road cycling came from the Fort Lewis College team and some Devo riders who went on to have American continental team careers. Cheeney would highlight their accomplishments on the Devo website, and Kuss would soak it all in. Kuss also loved to collect road cycling caps, though he never wore them. Cheeney would be sure to pick him up a hat anytime he went to a road race.
"He was just this little guy, but he was very coachable and would show up to practice each day wanting to know everything about biking," Cheeney said. "He had a well-rounded approach to all types of biking. He raced downhill in full-face helmets, would do cross-country, cyclo-cross, road, all of that. On top of that, he was usually cobbling together his own bikes from parts off the internet or from the Durango Cyclery recycling section. He had a love for bikes at that early age."
A shift in bikes
When Kuss went to the University of Colorado and joined the club cycling team, it was on mountain bikes where he earned his first three national championships. But in 2015, he would win a collegiate road national championship.
It was a family friend who first got Kuss into pro road cycling. Kuss wore the jersey of the Gateway-Harley Davidson team out of St. Louis when he began to dabble at the Tour of the Gila in Arizona and the Cascade Cycling Classic in Oregon. But in April 2016, Kuss climbed to a stage victory at the Redlands Bicycle Classic in California ahead of a few WorldTour pros, and continental teams took notice.
It came at the perfect time, as Kuss' family began to notice his passion for mountain biking waver.
"He shifted from mountain biking to the road those last two years at CU," said Sabina. "He won the top collegiate mountain bike title in Snowshoe, West Virginia. After the race, I was there watching, and he didn't have that exuberance he usually has. I thought, 'That's not the Sepp we know.' It's when sponsorships in mountain biking were going by the wayside for a lot of teams except for the top people like Chris Blevins and Howard Grotts with Specialized."
Sabina said her son didn't like the format of professional mountain biking and having to constantly travel to Europe to chase UCI points. The point rankings also determine starting position at mountain bike races, and he felt like that largely, and unfairly, decided mountain bike races before they even began.
"He felt it was predetermined who the top finishers would be. But, in road racing, he felt everybody had a chance, and he liked that uncertainty," she said.
Kuss turned his quick success into a contract with Rally Cycling. He quickly caught onto the dynamics of road racing and, by 2017, was keeping up with WorldTour riders at the Tour of California before he returned home to Durango to turn in a stunning victory in the Iron Horse Bicycle Classic after he chased down a breakaway rider who had gotten away five minutes up the road on the final climb of Molas Pass.
Four months later, Kuss packed his bags for the Netherlands and went apartment hunting in Spain to begin a pro road cycling career with he hadn't allowed himself to even dream of while working to complete his bachelor's degree in advertising the previous two years.
A steep, fast climb to the top
Kuss was slated to start slow his rookie year on the WorldTour with Jumbo-Visma. The Dutch team had an eye toward the future, and Kuss was excited to join a team that wouldn't put too much pressure on him right away.
But with his three stage wins and general classification victory at the Tour of Utah, Kuss would return to Spain and enter his first Grand Tour, the 2018 Vuelta a España, in his rookie season. A 10th-place finish on Stage 7 gave him his first taste of success on one of cycling's biggest stages and set him up for his debut Giro d'Italia the following spring. He played a role in helping Roglic finish third at the Giro.
When it came time for the 2019 Vuelta, Kuss was ready to star in his supporting role of Roglic. He would win Stage 15 for his first Grand Tour victory, and Roglic would ride to the finish line in the leader's red jersey as the race champion.
It became clear Kuss would be one of Roglic's support riders going into the 2020 Tour de France, with the Slovenian star frequently praising the hard work of Kuss. Now, the team will look to get Roglic on the podium after an eighth-place finish on a crucial time trial sent Roglic from third to fourth at the 2018 Tour.
"We all get along well together, and that makes it easier," Kuss said. "With Primož, it's a great relationship. I think we're both really calm and don't take anything too seriously. For me, he's easy to work for in that sense. A calm guy like me. He really thinks things through, is a really generous guy with good character. He doesn't give himself away to the media and all that, but amongst the team, he's a really good guy. In the end, it's a great team atmosphere."
Underdogs to a powerhouse
Kuss has thrived in that team atmosphere he found missing in mountain biking. He has no problem sacrificing an individual result for the betterment of the team leader, evident at times last year at the Vuelta when he would drop back after a breakaway climbing effort to rejoin Roglic and his teammates. Dolph said his son enjoys helping a teammate win as much as any of his own individual victories.
"He enjoys the teamwork and knowing that everybody gets their chance eventually," Sabina said. "He can put his heart and soul into supporting whoever he has to support. He knows somewhere down the line, they'll be asked to do that for him. He loves the camaraderie and not having the only goal of winning. It's the process of what it takes to get to the final finish line in good speed."
Kuss signed a contract extension with Jumbo-Visma last fall after his initial two-year deal was set to expire. It came during a flurry of moves, as Jumbo-Visma also extended Roglic and signed Dumoulin away from Team Sunweb. The team had also added Belgian time trial and sprinting star Wout Van Aert earlier in 2019 as well as Germany's Tony Martin, a five-time stage winner at the Tour de France, to add to longtime team stars George Bennett of New Zealand and Steven Kruijswijk of the Netherlands. Kruijswijk placed third at last year's Tour de France after a fifth-place finish at the Tour in 2018, but an injury will keep him out of this year's Tour.
With a few key additions and the speedy development of Roglic, who signed with Jumbo-Visma in 2016 as a WorldTour rookie, as well as that of Kuss, suddenly Jumbo-Visma was poised to turn 2019 success into a potentially dominant 2020.
"Ever since I first joined the team, I could see all the little details they were paying attention to," Kuss said. "They were slowly building up and putting a lot of confidence in each rider they signed. It wasn't all about two or three marquee guys to carry the whole team. They saw something in everyone and wanted to improve everybody. With this really great culture and the results of last year, we were able to retain the top riders, and now a lot of good riders are coming to the team to make us so well rounded. We don't have the budget of Ineos or other teams to hire a bunch of those super-high salary riders, but our team built from the ground up with all these guys and myself.
"Years ago, it was like the Bad News Bears of cycling with the yellow kit and everything. Now, you have a lot of respect in the peloton. With that comes a lot more responsibility in races. Other teams are looking toward us now. It's a nice position to be in, and we know we can do it and have the strength to be in contention in the biggest races."
From lockdown to the podium
Kuss got 2020 started in France with an eye toward his debut Tour. He finished eighth overall at the Tour de La Provence in February. But a month later, the racing schedule froze as the COVID-19 pandemic swept across Europe and the entire world.
Suddenly, the Tour de France was postponed by France President Emmanuel Macron from its original June 27 start date, and Kuss was in lockdown in Spain with his girlfriend Noemi Ferré. Unable to go outside for rides, Kuss rode his trainer and took part in Zwift virtual rides not knowing when racing would resume.
Kuss had suggested it would be best to postpone the Tour de France until 2021, but he knew too much hung in the balance for cycling teams that depend on the visibility of the sport's top event for finances.
As Europe began to get a stronger hold off the coronavirus problem than the U.S., the Tour was put back on the calendar and Kuss was able to return to training rides in Spain and Andorra. Jubmo-Visma organized a Tour de France team camp in July, and Kuss was sent to stage races in Spain at Vuelta a Burgos and France at the Critérium du Dauphiné.
In a team leadership role at Burgos, Kuss would finish 20th overall in his first event back from the four-month break. At Dauphiné, Kuss showed he was ready for the Tour with impressive support rides of Roglic on Stages 2 and 3, as Roglic won Stage 2 and held the overall lead until a crash on Stage 4 took Roglic and Kruijswijk out of the race. With no team leader to ride for, Kuss was able to ride for an individual result on Stage 5, and he made an early breakaway on the final climb of the race and would ride solo to the finish line for a dominant victory.
"It was a really good week," Kuss said. "Every day felt better and better. Every single stage was super hard, and the level was really high. I think everybody came out of the coronavirus break really motivated and fresh. Every day was full-on, and to come out of that and win on the last stage gave me a lot of confidence. Aside from the crashes, I think we came out of it alright. Primož is ready for the Tour. It's not ideal that the crash will keep Stevie out of the race, but Primož recovered well and should be good to go."
Kuss finished 10th overall for the five-stage race at Dauphiné. His win delighted hometown fans in Durango.
"I cant remember when I've been more excited about a sporting event," Dolph said.
In a fashion that has become a trademark for Kuss, he smiled as he climbed faster than anyone else in the race, sticking his tongue out as he danced on the pedals toward the finish line. He acknowledged the support of fans, though this time without slapping high-fives because of COVID-19 protocols.
"When I think of Sepp, I think of his smile and obvious enjoyment of the sport," said Cheeney. "It's so cool to see. In so many years of watching the Tour and pro road racing, you usually see the grimace and anguish or a conquering look on their faces. Then you have this kid who is smiling, sticking his tongue out, high-fiving fans for a minute up the final climbs. That youthful, fun look on him when he's doing what he's doing, it seemed impossible before seeing him do it. Not many other people ride like that, and I think he's going to gain a lot of fans if he has a good ride at the Tour."
NFTF/Live Like Ben
Cheeney's Durango Devo motto of "Never Forget the Feeling," has stuck with Kuss on his journey to Europe. He also has been sure to keep aspects of his Durango upbringing at the forefront of his mind.
After his stage win at Dauphiné, Kuss dedicated the victory to the memory of Benjamin Sonntag, the Durango-based pro mountain biker who was killed in March when he was struck by a motorist while out for a training ride on a remote gravel road southwest of Durango. Sonntag lived a mile from Kuss' home in Durango, and the two frequently shared the road together.
Originally from Germany, Sonntag was an avid road cycling fan. He would wake up early in the morning, make an espresso and stream races or watch highlights of what he might have missed. Dolph and Sabina said they wished they could have gone to Sonntag's home after Kuss' stage win to celebrate together like they always would have.
"For me, I always think of Ben when I'm out training and doing long rides," Kuss said. "Whenever I am in a similar situation as Ben would have loved to be in – out in the mountains, out enjoying riding – I think of him. He was such a positive guy. I can just imagine his face after a stage like that, going a mile up the road to my parents house and coming in with a big smile. It's such a tight-knit community in Durango, and we all really miss Ben, his personality, who he was. That win was for Ben and all of Durango that misses him. I know he would have loved this Tour."
Tour de COVID-19
An added stress will come in the form of frequent COVID-19 testing. Kuss said he underwent testing six and three days out from the start of the Tour as well as antibody testing. Teams are staying isolated on one floor of hotels, though the hotels aren't completely closed to other regular guests.
"We are mostly in a bubble with the team, but it's easier said than done," Kuss said. "It's still a sport that is very much open to the public. They are doing a good job at starts and finishes making sure there is no contact from the public near team buses or anything, and the press conferences are all virtual. But I think there will be a lot of people spectating the race. Already at Dauphiné, there were a lot of people in the mountains. In that regard, it felt like a normal race to me."
'His three weeks will feel like six weeks for me'
There won't be any easing into this year's Tour, either. Stage 2 on Sunday will head directly into the mountains with four big climbs including Col de la Colmiane and Cold del Turini. The first summit finish, Kuss' specialty, will come on Stage 4.
Riders will climb into the Pyrenes on Stage 8 on Sept. 5 for consecutive days of brutal climbing.
Kuss will celebrate his 26th birthday Sept. 13 during Stage 15 with a summit finish on Grand Colombier in the Jura range. He will get a rest the following day, potentially setting up for a special birthday ride to complete the second week.
Kuss said he has his eyes on Stage 17 coming off the rest day, too.
"So many of the climbs are new this year," Kuss said. "The Col de la Loze above Méribel on the queen stage of Stage 17, I looked at it when training there a few months ago, and it will be a really hard climb with the Col de la Madeleine right before that on the same day. That will be a day to watch, for sure."
All eyes are on Stage 20 on Sept. 19, the only individual time trial of this year's Tour. It is uphill nearly the entire 22 miles to the finish atop La Planche des Belles Filles and could very well decide the race winner.
Durango will be watching the entire way. Kuss grew up without television in the house, so he and his parents they never sat together and watched the Tour de France. That has changed now, and Cheeney is eager to visit the Kuss family home and watch a few stages together.
"I'm standing on our coffee table hugging the big screen when I see Sepp on it," Sabina said. "I'm yelling and giving him all kinds of advice. 'Don't look back, keep looking ahead.' When the cameras focus close up on him, it's like he hears me, sees me, feels me, and vice versa. It's amazing to watch him, but his three weeks will feel like six weeks for me.
"It already feels like two years ago watching him at Dauphine getting that win. It's unbelievable and believable seeing his really rapid succession. That wasn't his aim or target, but he has fulfilled it all because it's something he has enjoyed doing so much that he never even realized he was working toward this."
Asked what they expect to see during the next three weeks, Kuss' family echoed each other. They believe he will be an outstanding teammate.
"He just likes to be involved in helping out," Dolph said. "I see him being a super sport during the whole 21 days."
Kuss has no individual expectations other than to be fresh and ready to lead his team to victory the final week. Whatever happens, he will be happy with the result.
"It's a lot of excitement; just the fact it's the Tour de France and everything that goes with that," he said. "I feel pretty calm about it, but it's going to get quite hard early. We won't be easing into the race at all, so maybe that creates some nerves. But, at the end of the day for me, it's just like any other race. I'm not going to do anything different."
jlivingston@durangoherald.com