Punk rock nanobrewery opens on East Eighth Avenue
Beer aficionados have a new place to grab a brew in Durango – this time on the south side.
Anarchy Brewing Co. held a soft opening Friday at its location at 225 East Eighth Ave., Unit C. The brewery has been in the works for about five months.
Owner Matt "Sully" Sullivan worked as a firefighter for 22 years before moving to Durango and working as a Flight For Life paramedic and in the emergency room at Mercy Regional Medical Center.
"I just got tired of the corporate medicine world," he said. "I always had a dream to have a little brewery, and I've been brewing for 30 years. And in that time everyone's like, 'Why don't you just open a little brewery?'"
He said he started putting together the business plan before the COVID-19 pandemic began.
"I hit my 50s like, 'It's time to live that dream and take a risk,'" he said. "And then COVID hit. Our plan was to be a lot bigger at first, but instead, we're going to start small and try to be socially responsible, financially responsible and not just buy all the stupid, expensive, bright shiny equipment, but work up to it. That way, when we get there, we're still enjoying what we do and not just chasing our tail trying to pay our bills."
Sullivan lives in the neighborhood and noticed that a spot was consistently vacant next to Macho's Fast Mexican Food, so he leased it.
"At that point, I was just brewing in my garage, and people would just come hang out in my garage," he said. "So we basically outgrew my garage – into a bigger garage."
And thus, Anarchy Brewing Co. was born. Sullivan, who describes himself as a punk rocker (and looks the part – he was wearing a mohawk and a Dead Kennedys T-shirt when this reporter interviewed him), said the small size of the brewery plays into its anarchist nature.
"We're doing a tiny little brewery, a one-barrel system," he said. "It's like a pilot system for anybody else."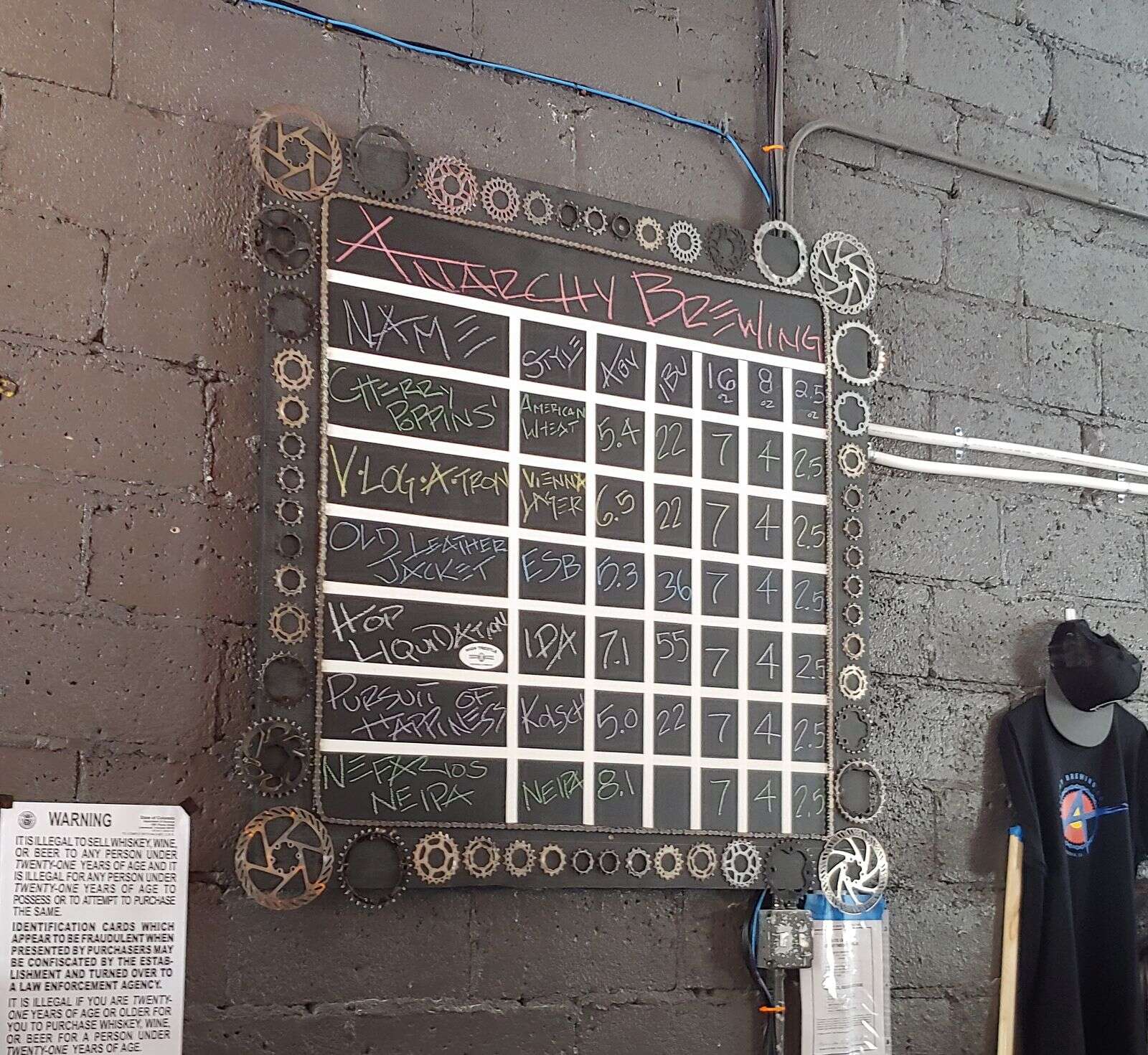 The nanobrewery has six taps now and plans to have 10 within a few months. When it opened, it six beers were: Cherry Poppins, an American wheat; V-Log-A-Tron, a Vienna lager; Old Leather Jacket, an ESB; Hop Liquidation, an IPA Anarchy made in collaboration with Durango's High Trestle Brewing Co.; Pursuit of Happiness, a Kolsch; and Nefarious NEIPA, a New England IPA.
But don't get attached to any of them.
"Because we're only doing one-barrel batches, we're going to be turning beers over, like, once a week," Sullivan said. "So that's kind of the idea, you come in and if there was a beer here that you loved, well, it's not there now, so you've got to try something new. And you're just constantly trying new beers. We're so small and flexible, we can make whatever we want. And if it doesn't work out, it doesn't work out."
He said the brewery already has a few beers in reserve, including a stout, weizenbock and a pilsner, as well as a hard seltzer.
"We're all over the place," he said. "We're not anti-government, but kind of anti-establishment. We don't all have to do the same normal thing and fall into the social norms."
The punk nature of the brewery also comes across in the DIY nature of the bar. Paul Geslao and Matt Hill, who also work at the brewery (and are also nurses at Mercy) built much of the brewery's interior, including a walk-in refrigerator, which also keeps the beer tap manifold cold, and the bar.
"Matt (Sullivan)'s idea with the whole thing was 'We can do it different,'" Geslao said. "Instead of taking this huge investment, building this gigantic building with all the stuff, let's grassroots the thing and see how good a product we can make for as little amount of money. We built everything.
"It's good to start somewhere small," he said. "You know where you come from, and it's just fun to exercise our talents outside of our normal everyday stuff."
Hill said Anarchy's set-up encourages creativity.
"I think the cool thing about the whole nanobrewery, small aspect of it is that it allows us the freedom to be creative, to make the beers that we want," he said. "Matt (Sullivan) is really open to us trying new recipes and doing unique beers that you probably won't see at most breweries because we have the small-scale capability of doing that."
Appropriately, Anarchy's hour are still up in the air, but Sullivan said the brewery will probably be open 11 a.m. to 9 p.m. every day but Monday.
ngonzales@durangoherald.com