Durango death care professional discusses different natural interment options and their availability in La Plata County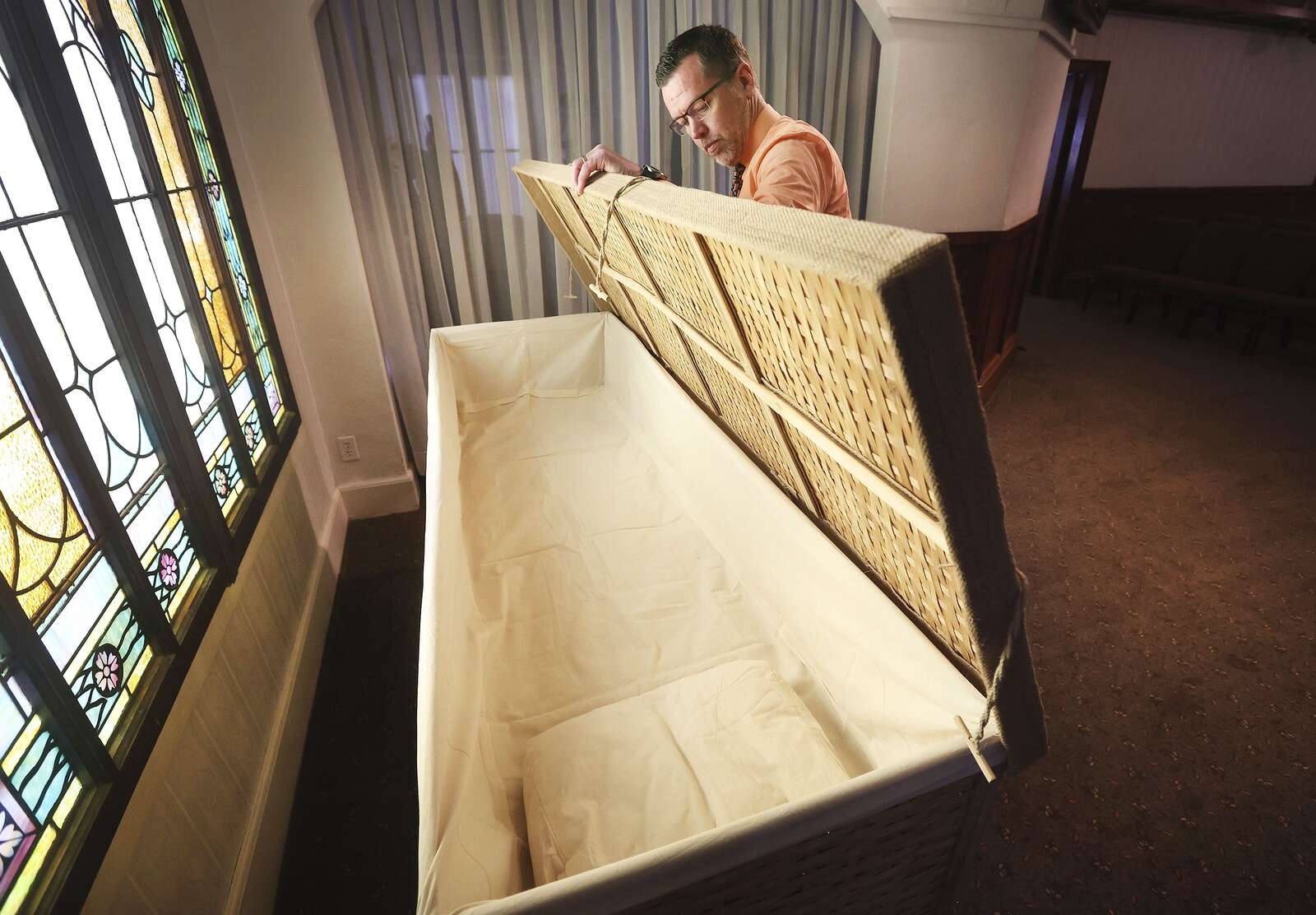 Many people avoid thinking about what happens to their remains after they die. They may consider options like burial or cremation, but they are less likely to consider the environmental impacts of their end-of-life decisions.
Each year, cemeteries across the U.S. bury more than 100,000 tons of steel and about 1.5 million tons of concrete from concrete burial vaults, according to the Casket and Funeral Association of America.
In addition, 4.3 million gallons of embalming fluid is used each year in the United States for burials. Embalming fluid contains chemicals such as formaldehyde, methanol and benzene that seep into the soil and potentially into underground water.
That is why there is a growing interest in natural interment methods that include green burials, water cremation and human composting.
According to the 2022 National Funeral Director's Association Consumer Awareness and Preferences Report, 60.5% of survey respondents were interested in learning more about green funeral options. The report also said that 64% of respondents ages 40 and older preferred a green burial option.
Hood Mortuary owner Ryan Phelps estimates he receives inquiries about green burials once every two months and conducts a green burial once every six months.
There are multiple definitions of what a green burial is, but the most common includes a burial where the body is covered in a biodegradable shroud or casket and does not use a burial vault or embalming fluid.
Both Hood Mortuary and Williams Funeral Home & JWN Crematory in Durango offer green burial options.
Phelps said a green burial can take place at any cemetery that doesn't require a burial vault. Greenmount Cemetery and Pine River Cemetery require a burial vault or liner, he said.
City Park Manager Sara Humphrey said there have been discussions about making the burial vault optional, but nothing has been finalized.
"We have been discussing what offering green burials would look like, but we haven't designated ground and we're just not that far along in the process," she said.
The city requires the liner or the vault to be a nondestructive material. Polyguard vaults are most commonly used.
"Other than that, any cemetery can be used for a green burial purpose like Crestview, out at Elmore's Corner," Phelps said.
Phelps said Hermosa Cemetery is the closest to a green cemetery in the area. Green cemeteries are often primitive, not maintained and headstones tend to be smaller.
However, green burials aren't completely green. Phelps said the only true green burial would be to bury someone where they died and immediately after. In order to bury someone, funeral services will often use a backhoe to dig the grave, which emits carbon. He added that the vehicles used to take bodies to burial sites emit carbon. Also, the state mandates that bodies are refrigerated within 24 hours after death, if not embalmed, which can also have an environmental impact.
"So in terms of a burial being truly green, I think of these green burials more in shades of green," Phelps said.
Water cremation, also known as alkaline hydrolysis, is when the body is placed in a pressure vessel that is then filled with a mixture of water and potassium hydroxide, and heated to a temperature around 320 degrees Fahrenheit. The vessel elevates pressure to prevent boiling and this causes the body to break down into its chemical components.
This is supposed to be more environmentally friendly than traditional cremation because fossil fuels aren't burned in the process. Water cremation uses just 10% of the energy used in a traditional flame cremation process.
"What's left after water cremation is just its own almost perfect structure of skeletal remains," Phelps said. "And then those skeletal remains are processed the same way we do cremated remains."
Alkaline hydrolysis is legal in only 19 U.S. states, including Colorado. However, there aren't any places in La Plata County that offer the service. Phelps said there are only a few places near Denver that offer alkaline hydrolysis.
He said the reason more death care professionals don't move toward this method is the cost of conducting water cremation versus how many people request it.
Phelps has had minimal requests for alkaline hydrolysis but did see some interest in the option after legislation passed in 2011 that made water cremation legal in Colorado.
"If it's chosen more frequently by people then it will be adopted by the industry," he said.
Alkaline hydrolysis, or "aquamation" machines, cost $175,000 to $260,000.
Another area of interest among those who want a natural funeral is human composting. In 2021, Colorado passed a law that made human composting legal.
This is the process of encasing bodily remains in wood chips, straw and alfalfa until microbes decompose the body. This usually takes eight to 12 weeks and essentially turns bodily remains into soil.
Research conducted by Recompose, a human composting service based in Seattle, showed that between 0.84 and 1.4 metric tons of carbon dioxide are saved each time someone chooses human composting. That is equivalent to driving a Honda Civic 3,500 to 6,000 miles.
"I would say for this area to open anything large-scale for composting care would be many years out," Phelps said.
The cost of building a human composting facility in Durango is the reason it may not be available in the near future. Phelps said the facility would need to be large enough to hold multiple large composting containers and would need to be heated because freezing halts microbial action. These aspects would drive up costs for death care professionals.
However, if a family was interested in human composting, Phelps said he would transport remains to Denver and contract with a third party that offers composting. However, Hood mortuary has had few inquiries regarding human composting.
"My role as a death care professional is to do whatever the family wants," Phelps said.
tbrown@durangoherald.com