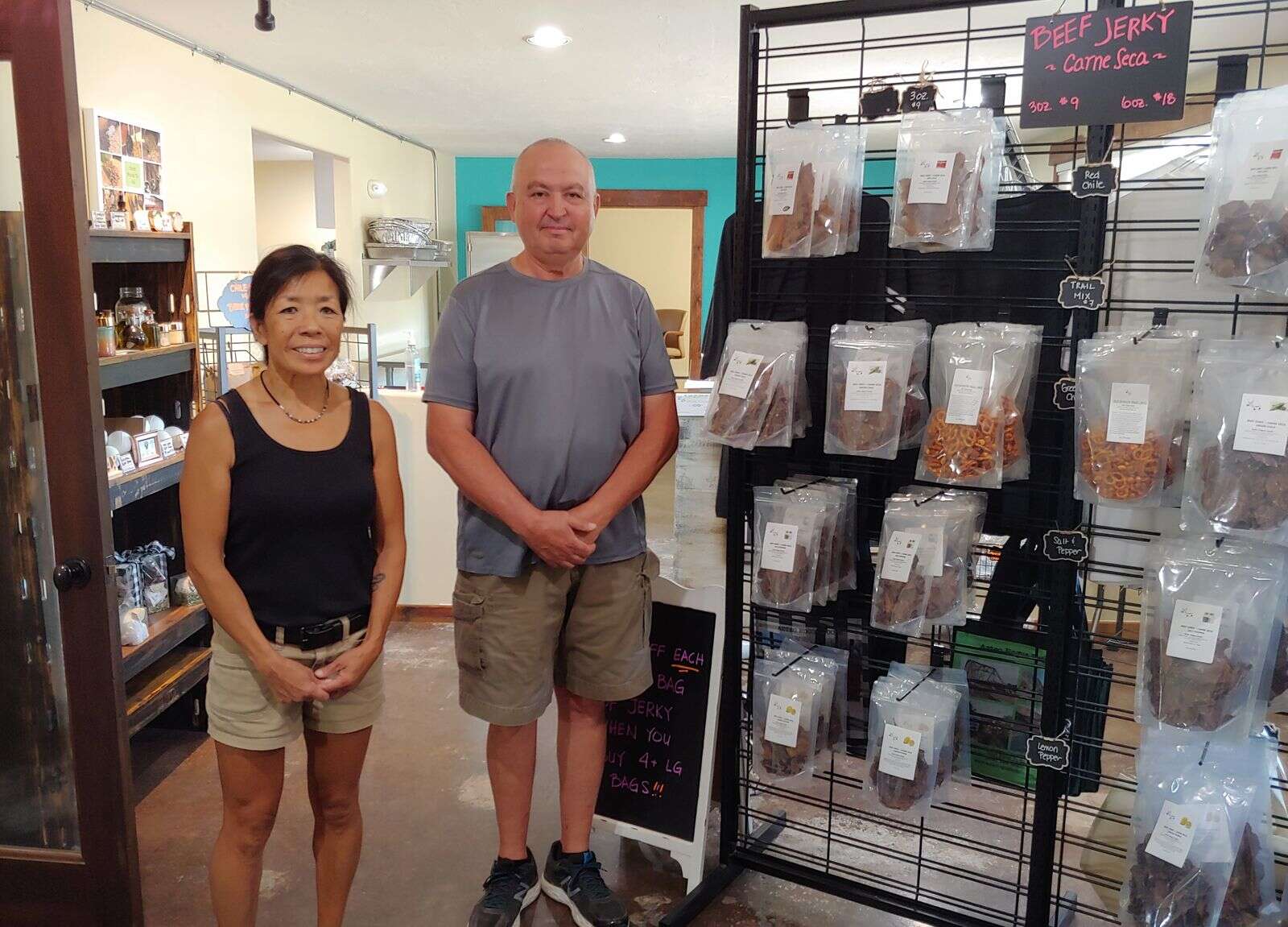 Local foods market opened in March, sources ingredients from the region
AZTEC – With at least four farmers markets in San Juan County, New Mexico, it's not hard to find locally made foods. But sometimes it's handy to have a store with regular hours. That's where Aztec Rogue Foods comes in.
The business makes and sells beef jerky, trail mix, gluten-free blue-corn biscotti, and chile and beer bread mixes, said co-owner Greta Quintana.
"We have seven different granolas and they're all gluten-free," she said. "Two are paleo- and keto-friendly."
The store also sells an assortment of other items, such as coffee and teas, from local producers. The only item sold in the store that isn't local is a children's book written by Quintana's brother.
The ingredients for the shop's foods are also locally sourced. For instance, pinto beans and blue corn come from NAPI, the Navajo Agricultural products Industry, and mushrooms are grown by Aztec's Humble Fungi. The green chile is certified by the state's New Mexico True program.
"We try to locally source everything that's in the store," Quintana said. "In this day and age, everyone wants to support local small businesses, and I think that's helped us."
She and co-owner Isaac Lucero opened their store at 603 NE Aztec Blvd. in Aztec in March after selling their goods at farmers markets and the like over the past year, she said.
She said that the store was largely her idea.
"I think I was the driving force because I like to eat ... a lot," Quintana said. "My family is traditional Chinese, and so everything revolves around food. While we're eating one meal, we're talking about what we're going to eat for the next meal. Food has always been important."
She said she wanted to start a business that isn't a restaurant because of the difficulty involved in starting one, especially without training.
"My husband was doing beef jerky out of our house, and it seemed like everybody liked that – so he trained me to do that," she said. "I figured I'd get bored just doing one thing, so it morphed into a little bit more, which is a lot to undertake with just the two of us right now."
Quinatana said the store's business model has been somewhat pandemic resistant because it isn't a place where people would go to eat.
Lucero, who previously worked with Quintana's husband, said the timing of Aztec Rogue Foods was also very lucky in relation to COVID-19 restrictions.
"We didn't do a heck of a lot in late 2019 – we really started taking off in 2020, going to farmers markets," he said. "And the good thing about that is it's outdoors and people were still masking up according to the rules of the market ... but it was almost like people were looking for a reason to get outside and purchase fresh produce at the market. That made our transition a little bit easier.
"And then by the time we got into our building, we were on the tail end of it," he said.
Lucero also attributes some of the business' success to its uniqueness in northwestern New Mexico.
"The fact that it's healthy and gluten-free and some of the granola are keto friendly – some people come here just for that because its hard for them to find to match their diet," he said. "It's hard for them to find something that they really like, and once they find it, they'll keep coming back."
Then again, the draw for customers might be even simpler.
"Everyone says it tastes good," Quintana said.
ngonzales@durangoherald.com