Back from arm injury to the Intercounty Baseball League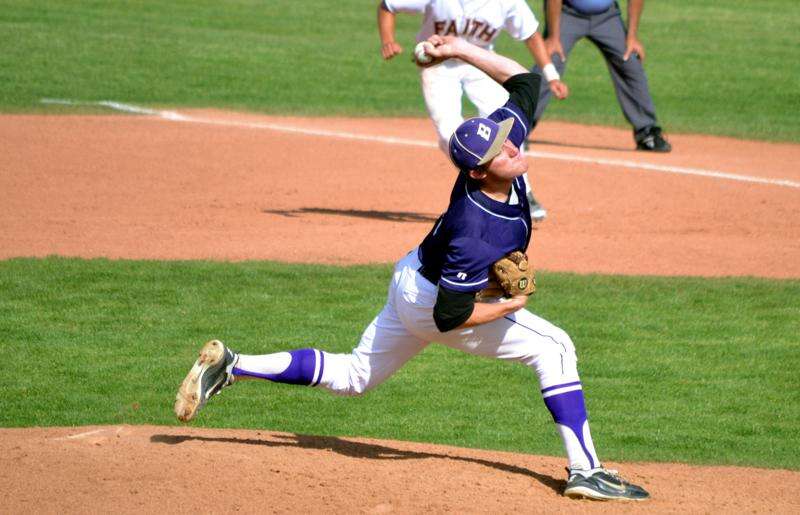 Absent from Bayfield High School baseball's end-of-season team banquet Wednesday evening, assistant coach and former Wolverine Clay Miller had a good reason, one not requiring a permission slip and parent's signature.
Having aided father Bert in guiding BHS back to the top of CHSAA's Class 3A Intermountain League this spring, Miller had to leave town roughly a week before the squad's mid-week revelry in preparation to begin helping the Hamilton, Ontario, Cardinals in their hunt to rise up in the independent Intercounty Baseball League's standings.
On Sunday, Miller made his debut (he'd officially signed back in early March), pitching the sixth and seventh innings of a 5-0 home loss to defending IBL champion Barrie, striking out three and allowing zero runs. His first start was to come Friday night at home versus the Welland Jackfish before Carstar Field at Bernie Arbour Memorial Stadium officially takes its updated name Sunday afternoon with the Guelph Royals in town.
Formerly the Burlington Herd, Miller had played for the renamed, relocated 'Fish briefly in 2018, appearing in three games and logging a 1.00 earned-run average and 15 strikeouts in nine innings pitched before an arm injury ended abruptly a season containing so much promise after he'd gone 8-0 in 10 starts (3.02 ERA, 68 1/3 IP, 21 BB, 66 K) for the independent Pecos League's Tucson Saguaros in '17.
"Against my former team," Miller said Thursday, "I'm excited. Can't wait to be back on the mound."
Hamilton's general manager Jeff Lounsbury is eager to have Miller on the mound.
"Clay will be a great addition to our pitching staff, and will fit in with our clubhouse. He knows current Cardinals Grant Arnold and Zack Gonzalez very well, so this should be a smooth transition for him," Lounsbury told Canadian media after Miller had first committed. "He is healthy and ready to go.
"Clay will give us a chance to win every time he pitches."
Back from injury, Miller, a hard-throwing lefty, is feeling healthy.
"My arm felt great Sunday," said Miller. "Way better than I expected."
Prior to posting a sixth-place 15-21 – their most wins since 2007 – record last summer, the Cards were primed to fold before a joint-ownership scheme concocted by the City of Hamilton and local hospitality/entertainment-oriented Carmen's Group revitalized the team, which is off to a 2-2 start in 2019 before hosting Welland (3-1; 12-24, eighth place in '18 as the Herd).
Founded in 1919, the IBL is celebrating its 100th anniversary this season.
DID YOU KNOW: Arbour Memorial Stadium was once home to the St. Louis Cardinals' Class A Short-season affiliate in the minor New York–Penn League, the Hamilton Redbirds, from 1988-92. Their ancestors were the Hamilton Red Wings, a St. Louis affiliate and a founding member of the Class D PONY (Pennsylvania-Ontario-New York) League back in 1939 until disbanding May 28, 1956, having re-taken the 'Red Wings' moniker after using 'Cardinals' from 1946-55.
The current Hamilton Cardinals of the IBL were then established in 1958 as the Hamilton Beavers. Coincidentally, the aforementioned Redbirds were also founded in '58, but as the Auburn, N.Y., Yankees and had been most recently dubbed 'Thunderbirds' from 2005-12 (after going by 'Cardinals' from 1975-2004).
Their field seems to favor dead-pull hitters; right-handed batters look at a left-field fence only 300 feet down the line, while lefties see a right-field fence just 325 feet down that line. Center is a bit of a tougher reach at 405 feet from home plate.
DID YOU ALSO KNOW: Welland, Ontario, was also once home to a MLB-affiliated minor-league crew. Linked to the Pittsburgh Pirates, the Welland Pirates played in the New York–Penn circuit from 1989-94.