Tough decision saves former Wolverine, Skyhawk a season of eligibility
Knowing a rare gamble has all but paid off, Maddy Duran's voice still had a tone of amazed disbelief as she recalled a difficult choice that has allowed her to enhance her education and regain a season of college soccer.
"I went an untraditional route," Duran said. "Took a redshirt my senior year at Fort Lewis, and that was because I didn't when I was a freshman and I still had that. So, I decided to take it as a senior in anticipation to preserve my eligibility so that I could use it when I'd pursue higher education."
An easy choice? Far from it, said the former Bayfield High School standout.
"It was one of the hardest decisions I've had to make so far," she said.
The move was supported by Fort Lewis College head women's soccer coach Damian Clarke.
"They were gracious enough to allow me to not only take my redshirt but also to continue to train with the team, be part of the team, which meant the world to me," Duran said. "Those were the girls I'd started playing with four years ago, and it was very special to continue the season, be with them for Senior Night."
After receiving nearly 700 minutes of playing time at Fort Lewis in 25 career matches, earning Rocky Mountain Athletic Conference All-Academic Honor Roll status three times and graduating a semester early this past December with a B.S. in Exercise Physiology plus a double-minor in Coaching and Psychology, Duran's brains will now back up her bite as a Hawai'i Pacific University Shark. She will get one more year to play Division II college soccer, this time in the Pacific West Conference.
"I didn't really know what I was going to do; I just kind of started working and then COVID-19 happened, and I got laid off," said Duran. "So, I decided just to poke around, see if I could find a college I was interested in, a coach I'd like, that kind of thing. I sent an e-mail to Hawai'i Pacific, and within a matter of two-and-a-half weeks, I went and visited them.
"They had an offer on the table and it all kind of fell into place."
A humorous flashback of sorts to her BHS days had actually begun the process of Duran's departing Durango.
"I was looking at colleges that had a master's program I'd be interested in, so I was just filling out player questionnaires online to put my name in their systems," she recalled. "I really didn't think it would lead to anything, especially since those questionnaires are geared toward high-schoolers.
"They were asking my ACT score, who are my parents, that kind of thing. I'm like, 'Well I'm 22, I've already played four years, have a degree already.'"
That was more or less all new HPU boss Adria Borras Budesca needed to hear. Promoted to the top spot only in May, Borras had served as an assistant coach for six seasons and was named interim chief back in January after eight-year skipper Gina Brewer's resignation.
Hawai'i Pacific went 9-7-1 overall, 6-5-0 in the PacWest under Brewer last season, closing the schedule with a 7-1 route of Holy Names University at Waipio Peninsula Soccer Stadium. It was the final home match for six Shark seniors, who'd helped the program improve on their 2018 result of six wins, as many losses, and a half-dozen draws.
COVID-19 delays and mitigation measures mean that Duran's expected leadership in Honolulu will first be felt on the practice pitch as well as in a classroom, online and/or in-person. But because of the PacWest Executive Board's unanimous late-July vote to postpone fall 2020 competition – including women's and men's soccer, men's and women's cross-country and women's volleyball – until after January 1, 2021, she'll have ample time to start targeting her ultimate objective.
"When I first went to the Fort, I knew I was going to be pursuing a higher-level education," the 5-foot-4 midfielder/defender explained. "It's an accelerated graduate program, so I'll get a Master's in Public Health in 12 months.
"It actually lined up perfectly with my eligibility, and with COVID pushing us back to spring. I get scholarship for fall and I also get scholarship for spring since our season will be then, and I'll finish everything by August."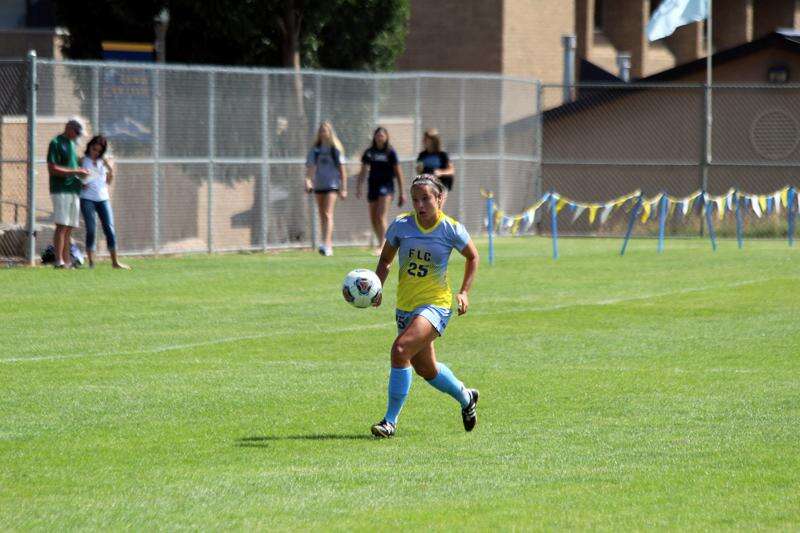 "My parents are there, and I'm actually really excited that they'll be able to watch some of my official senior year college soccer games," declared Duran, daughter of Joanna and Tom. "They left when I was in high school, so they missed quite a bit of my high-school games and weren't able to see a lot of my college games because I stayed in Colorado. So, it's cool that my final season they'll be able to be there watching.
"I've definitely come a long ways as a player and as an individual. Taking my redshirt year as a senior didn't come as a light decision. You could be the best player or whatever, but if you aren't agreeing with people leading you or whatever it may be, sometimes you have to make those hard decisions and try to pursue other opportunities."
Late last month, Duran was one of 69 Fort Lewis student-athletes receiving the Division II Athletics Directors Association's 2019-20 Academic Achievement Award. Those chosen have a grade-point average of 3.5 or higher and have completed a minimum of two years of college while actively participating in an intercollegiate athletic program.
FLC women's soccer featured a FLC-most 15 recipients.