Six schools in the Inter Mountain League participated in the region's high school art show this year, with students from Bayfield High School entering 78 pieces of art. Out of the 480 pieces submitted for the show, 50 BHS students earned awards from the IML judges.
Maddy Hollingsworth received the People's Choice Award for her acrylic painting, "Awsten Knight," and she also received a blue ribbon in the advanced acrylic painting category.
"All show attendees voted for their favorite piece in the show, so this is quite an honor for her," said Kathy Neal, the art teacher at BHS. "We are so proud of all of our art students here at Bayfield High School."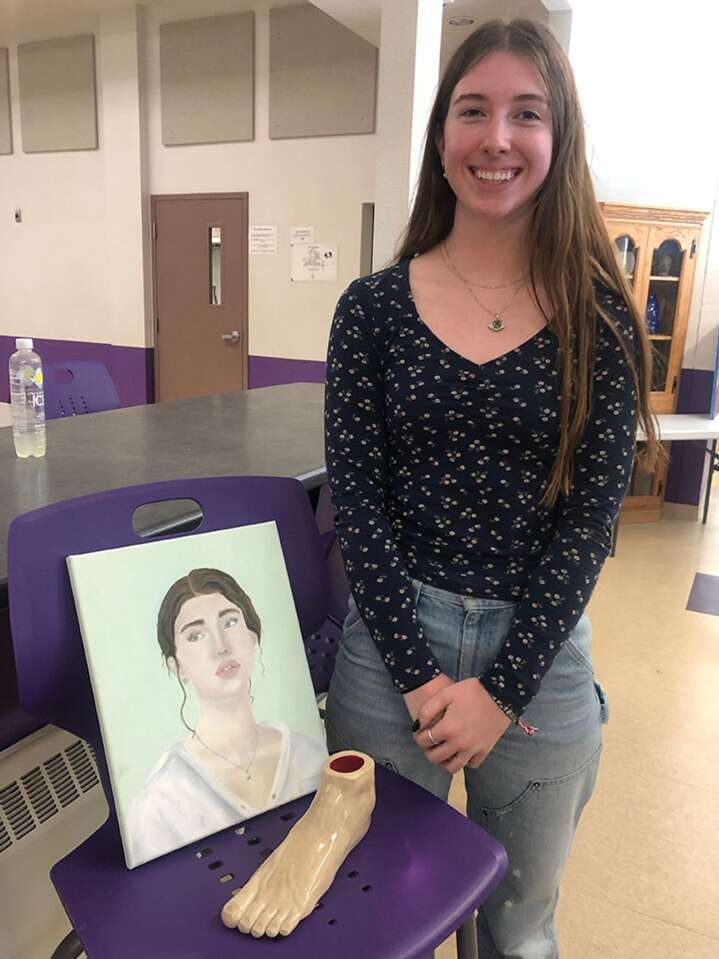 Two award-winning seniors this year are Royce Hinojosa, who earned an honorable mention for his oil painting, "When Life Gives You Lemons." Hinojosa also was recently named a Boettcher Scholar, a statewide honor that provides students with tuition and fees at a Colorado college or university for four years. He plans to attend Colorado College in Colorado Springs. He worked on his oil painting for about four months, making it the culminating project of his final semester.
Another BHS senior, Emily Nelson, won awards for her ceramics in advanced wheel throwing for a bowl she created, and advanced sculpture for her lifelike image of a human foot.
First place winners from BHS this year are:
Payton Bagay, oil pastel beginner.
Hayle Barrera, wheel-thrown ceramics advanced.
Evelyn Baxter, digital photography.
Kenasea Byrd, wheel-thrown ceramics beginner.
Sarah Evans, social commentary beginner.
Renae Foutz, mixed media beginner.
Ivy Hinkle, surrealism beginner.
Maddy Hollingsworth, acrylic painting advanced.
Maddy Hollingsworth, social commentary.
Shabree Johnson, mixed media.
Theren McCullough, acrylic advanced.
Theren McCullough, mixed media 3D advanced.
Madison Mead, digital photography beginner.
Emily Nelson, sculpture advanced.
McKenna Noonan, computer art beginner.
Jayden Vagneur, handbuilding, ceramics beginner.