BHS boys, girls swept at home by Alamosa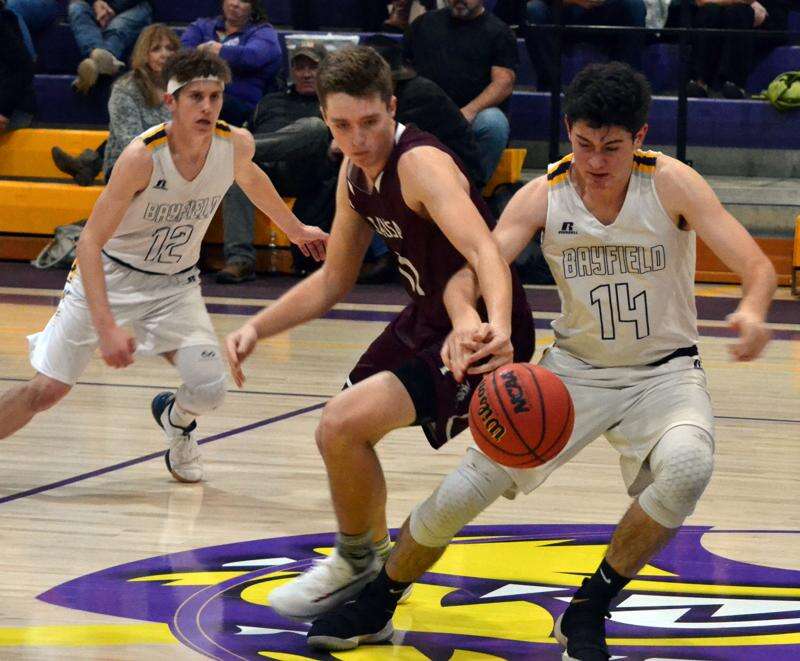 The third quarter bit both of the Bayfield High School varsity basketball teams Tuesday night against Alamosa.
In games played Tuesday after being postponed last Friday by winter weather, the Alamosa Mean Moose got the better of the BHS boys and girls basketball teams. The Alamosa girls opened with a 50-35 win after they outscored the Wolverines 15-8 in the third quarter. The BHS boys then fell 61-40 after being outscored 16-5 in the third quarter by the Mean Moose.
Girls Basketball
Macee Shultz scored a game-high 19 points for the BHS girls (3-5, 0-2 3A Intermountain League), but it wasn't enough to get past fifth-ranked Alamosa (10-1, 2-0 IML).
The Mean Moose jumped out to a 10-3 lead, but the Wolverines closed well to get within 10-7 going to the second. Alamosa then made it a 17-7 lead early in the second quarter, but BHS again got within striking distance at 22-15.
Shultz scored eight of Bayfield's 12 fourth-quarter points after she had scored six of the team's first seven points of the game.
BHS played great defense on Alamosa's Emily Lavier, who had set a new state record with 12 made 3-pointers against Monte Vista for a 38-point performance Saturday. Bayfield held her to 13 points and only three 3s. She did score seven in the fourth quarter to keep BHS at distance.
Also for Alamosa, Devyn Mitchell had 13 points, and Lilly Lavier added 10, with eight in the third quarter.
BHS will travel this weekend to face Centauri at 5:30 p.m. Friday and Monte Vista at 5:30 p.m. Saturday.
Boys Basketball
A well-balanced effort from the BHS offense wasn't enough to match Alamosa's three-headed attack led by Ian Jackson on Tuesday.
Jackson scored a game-high 23 points in the 21-point win for the Mean Moose (7-4, 2-0 IML).
Bayfield was led by seven points each from Zack McSweeney and Hunter Bayles, while Crosby Edwards, Kacey Chandler and Brecken Espinosa each had six.
Alamosa senior Lincoln Tuioti-Mariner, a transfer from Bishop Gorman High School in Las Vegas who will play football at Air Froce, scored 13 points off the bench for Alamosa, with 10 in the second half.
The Moose raced out to a 10-3 lead, but a 3-pointer by Espinosa helped BHS get back into the first quarter and trail only 13-11 going to the second quarter. The third quarter got away for BHS, but McSweeney tried to keep BHS in it in the fourth.
Landon Kennedy returned to BHS after missing several games with an ankle injury. He came off the bench to score four points.
BHS will look to end an eight-game skid with games Friday and Saturday at Centauri and Monte Vista, respectively.
Sports writer Joel Priest contributed to this report.
heraldsports@durangoherald.com