Husband and wife say no vet should suffer for lack of access to health care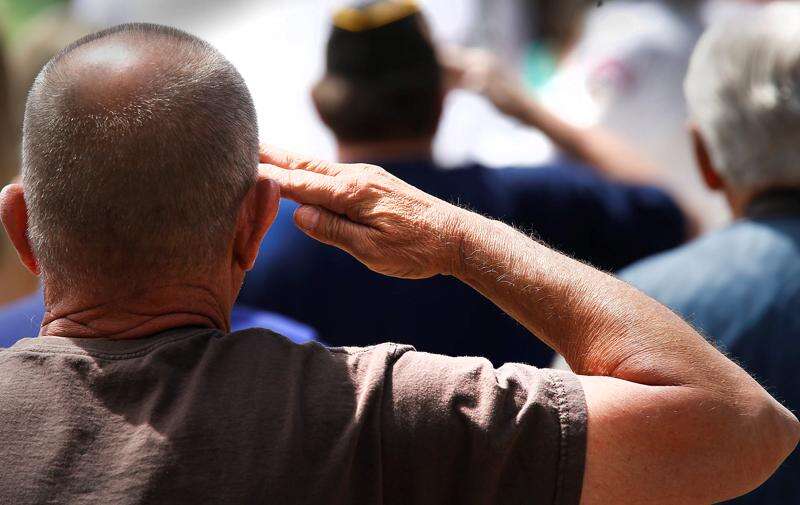 On average, 22 military veterans commit suicide per day, according to statistics collected by the Department of Veterans Affairs and the Centers for Disease Control and Prevention.
It is an alarming statistic, something longtime Bayfield resident Steve Salka understands all too well.
"Twenty-two is 22 too many," said Salka, himself a military veteran who served for 25 years. "Change doesn't come quickly. But you got to start somewhere."
Salka's wife, Lori Cole, wants to utilize her and her husband's particular talents to help bring about change.
"We decided to start using our music to reach people in a different way," she said.
Salka experienced firsthand what it is like to serve on active duty in the military and then return home – the struggle to reintegrate into society while suffering physical, emotional and mental injury.
"There's a lot of things that you don't ever want to talk about," Salka said. "Things I won't talk about now. I'm still seeing a psychologist because I have PTSD. It's emotional for me. I know what they went through because I know what I went through."
Salka said one of the problems many veterans face when it comes to medical issues is the lack of choices outside what the Military Health System and the U.S. Department of Veterans Affairs offers.
"I was in the military for 25 years," Salka said. "People think, 'You must know all the rules. You must know all the things you need to know to get medical help and get the things that are owed to you,' and I don't.
"I was on active duty, and I had to get my cervical spine operated on. I lost the ability to write my name. I was tripping and falling for no reason at all. I went to the VA in Albuquerque, and the neurologist looks at me, and she goes, 'Well, commander, we're going to take care of you. We're going to fix your neck from C to C7.' I said, 'Oh, no you're not. I'll be disabled. You're not going to do that.'"
Salka had researched alternatives to the risky surgery the neurologist was proposing and found an alternative method that could potentially have a safer outcome.
"I told them, 'There's this new technology,' and they said, 'We don't have anybody here qualified to do that,'" he said. "I told them, 'You should be sending me to another hospital, civilian hospital then.' This doctor got mad at me. She said, 'Commander, if you do this, you're on your own. You're going to pay for it all by yourself.' That's how you get treated. The surgery ended up costing $300,000 back in 2000."
Salka knew he had to be the voice for thousands of others serving in the military receiving out-out-date treatment or no treatment at all, and sought out someone who could do something about it.
"I went to see Sen. (Michael) Bennet, who happened to be in town," he said. "I said, 'Sir, you're my last choice. My last hope.' And he goes, 'No, Steve, I'm your first.' I told him what had happened to me in the military and that was the beginning of the VA getting looked into because of how they were making the veterans wait forever (for treatment), and some of them were dying just waiting to get an appointment."
For her part, Cole wanted to utilize her talents to send a message that would speak for and to all active veterans like her husband. A professional singer and the daughter of the original 1930s radio version of Little Orphan Annie, Cole has worked in the entertainment industry for decades, singing in radio and television commercials for everything from Doublemint gum to United Airlines. Right after 9/11, Cole collaborated on a song with composer and music producer Jim Tullio, who wrote the lyrics that she and Salka felt would be perfect for their video.
Help for people having suicidal thoughts or for those who fear a person is considering suicide:
Axis Care Hotline:
24/7 local response to your crisis & behavioral health needs: (970) 247-5245
NATIONAL SUICIDE PREVENTION HOTLINE:
(800) 273-TALK (8255) or text "TALK" to 741741
RED NACIONAL DE PREVENCIÓN DEL SUICIDIO:
(888) 628-9454
FORT LEWIS COLLEGE COUNSELING CENTER:
247-7212
BOYS TOWN HOTLINE:
(800) 448-3000.
SAFE2TELL COLORADO:
(877) 542-7233 or safe2tell.org
COLORADO CRISIS SUPPORT LINE:
(844) 493-8255 or text "TALK" to 38255 or online at coloradocrisisservices.org to access a live chat available in 17 languages. The line has mental-health professionals available to talk to adults or youths 24 hours a day.
AMERICAN FOUNDATION FOR SUICIDE PREVENTION:
Colorado chapter information available at afsp.org/chapter/afsp-colorado/
FOR MEN:
A website for adult men contemplating suicide is available at mantherapy.org
"These poor guys and women don't feel like they have any other recourse to get rid of the pain than to take their life," Cole said. "That should be a national shame. I wish the politicians would grab onto this issue with some of the gusto they grab onto other things. Because these men and women gave everything that they had in their lives to join the service. They'll never have a life like they had prior to their service, and we owe them so much more than what we give them."
One politician who heard the song and spoke to the couple was Colorado Sen. John Hickenlooper, who worked to pass the VA Zero Suicide Demonstration Project Act of 2021, which required the VA establish the Zero Suicide Initiative pilot program for the purpose of improving safety and suicide care for veterans, as well as other bills to allow veterans to seek medical help outside the MHS and the VA.
"Hickenlooper was pivotal in getting that for the vets, so they can go to any facility," Salka said. "It doesn't have to be the VA. It's a big deal when the VA gives us that control and lets these people get the help they need where they are. Not everybody lives in a city. We're trying to affect change on this front."
Making the video was an emotional journey for Salka and Cole, as they looked through photographs of soldiers and military personnel from each war, deciding which ones they wanted to include. Salka's photograph from one of his tours is also in the video.
"Just putting the video together tore me apart," Cole said. "I drank tons of water because of the amount of tears coming out of my eyes."
The husband and wife hope the finished product inspires a much-needed conversation about the mental health of veterans, as well as interest in donating to nonprofit organizations aimed at improving the lives of military personnel.
"The red tape is way too long," Salka said. "The wait is too long. The VA doesn't have enough psychologists to handle everything. All they (veterans) want is help, and they feel like nobody cares."
"We can't shove these people away," Cole said. "They have nowhere to go. They're treated so poorly. I want people to try and imagine what their life would look like when that's their reality. It's staggering. They feel like there's no hope. These people deserve better. We owe them more, especially because they gave so much to us."
molsen@durangoherald.com