BHS hopes to honor, extend XC legacy in '21
This fall, Josh Walton wants all the bulletin-board material he can get.
Moving away opponents' derogatory comments and the like to pump up their players, Bayfield's boss wants his crew to know where Wolverine cross-country has been. Walton hopes the 2021 rosters recognize the program's highest heights and aspire to reach similar strata in their own way.
"I'm going to celebrate, like, all of it," Walton said proudly Wednesday evening. "We have a bulletin board at school, and I'm going to list all state qualifiers, and obviously our state champion (Eva-Lou Edwards) in 2012 and 2013, Steve Flint in 2005 – and the boys team winning the whole thing in 2005."
"In '92, Vernon Kimball started the program and had a girl by the name of Melissa Lott qualify for state … the first year we had a cross-country program!" he said. "And this year, we're celebrating 30 years of cross-country at Bayfield High School!"
"So yeah, we're looking forward to a great year."
Set to start the new season Friday evening north of Dolores at the Boggy Draw Bear Chase, Bayfield's success under Walton and assistants Amy Miglinas and Amanda Martin will stem from a sizable senior core.
With lone 2020 CHSAA Class 3A State Championships qualifier Zeb Shields having graduated, Royce Hinojosa will be counted upon to pace the gents. He is the only remaining harrier who also competed at the grand finale, as part of the Shields-Elco Garcia-Jonas Nanaeto squad, which qualified as a whole in 2019 for Colorado Springs.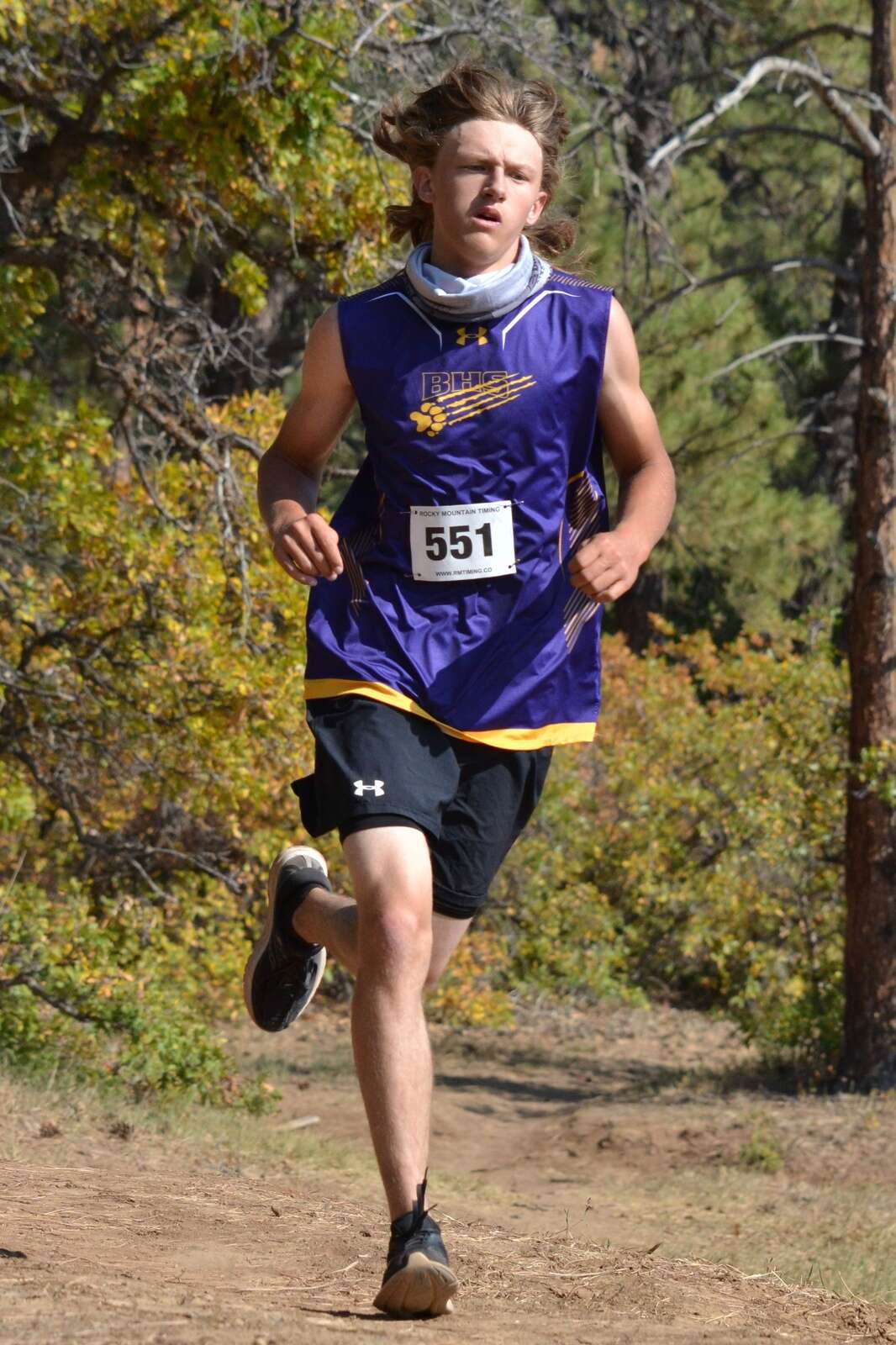 Fellow senior Michael Everett, Bayfield's No. 2 finisher at last season's 3A Region I Championships at Hillcrest Golf Course in Durango, will join Hinojosa (Bayfield's No. 4 at the event) as the Wolverine boys' frontrunners. Sophomore Tristan Sager (No. 5 at the regional) and senior Liam Smith (No. 6) also will return.
The last Lady Wolverines standing in 2020, veterans Abby Tate (46th at Region I) and Eli Ion (61st) are back for their senior season, along with out-of-state arrival Cailyn Ainsworth. Previously a No. 2 for Dysart in El Mirage, Arizona, Ainsworth brings vital state-caliber mileage to the mix. She qualified for the Arizona Interscholastic Association's Division II Championships as a freshman in 2018, placed 84th out of 197, and a sophomore in 2019, finishing 122nd out of 195.
Now in his ninth season at the helm since taking over from Pat Vaughn – who succeeded Kimball in 2008 – Walton also mentioned freshman Sage Flinders and sophomore Teagan Schleeter as young prospects of whom he has elevated expectations to help bolster the Lady Wolverines. Freshmen Sawyer Flinders, Will Kennedy-Jones, Hunter Carroll, Jonas Gerritts and junior Moss Gerritts will reinforce the boys while finding their varsity legs.
"We've got a good group of seniors coming back, a few freshmen coming in that have been on the middle-school team in years past. ... They've been putting in three to five miles every day, different intensities. I'm excited to get another season rolling," said Walton.
"There won't be as many mask restrictions this year," he added. "I hope they won't have to wear masks throughout the season, but we'll see how that goes."