Leaders of 2015, 2017 state championship steps away from Wolverines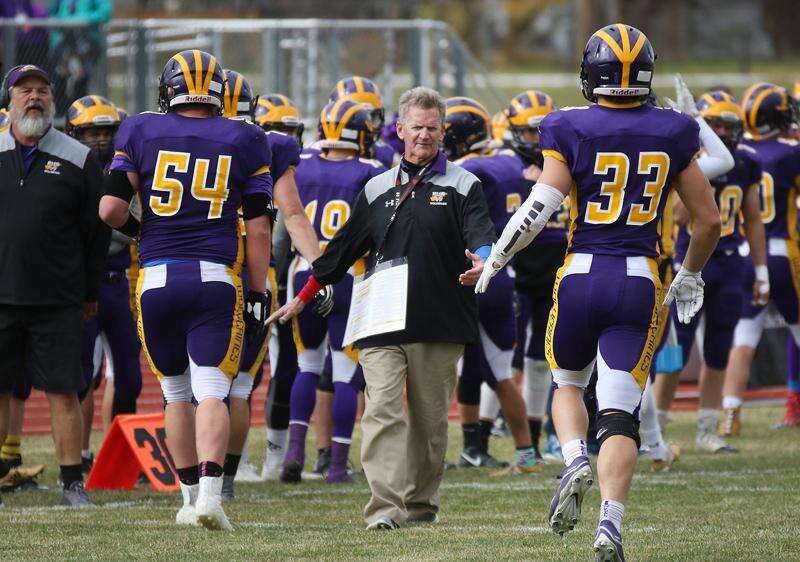 They coached Bayfield High School to two state football championships together. Now, they will retire from coaching the Wolverines together.
Gary Heide has stepped down as head coach of the Bayfield football team after nine seasons in charge of the Wolverines. Defensive coordinator Mike Wnorowski also will retire after seven seasons at BHS with five of those in the defensive coordinator position.
"In regard to my time with Bayfield athletics, everything should be accredited to the superb backing of the community, the administration, our athletic directors in that time, in Dave Preszler, Rob Dean and Derrick Martin," Heide said. "Obviously, the players deserve most of the credit. I was blessed, Bayfield was blessed, to have a string of amazing athletes who had a huge impact on the successfulness of Bayfield football.
"I couldn't go on without thanking all of the coaches who were with me. We would not have had our two state championships and our incredible record without coach Mike Wnorowski. I believe that in my heart."
Wnorowski, 71, joined Heide's coaching staff in 2015 and led one of the state's all-time great defenses during the Wolverines' 2017 state championship run as well as the team's state title in 2015.
"(Heide) and I had an excellent relationship full of respect. It couldn't have been better, and we worked fantastically together," Wnorowski said. "When I first got here and saw the size and number of quality athletes in a high school with only 350 kids, it was mind boggling. I felt like we had a Division II college football team. It was astounding to me.
"My family and I have a love with the families in this community who have accepted us and treated us phenomenally. We've been amazed by the quality of great folks in this community, and they mean the world to us. We have loved their kids, and they have loved us back for loving their kids."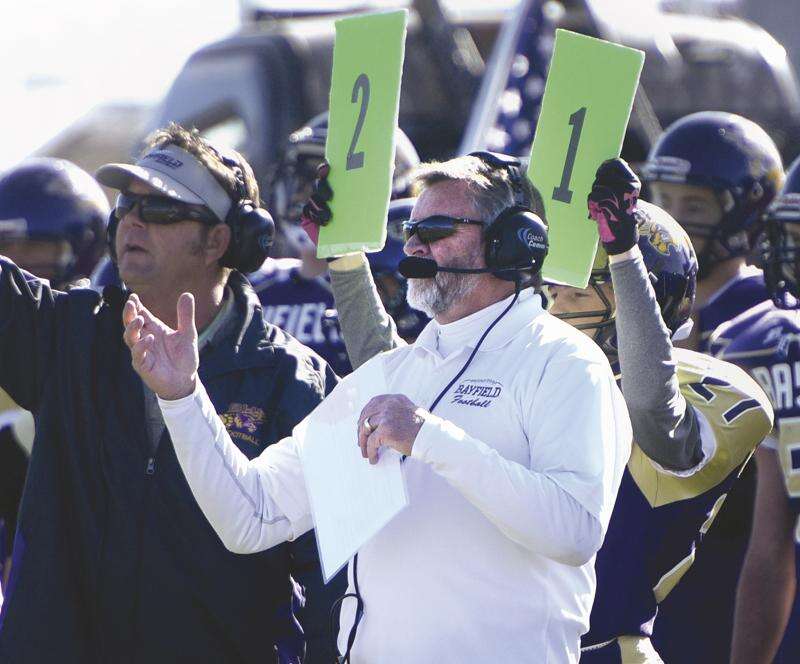 Heide, 65, amassed a 67-24 overall record after he was hired ahead of the 2012 season. That included the two state championships, four semifinals appearances, a remarkable 36-8 mark in league games and a 24-game home winning streak that stretched from 2014 to the end of the 2018 season. Heide is four wins shy of the school's all-time record of 71 set by Butch Prior, coach of the 1996 state championship team who spent 15 seasons leading the Wolverines.
Above all else, Heide's former players remembered him for being a great man.
"He affected a lot of lives in a positive way through football," said Kelton McCoy, the senior quarterback of the 2015 state championship team. "He earned our respect, and we owe a lot of great memories to him that we will have the rest of our lives. He was a perfect role model for us and always had a great spirit. Some coaches don't have that spirit he has. He encouraged kids to get out and play a sport and have fun. People should always remember him for doing the right thing, showing his true emotion and winning at the same time."
Bayfield went 11-1 overall, 7-0 in league and reached the Class 2A state semifinals in Heide's first season in 2012 after he replaced Marshall Hahn, who Heide credited for leaving him a team that was ready to win.
During two average seasons in 2013-14, BHS went a combined 10-9. At that point, Heide made drastic changes to his coaching staff, including promoting Wnorowski, who first assisted with the team's defense after finishing his coaching duties with Bayfield Middle School in 2014.
"He went completely clean slate with the coaching staff," McCoy said. "People weren't sure about it, but it sparked our run to get new faces in there. We knew we had the players, and Heide got the right coaches with him. It took off from there."
BHS would go 12-0 in 2015, including a 28-20 win at Platte Valley in the Class 2A state championship game. It was Bayfield's second state title in school history and first since 1996.
"The seniors on that team were so committed. What brings tingles to my soul is the belief they had in me as their coach," Heide said. "We had a couple years where we didn't achieve as much as we wanted, and that happens a lot in sports – you get knocked down. That 2015 team got knocked down a bit in 2014, but I told them, 'The ground is no place for a champion.' They had the heart of a champion, and they got up and found their belief."
In 2016, BHS went 9-3 and won a second of four consecutive league championships. The season would end with a 14-13 semifinal loss to eventual state champion La Junta.
It set the stage for one of the greatest seasons for any small school in Colorado history in 2017. BHS went 13-0 and finished with a 34-7 state championship game win against La Junta in a game played in front of more than 5,000 fans at Wolverine Country Stadium. It was a proud moment in the history of Bayfield's community.
For many of the players, their appreciation for the coaches responsible for helping them get there has only grown since that game.
"They're just special guys," said 2017 senior Hunter Killough. "When you have a football family like we did, those guys become like your dad. A lot of times, you don't appreciate your father figures until they leave or you leave, but I know I appreciated them and it has only grown since I've been out of high school. I've been able to keep in touch with coach Heide, and it's a relationship that has far surpassed the world of high school football."
BHS broke records with its defense in 2017. The team set the single-season sack record with 65, while senior defensive end Ryan Phelps recorded 24 sacks, including four in the title game, to give him a single-season record.
The Wolverines recorded eight shutouts that season and allowed only the seven points to La Junta the entire state playoffs. BHS outscored its opponents 506-56 and held opposing offenses to negative yards on multiple occasions that season.
"The guys on that team had tasted what victory felt like and what it took to be a champion," Wnorowski said. "We believed, I believed, very early on that we could be great. My emphasis to the team was that giving up a first down was a defeat. Shutting out a team was our expectation with the exception of Durango. The players bought into it. That was their commitment, to not give up a first down."
Heide's offense also set records behind junior quarterback Hayden Farmer. His 2,090 yards and 35 touchdowns are the most in a single-season in Wolverines history.
That season's 20-13 victory against Durango High School also remains the only win in varsity football history for BHS against the La Plata County rival Demons. Bayfield stands at 1-16-1 in 18 matchups all time dating back to 1924.
"Coaching 20 miles away from those guys, you saw how they built a championship program. It was something we wanted to replicate," said Durango offensive coordinator Ryan Woolverton, who along with Demons head coach David Vogt would lead DHS to its own state title in Class 3A in 2020. "As we started to do summer seven-on-seven work against them and play games with them and really get to interact with them, my respect for what they did for their school and community skyrocketed. It was evident they were some of the best coaches in the state. But, beyond that, they were even better men and better mentors for their kids and rival coaches. We had a lot of mutual respect. Outside of the week we played them, we always cheered for each other."
The big 2017 win against Durango came a year after BHS had lost in overtime in the first meeting between the two varsity programs since 1936.
"We were blessed to have such great players for those years to compete with a great team such as Durango," Heide said. "We were just very honored to be able to compete with them. I think the timing of that game in our 2017 season during our quest to become a state champion was perfect. It was early in the season, and we were still growing and developing. That game, winning it in the final seconds at the goal line with an interception by Hunter Killough, it was huge for our fans and players and was a stepping stone for us to get to where we wanted to be by the end of November. It helped us build that momentum."
Heide, also a longtime track and field coach, then saw his boys team win the CHSAA Class 3A State Track and Field Championship in 2018 with his son Carl winning the 110- and 300-meter hurdles titles. The track and field championship came after Bayfield also won the Class 3A basketball state championship, giving the Wolverines an ultra-rare triple crown of championships. Carl and his twin brother, Dawson, along with Phelps and Dax Snooks were the four boys who were part of all three championship teams.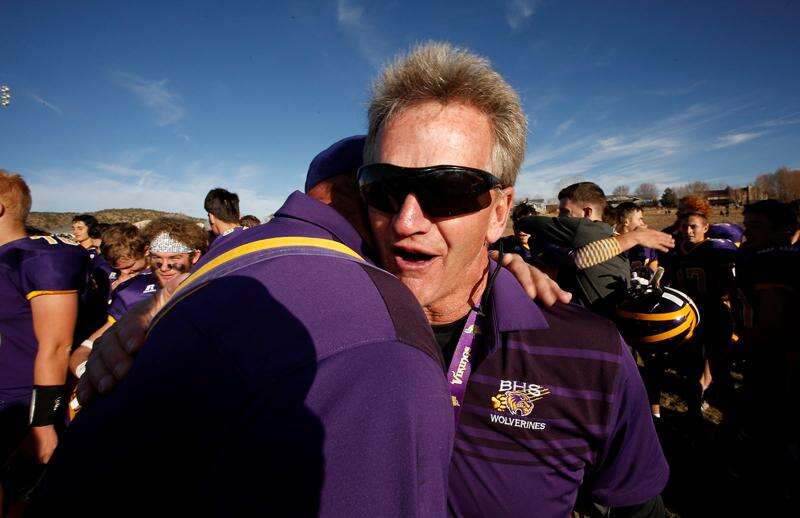 "The track and field championship meant a lot more to me than people realize," Heide said. "Previously, I had been a head coach for quite a few years at a number of programs that were also successful. That win was the icing on the cake after spending a lot of time track and field coaching."
Despite losing 16 seniors from the 2017 football team, BHS returned in 2018 and went 8-2 and claimed another league championship before a 21-13 state quarterfinal loss at Faith Christian.
Wnorowski stepped down from his defensive coordinator position before the 2019 season for health reasons before he returned in 2020, though he stayed on in 2019 as a consultant. It was expected Heide, who stepped down from coaching track and field after 2018, might retire after the 2018 football campaign, but he would stay on two more seasons to reach his full retirement eligibility from his teaching position at BHS.
"I think, football coaching-wise, that might have been a good time to step away, but I wasn't done teaching and knew we had some talented athletes and great individuals coming back," Heide said. "I loved Bayfield High School and the community and coaching and all the parents. It brought such enjoyment for me. I didn't know if I could teach and not coach, and if I was going to continue teaching, I was going to continue coaching at least football."
The Wolverines went 4-5 with a young team in 2019 and went 3-1 in league play to finish second. The 2020 season was decimated by the COVID-19 pandemic after it initially was postponed until the spring before a shortened fall season was later approved by state officials. The Wolverines, with Wnorowski back to call the defense one last year, never got their feet under them, as they went 0-4 overall and 0-2 in league games before COVID-19 issues at BHS and with its opponents led to the final two games of the year being canceled.
"It was a very challenging year, but I was uplifted by the support I had from everybody involved and the attitude of the athletes," Heide said. "The frustrating part was that we couldn't finish the season and that we had more hurdles to cross as far as preparation than any other year. In a regular year, I know that team could have gone 5-4 or 6-3 and ended up in the top 16 and making the playoffs. We had a great group of seniors with wonderful attitudes. I will always remember that team's positivity through a challenging year."
Heide came to Bayfield after a journey coaching 8-man football teams. He coached the Oak Creek Rams for four seasons before he went to southern Minnesota to lead the Hayfield Vikings for three years. He came back to Colorado as an assistant coach for the 8-man West Grand Mustangs before he applied for the job at BHS.
Long a believer in the Wing-T offense, Heide inherited a team accustomed to running the flex-bone. But in 2015, with the 6-foot-4 McCoy at quarterback, Heide made the program-changing decision to adopt a pistol offense and put his quarterback in the shotgun for the first time. BHS transformed from a power running team to an all-around threat, which would be key for 2015 and future success of the Wolverines.
"You go back and watch film on some of the stuff we did, I think coach Heide is an offensive genius," Killough said. "There had to be a lot of trust because he does some goofy things, but they always worked. It took time for people to stand behind what he wanted to do, but once people did stand behind him, things clicked."
Wnorowski came from Ohio. From a football family, he grew up the son of a coach and helped coach an Air Force team in Europe. Back home in Ohio, he coached Central Catholic High School, which won the 2012 Ohio State Division 2 Football Championship and made regular state playoff appearances. Wnorowski also spent time as a radio reporter covering the NFL.
The lifelong defensive coach had his first stint in Colorado helping coach Woodland Park High School from 1990-2001.
In 2014, he was working with the Bayfield Middle School team. Heide remembered meeting him on the sidewalk outside Wolverine Country Stadium. They struck up a conversation that would lead to Wnorowski becoming his defensive coordinator in 2015.
"He was kind of a godsend as far as fitting the direction I wanted to go with the team," Heide said. "It was an attitude he helped me develop in our football team. It came from him being a man of integrity. The athletes picked up on that. They saw he was a man of integrity and passion. You can't replace his passion and knowledge. All of a sudden, I didn't have to worry about the defense and never got frustrated wondering if things were being done the right way. He had total control of that defense."
Both coaches said their plan is to remain in Southwest Colorado, at least for now. Heide isn't certain he won't coach again someday.
"For me, this is a continuation and not an end or a beginning," Heide said. "I am continuing with my life through the ups and downs like anyone else. Today, I am not a head coach. Yesterday, I was. In the future, I might be a head coach again. But I am not going to be coaching next year because of family and health reasons. I have two adult daughters, two grandkids and two adult sons along with my wonderful wife, Candy. I want to be with my family now.
"We are so blessed to have come to a place where I could be a (physical education) teacher, football coach and track coach where my boys were. We couldn't have landed at a better place. This community welcomed us with open arms, even when we went away from the successful flex-bone offense and didn't have quite the season we could have in 2014. The community still believed in me, and we can never thank the community, the businesses and the parents enough for their amazing support."
While Heide and Wnorowski might not spend countless hours together breaking down game film for the Wolverines in 2021, they now share a bond with each other and the players they coached that will last a lifetime.
"As a human being, Gary Heide is basically irreplaceable," Wnorowski said. "He's such a great guy with the young people. I love him, and we will be lifelong friends. We are very proud of the kids that attended Bayfield. We both laugh all time that it's not so much the Xs and Os but the Jimmies and Joes. We were blessed with so many talented Jimmies and Joes. It was amazing."
jlivingston@durangoherald.com