Wolverines could add state title
BAYFIELD – Bayfield's defense refused to settle for good in 2017. It wanted to be great.
Not only have the Wolverines been great, they've been historic, and it's no wonder Bayfield High School will host La Junta at 1 p.m. Saturday for the Colorado High School Activities Association Class 2A state championship game. Bayfield will seek its third state championship in school history and second in the last three years.
The 2015 state championship came in Mike Wnorowski's first season as defensive coordinator of the Wolverines. The steely and stoic coordinator quickly earned the devotion of his players.
"Most teams get in trouble if they give up a touchdown, but we don't want to give up a first down," said Bayfield senior defensive end Ryan Phelps, whose 20 sacks leads the state, regardless of classification. "If we give up a touchdown, then we're really in trouble."
First downs have been tough to come by for opponents. Some teams have failed to finish with positive offensive yardage against the Wolverines this year.
Bayfield has allowed only 49 points all season, a school record through 12 games. That is an average of only 4.08 points per game. In 2015, the Wolverines gave up 90 points in 12 games, and last season they allowed 85 through 12 games.
The defense has been able to grow each of the last three seasons, as the Wolverines develop in Wnorowski's system.
"I have this saying with the team that the enemy of great is good," Wnorowski said. "They truly focus in on 'we want to be great.' But we know we don't want to be satisfied with good. They're not done yet. We've got a ways to go."
Chance for a ring and records
Bayfield's defense can make state history Saturday.
Shutouts have come to define this team. Bayfield has eight shutouts in 12 games and has a school record five in a row. No school in the 16-team playoff bracket has ever recorded a shutout in every playoff game. More than 240 state champions have been crowned in more than 35 years since the playoff field was expanded.
Teams have recorded six consecutive shutouts four times before, most recently by the 2008 Heritage team. Limon did it in 2004 to end a long drought going back to 1978 when Valley accomplished the feat. Delta had six shutouts in a row in 1946.
Nine shutouts in one season would match the mark Fowler set in 1992, which is the seventh-most in a single season. The record is 13, set by Grand Junction in 1936. No team since the 1978 Valley squad has had eight shutouts in a season until this year's Bayfield team.
Bayfield has 56 sacks this season. The single-season Colorado record is 60, set by the 2014 Discovery Canyon team. Bayfield currently ranks fifth all time. The Wolverines have averaged 4.25 sacks per game, and meeting that average would at least match the state record.
Phelps, affectionately nicknamed "Butter," has 20 sacks by himself. That is 3½ away from the state record set by Pine Creek's Jack Wibbels in 2015. Wibbels also played in 13 games that year.
"Butter Phelps, God bless him," said Bayfield senior linebacker Kirk Malone. "He's on my side of the defense, and he takes double teams every game. He's an animal."
The relentless pass rush also has led to 28 interceptions for the Bayfield defense. That number is good for ninth-most ever in Colorado. The record is 35, set by Pueblo Centennial in 1992 and Dolores County in 1999. The Wolverines' team record is 31, set in 1995. More impressive, Bayfield has 10 players with an interception, and five with three or more. Hunter Killough leads the way with seven, while Dax Snooks and Carl Heide each have five.
"A big part of why we get so many interceptions is that we have the best D-line in the state," Snooks said. "They get so much pressure on the quarterback for them to get the ball off. We don't have to do a whole lot, just make sure we catch the ball."
Bayfield has allowed only 13 points in the second half of games and only seven in the fourth quarter all season. Nobody has been able to keep up with the physical nature of the purple-and-gold clad Wolverines in the final 24 minutes of games all year.
"Hats off to coach Wnorowski and his staff," Bayfield head coach Gary Heide said. "Frank Hawkins coaching up the lines, Don Funke and Mike Wood, they've been outstanding. To find a coach with that much passion for the game, knowledge of the game and experience has been a big benefit to Bayfield."
'I've got it'
Wnorowski is known to forgo sleep to study film. No matter the opponent, Wnorowski will watch as much game footage as he can get his hands on and review it until he has watched each individual offensive player on every play.
"He means a lot to us," said Bayfield senior Wyatt Killinen. "He will study film for hours and hours over days and days to figure out other teams. He will come in one day and look at coach Heide with bright eyes knowing he's got 'em. Sometimes he doesn't even shower, he's up all night watching film."
Wnorowski said this year the defense is more complex. Coverages have improved significantly, the line play has grown behind the techniques Hawkins has instilled, and the linebacker play is faster and stronger than ever before. But Wnorowski is never 100 percent confident until a game is final.
"Every week, I think the team we're playing is the best team I've ever seen," he said. "I'm very confident when the clock hits zero and we have more points than they do. That's me and my style."
Wnorowski's players have ultimate confidence in their coach and know he will have them in position to succeed Saturday.
"He sees stuff most people don't see," said Killough, a Bayfield senior who leads the team with 135 tackles. "He knows so much about the game and has every team's offensive plays written down. He picks apart a team, and it's incredible to see what he comes up with. On Friday nights or Saturday afternoons, everyone gets to see it all play out. He puts you in position where you don't have to be a super athlete to make plays. He knows you can make the plays if you follow through with what he's drawn up."
'Always tough'
Nobody can question the toughness of the Wolverines. Through injuries early in the year, Bayfield didn't miss a beat on the defensive side of the ball. Going toe-to-toe with the Wolverines for 48 minutes is a daunting task, and this year players have felt their opponents hit the breaking point in the third quarter time and time again.
"When you look up front and see Cole Wood, Kirk Malone, Ryan Phelps, Michael Kirk, Dave Hawkins, Isaac Lorenzen and guys like that, I remember having to hit those guys, and that was 30 pounds ago," Killough said. "Knowing and thinking about what the other team is thinking when they line up against us and having to block guys like Butter, the offenses we step up against have something in the back of their minds telling them they probably won't get that far on us."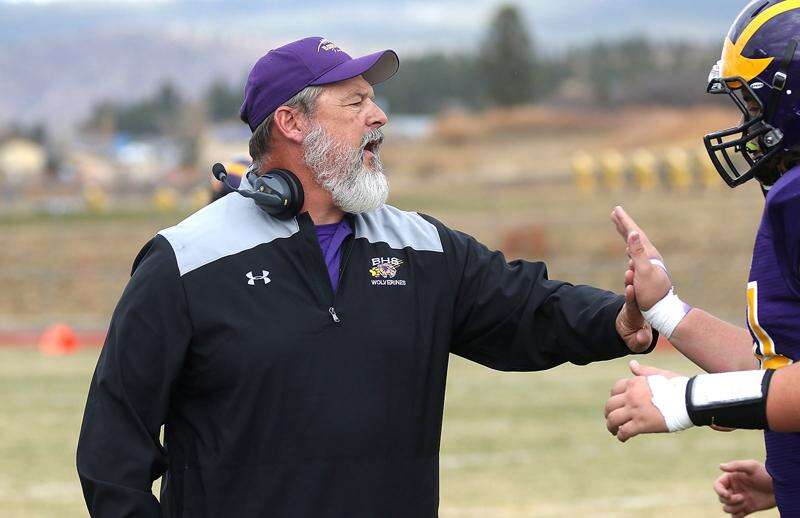 Playing fast and hitting hard. To coach Frank Hawkins, that's the way of the Wolverines.
"Being tough, that's always been Bayfield football," he said. "You don't see our kids laying on the turf very often."
Bayfield's defensive confidence is born in the summer. The team has made the Colorado State University-Pueblo camp a ritual, and the Wolverines always play against bigger schools. Whether they are going against the best Class 2A has to offer, or even 3A or 4A opponents, Bayfield knows its defense can play with anyone.
"There's nothing like our defense," Malone said. "We can go against the big boys. Put on the boxing gloves, show 'em our fists and let's go get it. With us, you know you're gonna go out there and get the same results every time. We're all brothers, and we all have each other's backs."
jlivingston@durangoherald.com