Students showed grit while taking on COVID-19
Lines of Bayfield High School students stepped onto the graduation stage Sunday to receive their diplomas and start the next chapter of their lives. Later this week, about 10 miles south, Ignacio students will follow suit.
"They were the class with grit," said Leon Hanhardt, Bayfield High School principal.
Students in the Class of 2021 have had one of the most unique senior years in decades: They are the first class to graduate after spending an entire year going to school during the COVID-19 pandemic. The year, marked by remote learning and canceled extracurricular activities on top of the usual academic stressors, changed students – left them feeling accomplished, more mature and ready to take their next steps, they said.
The biggest challenge was missing the normal parts of a senior year: having crowds in the stands at soccer games, and attending homecoming and football games, said Aubree Farmer, 18, a Bayfield High School senior.
"The benefit of graduating in the pandemic was having to be mature about it: not just feeling bad about ourselves, but looking past that and finding the good in the situation," Farmer said. "It isn't just affecting me; it's affecting everybody."
Bayfield's outdoor graduation ceremony came with a clear blue sky, social distancing, temperature checks for all attendees and face coverings required to enter the football stadium – public health measures meant to prevent the spread of the coronavirus, Hanhardt said.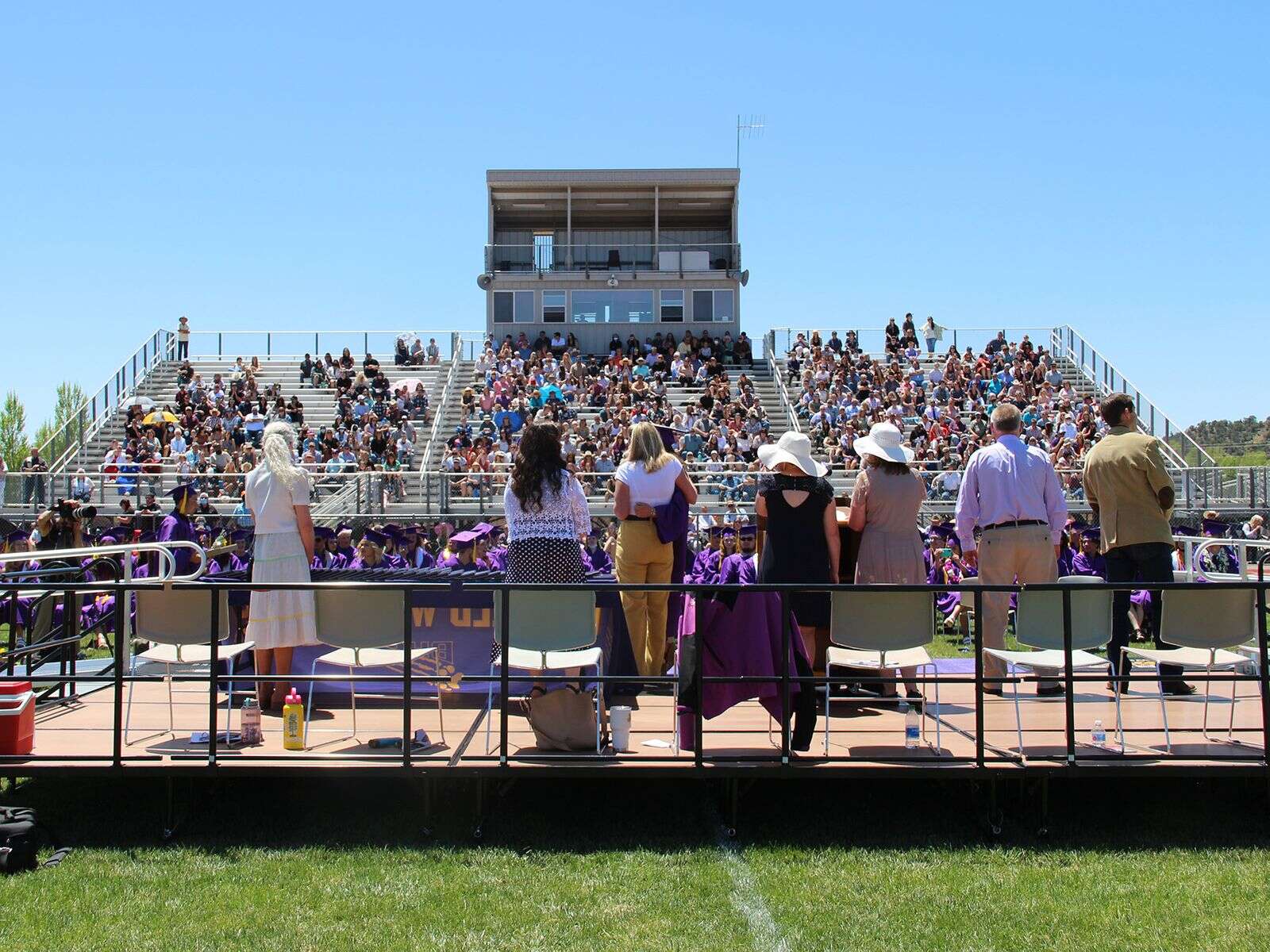 It was emotional and exciting – most students have known each other since second grade, Farmer said.
"It was a lot of excitement and a lot of emotions. It was awesome to have parents and grandparents there to watch us," said Farmer, who is taking a gap year before serving a mission through the Church of Jesus Christ of Latter-day Saints.
Shaylee Owen, 18, a Bayfield senior, said the class grew a lot closer during the year. But the challenges, like learning virtually, turned into skills for the future, she said.
"It was definitely really great to be able to have at least some family and friends come, watch and celebrate our successes with us and show how much we have come through as a class," said Owen, who is attending New Mexico State University to study agriculture education and family consumer sciences. "It was really great to see everyone there."
The event celebrated 97 graduating seniors, at least a 90% graduation rate. That's slightly lower than Bayfield's average graduation rate of about 97%, Hanhardt said.
The class showed "tremendous growth" in its college preparatory exams, he said. The average SAT score was higher than it was projected to be according to preliminary estimates, but the state has yet to publish its final report, he said.
Ignacio students and staff members rehearsed Wednesday for Saturday's big day. Their outdoor ceremony will celebrate 34 graduates, a 67% graduation rate. That's lower than the district's typical 80% graduation rate, staff members said.
"We had a fair percentage of kids that were doing the remote learning, and that was a safety decision made individually by families. I'm not going to second guess a family's decision to keep a kid home during the pandemic," said Chris deKay, Ignacio curriculum director. "I suspect the structure of school really helps students. To me, some students lost progress on credits because of that."
The district expects the graduation rate to rise. Many of the remaining 17 students have one or two academic credits left, which they will be able to complete during a summer program.
Some parents are frustrated that those 17 students will not walk with their peers during the ceremony at the Ignacio High School field Saturday.
They sent a joint letter to The Durango Herald questioning the effectiveness of the high school principal, Eric Arpelar; the district's communication with parents about students' educational progress; and expectations about sticking to deadlines in class.
"Some parents weren't informed until this week that their child will not be permitted to experience this important event that they have been working on since kindergarten," the letter said. "Why were parents given so little warning?"
"If kids do not have 28 credits, they will not walk," said Superintendent Rocco Fuschetto. "That's been my philosophy for 11 years as superintendent.
The district calculates final grades and credits mid-May but starts sending warning letters to families in September if a student is behind on credits, he said. The remaining students will be able to graduate in August if they successfully complete their remaining credits, he said.
Barb Fjerstad, high school principal, and Jessica Bassett, a high school academic adviser, said it was a tough year but the students showed grit.
"They're a wonderful group of kids. If they set their mind to something, they're going to do it," Bassett said. "They've gone through a lot of change and a lot of hardships ... but they stick with it. They don't give up."
Mia Carrillo, 18, an Ignacio High School senior, said the remote classes were stressful and returning triggered some social anxiety for her. She's looking forward to crossing the stage and going to Colorado State University to study biology.
"I'm going to feel accomplished and proud," Carrillo said. "Just graduating and starting this next chapter of my life."
Amanda Henderson, 17, Ignacio class valedictorian, spent a lot of time reflecting during the last weeks of her senior year – the kindness of the school librarian, the canceled football games and school events.
She also hoped she could set an example for younger students. Coming from a small town, the college application process was "daunting," particularly because she was applying to universities such as Duke, Cornell and Rutgers. To many, those schools might seem out of reach, she said.
"I am first-generation (college student), low-income, have a minority status and live in a rural community. That's not a strange profile for a lot of Ignacio students," said Henderson, who is attending Duke in the fall. "If I had seen someone like that ahead of me, it definitely would have given me more hope and drive to look at these options. I hope by my going to these schools, it brings more hope to these students here at Ignacio High School."
smullane@durangoherald.com