Young team aims to silence Durango's offense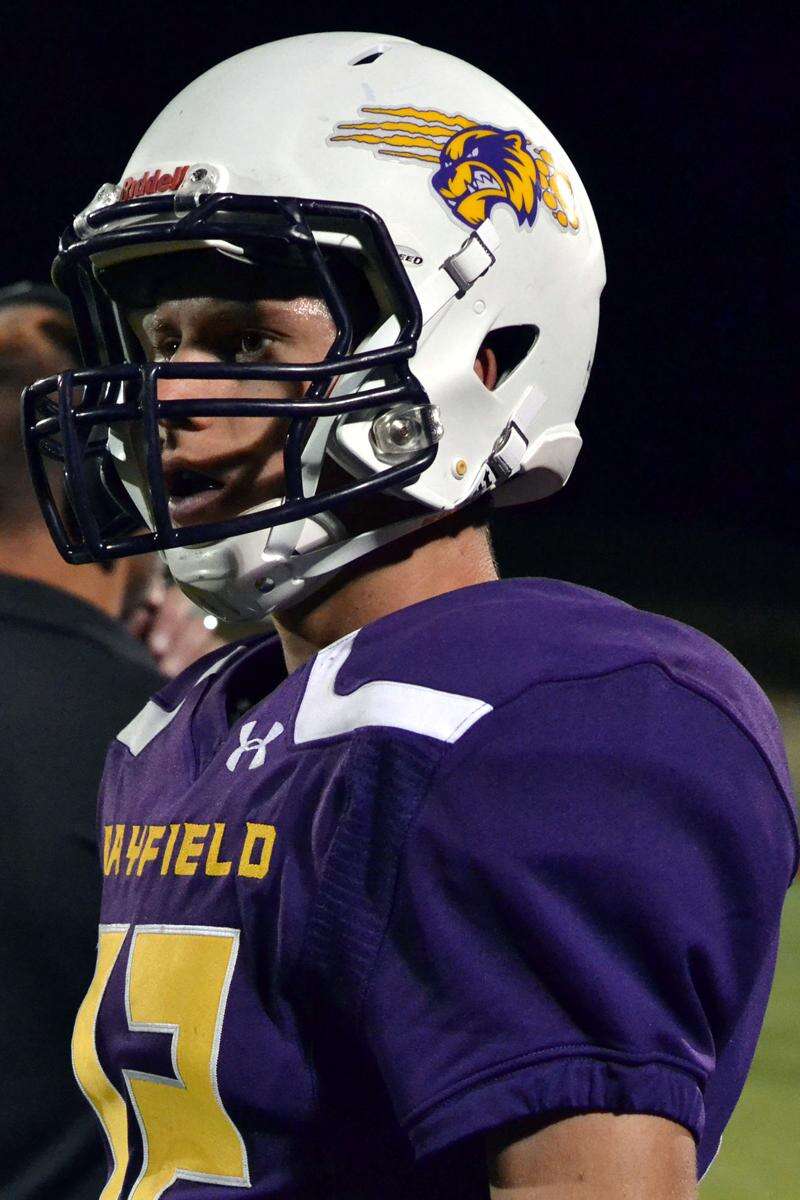 Bayfield High School head football coach Gary Heide is well aware of the challenges Durango brings into Friday night's Vallecito Bowl.
While the Demons might have what he called an extremely well-balanced offense, the Wolverines have more than their fair share of talent on both sides of the ball.
"The key to Friday is going to be about execution," Heide said. "We have huge respect for Durango, their offense and Jordan Woolverton. He's a great passer, very intelligent and runs very well, too."
The Wolverines (1-2) are looking to rebound after a narrow 16-14 loss at Aztec last Friday. The Wolverines' defense forced two turnovers and controlled the line of scrimmage for large swaths of the game, but Bayfield was unable to overcome a key safety late in the game.
Cael Schaefer has made progress at running back after filling in for the injured Dylan Hilliker, while Cade Carlson has provided an extra edge to the Wolverines' run game. Schaefer found the end zone twice last week against the Tigers, and Carlson has been a steady presence on short-yardage situations.
"I'm just excited to get under the lights, playing in front of a couple thousand people watching, and I'm excited to face really good competition," Schaefer said. "We saw a lot of missed opportunities last Friday. A lot of missed blocking. We're going to get our scheme right, and there's going to be no mistakes. A lot more opportunities are going to open up, and we're going to have to capitalize."
The Wolverines' ability to create space has been anchored by a strong offensive line, which features a hefty dosage of veteran strength. That line will be tested by the size of Durango.
"We have some mature guys on the line, we've got juniors and seniors," Heide said. "We'll have one sophomore, Ben Morris, who will probably start at left guard, but he's proven himself. That's a strength, and you've gotta use it. Our offensive line has been a huge strength for us, and I'm hoping to continue it."
Sophomore quarterback Isaac Ross has shown his prowess, as he has been a versatile weapon and has run for a number of first downs and thrown for four touchdowns. But Ross has also thrown three interceptions, including one last week.
"I'm really excited for Friday," Ross said. "We're going to be doubted coming into the game. We're the underdogs, so we're going to embrace that role. Offensively, we just have to execute and not be predictable. We've got to come out with some of our I-formation and just pound the ball."
Defensively, the Wolverines have made strides, as corner back Trenton Harrison had two interceptions last week and now has three on the season. As a team, BHS has forced six turnovers. The Wolverines are bolstered by linebackers Ethan Morris and John Foutz, who have both been forces in late-down situations.
"There's a lot of emphasis on this one, and I think everybody's going to be focused," Foutz said after Tuesday's practice. "Today has been a little slow, but everybody knows what's riding on this. It's not loud, but we're focused. Our physicality has been really good, and I'd like to keep that up. I think what we need to work on this week is fixing the little things, and I think we'll be fine.
"(Durango) may have many tools, but we do, too. I'm sure they might be good, but it's not going to stop us from doing our best. Seeing as that they are big threats, that doesn't mean we can't stop them. To me, it's a chance."
In order for the Wolverines to come away with a win, Heide said it's about more than execution.
"We'd like to control the ball and get some breaks," Heide said. "Create breaks, too. You don't just get some, you've got to create them, too. Our special teams have been really good, and I think that would be a big key. Not just excel on offense or defense, but to create some big plays on special teams, too."
In the last scheduled meeting of the two La Plata County rivals, Heide wants his team to earn some respect while chasing only a second win in the series across 17 games dating back to 1924.
"I look forward to seeing people I respect on the other side and try to do good things," the coach said. "I want to gain their respect, too, and that's by being impressive with the team. Respect from our community. That's what I really want to see on Friday night. We do so doggone good that people are saying, 'Boy, those Wolverines are something.'"
bploen@durangoherald.com