Phelps carries Bayfield to a win in home opener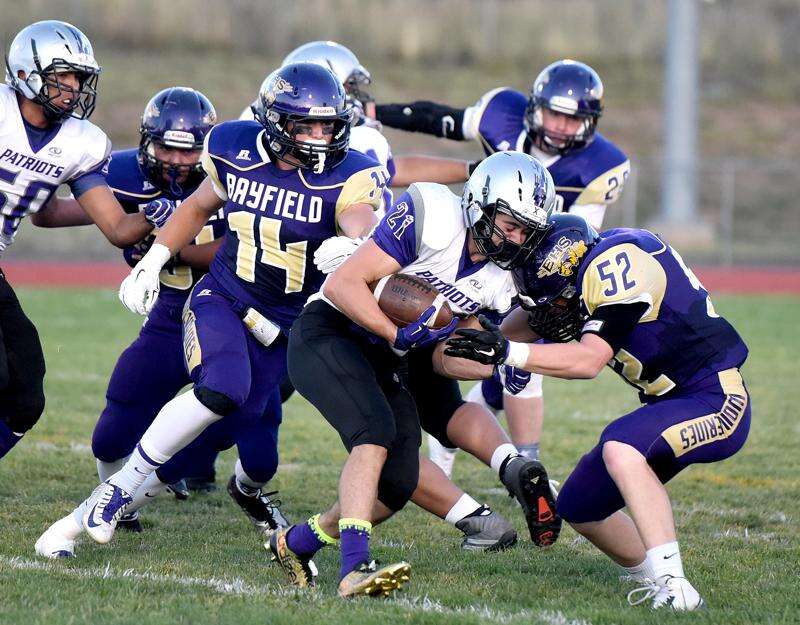 Call Zane Phelps a triple threat.
The Bayfield High School senior running back can affect a game on offense, defense and special teams.
He scored two rushing touchdowns, converted an onside kick and made a sack for the Wolverines in a 34-20 win over Miyamura on Friday in the home-opener for Bayfield.
Phelps opened the game with a 4-yard run, and the CHSAA Class 2A No. 6 Wolverines went right back to him on their second play.
He busted a 57-yard touchdown run to give BHS an early 6-0 lead 51 seconds into the game.
Phelps also ran for a 15-yard touchdown in the fourth quarter on a toss to the left side to put BHS up 34-13 with 8 minutes, 35 seconds to play.
The Wolverines expected the onside kick to pan out.
After Bayfield's second touchdown, Phelps hit a purposefully awkward, spinning kickoff into an open spot in New Mexico Class 5A No. 5 Miyamura's kick coverage.
Brian Mashak fell on the ball to get BHS (2-0) the ball back to score another touchdown.
"That was on purpose, that was definitely practiced," said Phelps, son of Dion and Koel Phelps. "It just hyped us up a lot. It helped us a lot with the momentum shift."
The sack came during Miyamura's comeback in the fourth quarter, when the Patriots were trying to cut into a 34-20 lead.
The Patriots recovered their own onside kick after quarterback Matt Chavez threw a 16-yard touchdown to Alex Arrequin to make the game extremely interesting with 7:51 left.
Their drive following the onside kick sputtered out after Bayfield's Wyatt Frier sniffed out a reverse on fourth down.
Phelps finished with 23 carries for 153 yards and two touchdowns.
"That might be the best back that we'll see all year. He is a load," said Miyamura head coach Wes Shank. "It seemed like every time we made contact he took the pile three or four yards, every time."
Phelps certainly didn't do it alone, though.
Three other Wolverines found the end zone in the game.
BHS senior Brody McGhehey torched the Miyamura defense on a 75-yard scamper with 3:57 left in the third quarter.
"It was a heavy call, so we had two of our receivers out on the right, and I know both of them are great at blocking in the open field," said McGhehey, son of Rob and Robin McGhehey. "I took it, made one short cut, and it was off to the races."
He ran nine times for 125 yards and the score.
Wyatt Frier and David Hawkins both found the end zone on the ground in the first half around the onside kick.
Hawkins plowed in from 3 yards out, and Frier took a reverse around the left side of Bayfield's line to score from 5 yards out.
"They had their way up front," Shank said. "I thought their line played extremely well getting push."
McCoy set up Hawkins' run by avoiding a sack and flipping a pass left handed – McCoy normally throws with his right – to Phelps for 13 yards to get BHS a first down on fourth down.
The Patriots scored their first touchdown on an 18-yard pass from Chavez to Giovanni Chioda.
Chavez finished 7-of-17 for 74 yards, two touchdowns and one interception by Bayfield's Cash Snooks.
He also ran for 99 yards to lead the Patriots, while Miyamura running back Alias Starkovich gained 88 on the ground.
BHS forced the first half's only turnover on a fumble that Leonard Clyde recovered when Miyamura was in the red zone.
The Wolverines now will have two weeks to prepare to face one of the best football teams in the state of Colorado.
Two-time Class 1A state champion Paonia will bring its 26-game winning streak to Wolverine Country Stadium on Sept. 18 for Bayfield's homecoming game.
"We want to work on what we do best. Up the middle game, blocking on our outside runs – all that stuff just works for us, and it shows on the scoreboard," McGhehey said.
kgrabowski@durangoherald.com