BHS can clinch league title before Centauri rematch
All eyes on Intermountain League volleyball, particularly Bayfield's, will be trained on Pagosa Springs Saturday.
And, after a three-game thriller Thursday night in BHS Gymnasium, nobody knows it better than Centauri, which now needs to avoid a loss Saturday at Pagosa Springs or Oct. 23 to Montezuma-Cortez to vie for the IML title.
A victory by Caitlin Forrest's Lady Pirates, however, means BHS will clinch the crown before visiting Centauri on Oct. 22.
"That would be pretty amazing," Bayfield coach Terene Foutz said after a 25-15, 25-23, 25-20 win on Senior Night. "It'll be interesting to see how Centauri does … because I feel Pagosa's well-coached and are confident at home. I mean, we've had to squeak out some in Pagosa – like, get on the bus before they change their mind, you know?"
"We're hoping to not come out at the bottom, especially considering we're … the only team that's beaten Alamosa twice," Forrest had said after Tuesday's 25-19, 16-25, 16-25, 18-25 loss to Bayfield, which had just lost 25-20, 25-27, 21-25, 25-18, 5-15 to AHS roughly 24 hours earlier inside the same building.
"We know we need Centauri under our belt, and I think … tonight definitely helped us prepare for Saturday."
"We're going to approach them kind of similar to last time, when they came to us," said Centauri sophomore Kailyn Polzin, referencing the Lady Falcons' Sept. 18 sweep in La Jara. "But we're going to work harder and put the game away."
"We need to improve on a lot of things," she said, "but we're a team, Bayfield's beatable, and I think we're going to get there."
Polzin was undoubtedly alluding to Game 2 against the Lady Wolverines (10-7, 6-1 IML), in which BHS stalled for most of its middle portion while Centauri (8-7, 3-2) raced out to a 15-8 lead with senior Marissa Johnson holding serve for seven straight points before BHS junior K'Lee Stuffelbeam-Jolly came out of Foutz's second timeout in the stanza and cracked a kill.
"The energy on the bench was getting kind of low, and we reflected that on-court," admitted senior Karyssa Gosney. "But as soon as we had a timeout ... we picked up our momentum."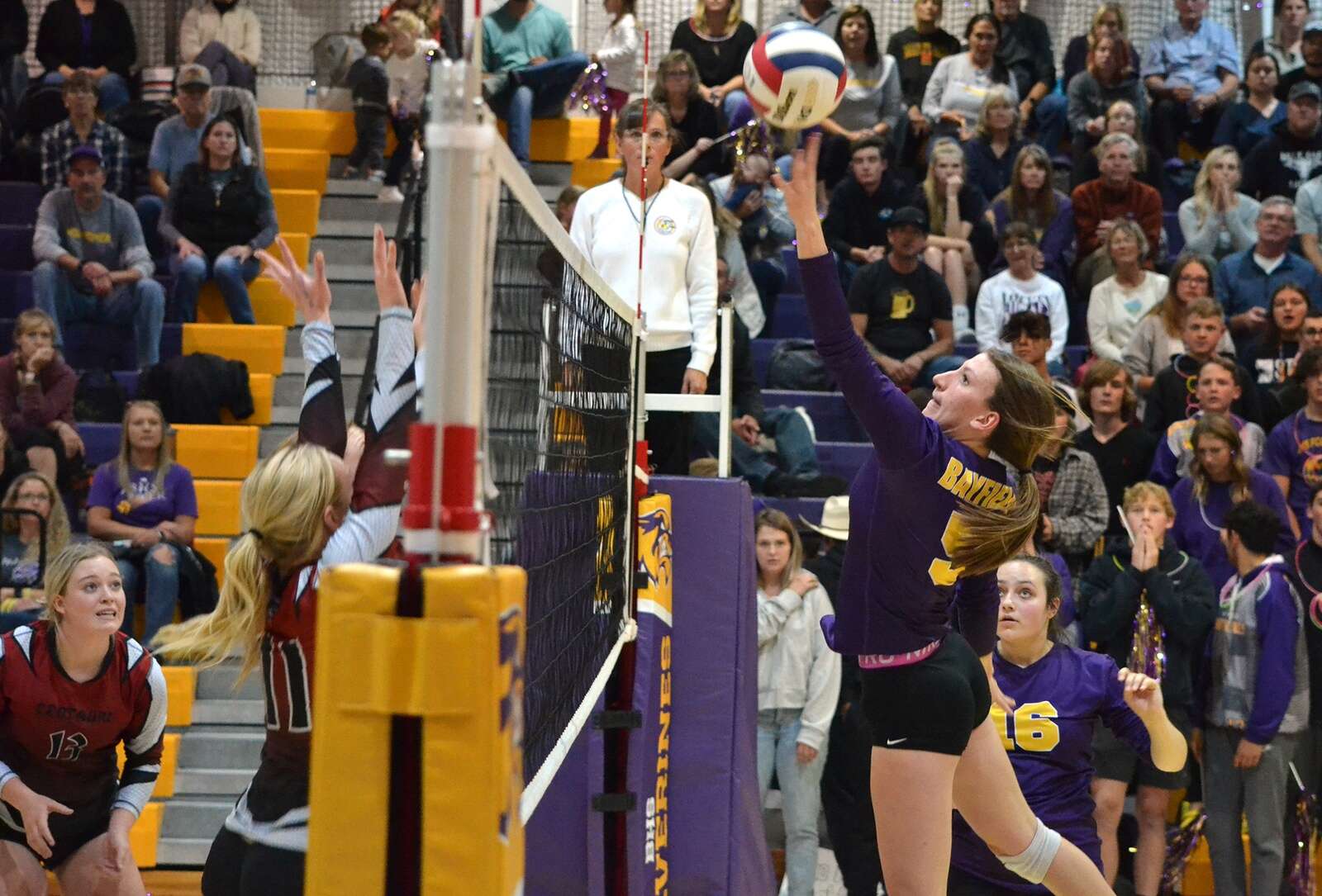 A Gosney ace further shrank the deficit to 17-15, and after Centauri senior Camryn Jarvies netted a tip, Bayfield pulled even via an Annie Fusco smash through Lady Falcons Polzin and Abbey Smith. Centauri remained the aggressors, retaking 19-18, 20-19 and 21-20 leads before BHS again went up on senior Emily Nelson's serve.
A Nelson ace gave the home team a 23-21 lead, and senior Payton Killough followed it up with a crosscourt kill to bring up game point. But Nelson netted a vicious flat serve, and Centauri managed to scratch out another point to close within one before senior Hennessy Mortensen sailed a serve long, giving Bayfield a 2-0 lead.
With Fusco primed for an incendiary Game 3, following an icebreaking roll shot from out of the back row – removing Smith from the service line – the Lady Wolverines' senior setter would be doing plenty of that.
Fusco would crush a kill putting Bayfield up 2-0, and Stuffelbeam-Jolly followed with a tip for a quick three-point lead. Centauri clawed back to 3-2, but after consecutive Fusco crosscourt put-aways, Lady Falcon skipper Alexis Miller alertly took a timeout.
Nothing changed though, and three Fusco spikes keyed a 5-1 burst that increased BHS' advantage to 9-3. Another bullet made the margin 10-4 before Centauri's floor-shining, dig-driven defense showed its mettle. Keeping the guests involved in more points than most teams visiting the venue, efforts by players such as sophomore libero Jaelyn Jackson, senior Makenzie Jarvies and Mortensen helped CHS scramble back to 14-10, and later 20-19 via a Smith ace.
"Our team's very scrappy," Mortensen said. "We're very quick on our feet, and I think we've learned that in practice."
"The rallies felt so long; they just kept getting (the ball) up," said Fusco. "I was hoping it was down, and it never was. They were really good, and I'm impressed with them."
"We'd been on a big winning streak so the plan was to really pull together, play as a team and just have fun," continued Mortensen. "Sometimes we struggle with that."
But despite being nine days rested and readied for their trip to La Plata County, the Lady Falcons' run wouldn't reach five consecutive conquests. Nelson blasted a kill stabilizing the Lady Wolverines' lead at 21-19, and Fusco would soon detonate one last bomb on match point.
"They're scrappy, but I think our team definitely outworked them," said Gosney. "We scouted them a lot – I think it just paid off."
"You know, we worked really hard on our Centauri game plan, and the kids executed it," Foutz said. "Bayfield was lights-out defensively; I mean, kids were picking up balls, they were reading well – they did the work and they earned this."
"Like, practice last night was a little slow," said Fusco, "but we just kept going with…having a winning mentality. And I thought, mainly, I'm not going to be afraid to hit anymore; I'm not going to just tip and avoid a block – I'm going to start swinging as hard as I can."
"We're coming back ready to play and win this next Friday." Mortensen said. " I'm really excited."
"It will be a great match," Foutz said. "They need rest now … then Monday we go hard, very hard, set the tone for the Centauri match."
Standings
Entering the weekend, Alamosa stands 11-6 overall, and a finalized 4-4 Intermountain mark. Pagosa Springs is 10-7, 2-5 going into the 10/16 battle with Centauri, and Montezuma-Cortez is 10-5, 2-5 with a 4-3 games-won advantage over Pagosa Springs.