No. 8 BHS tweaks system looking for playoff success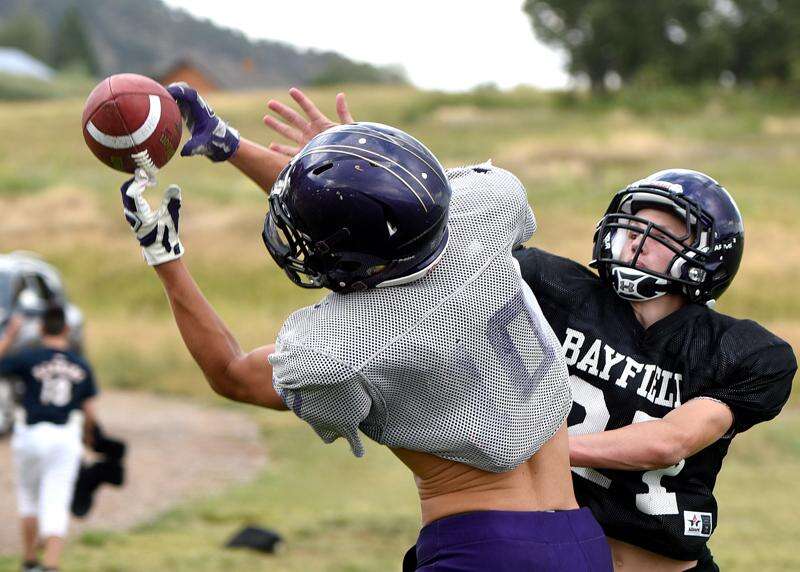 BAYFIELD
In the grand scheme of things, Bayfield High School won't look all that different on the football field in 2015.
The Wolverines bring back their leading passer in senior quarterback Kelton McCoy, top two rushers in seniors Zane Phelps and Brody McGhehey and top two receivers in Phelps and Taed Heydinger.
Last season, BHS finished 5-5 and third in the Class 2A Western Slope-South league at 3-2, two games behind league champion Gunnison.
The Wolverines lost 40-14 to Faith Christian in the first round of the playoffs.
There are 13 seniors on this year's roster surrounding head coach Gary Heide with familiar faces in his fourth season leading the team.
"One of the most important things is we have a majority of our skill kids back on offense," Heide said. "And they're a little bit bigger and faster, to tell you the truth."
With that much experience and talent back for a postseason team, preseason expectations are starting to crest for the Wolverines.
Bayfield was ranked No. 8 in both the CHSAA and Associated Press Class 2A polls, even receiving a first-place vote in the CHSAA poll.
"I would just as soon talk about it myself. We don't talk about it because it means nothing at this point," Heide said. "I agree with anyone who says we're high-ranked, but it's my responsibility as a coach is to get them to perform."
To take advantage of the talent available, Bayfield's coaching staff is altering the team's base formations.
Squint hard enough, and the offense should look about the same.
The Wolverines are moving from the Wing T formation to the Wing T Pistol Spread.
A standard Wing T formation features one running back lined up in the backfield behind the quarterback and one on each side roughly at his depth behind the line of scrimmage.
It typically is run with two tight ends to maximize the available blockers in the running game.
By going to the Wing T Pistol Spread, the Wolverines are moving McCoy back into the shotgun and creating more space in the offense by splitting receivers out wide and utilizing the open field that creates.
"It's kind of the same with our formation, except we moved out from under the center into the shotgun, and we've spread out a little bit," said McCoy, son of Derek and Loreca McCoy. "It's made us more of a threat to throw, which I like."
McCoy completed 56.1 percent of his passes last season for 554 yards and nine touchdowns.
Three of those went to Phelps, who provides a steadying presence at running back in his third year starting.
Phelps was named to the All-State team by the Colorado High School Activities Association last season after running for 1,266 yards and 12 touchdowns.
The Wolverines do figure to spread the ball around more in 2015 with six ballcarriers and four receivers coming back from last year's team, and that doesn't factor in freshman David Hawkins, who has impressed McCoy and the coaching staff.
"We have a stupid amount of athletes. The problem is we don't have any linemen," McCoy said. "We have threats out the butt. Everyone can run and catch the ball. If I put it on them, they're going to make plays."
Defensively, there's a new director for the Wolverines.
Mike Wnorowski stepped in from the highly successful Bayfield Middle School program with 27 years of coaching experience.
"We're gonna run a multiple-front defense. Our goals are going to be to stop the run, win giveaway-takeaway and eliminate big plays," Wnorowski said in a phone interview with The Durango Herald.
The Wolverines graduated three of their top four tacklers from last season, but linebacker Kyle Killough is back to provide some teeth.
He made 82 tackles last season to go along with four sacks.
"I'm still doing similar things, attacking," said Killough, son of Kevin and Lana Killough. "That's a big focus for me, when I see that run just to attack it."
His first opportunity will be Friday on the road against Kirtland Central, an opponent BHS has faced to open four seasons in a row.
The Broncos reached the first round of the New Mexico Class 4A state tournament last year.
The Wolverines' schedule will get even tougher from there.
Bayfield's home opener is a Sept. 11 date with Miyamura (Gallup, New Mexico), a team that survived a last-second Hail Mary from the Wolverines in a 24-21 win last season.
Two weeks later, two-time defending Class 1A state champion Paonia will roll into Wolverine Country stadium for homecoming night in Bayfield.
BHS hung with the Eagles for three quarters in Paonia last season before Paonia ran away in the fourth quarter to a 55-34 win.
Western Slope-South league play will begin Oct. 2 with Olathe, then the Wolverines will travel to Gunnison and Montezuma-Cortez in back-to-back weeks.
Both of those teams reached the quarterfinals of last season's Class 2A playoffs.
Alamosa's Mean Moose will come into Bayfield for senior night Oct. 23, and the Wolverines will close out the season Oct. 30 at Pagosa Springs.
"Truth is, what I'd really like to do is go into every game and take advantage of the other team's weakness," Heide said. "That's the goal."
kgrabowski@durangoherald.com
Wolverines' 2015 football schedule
x-denotes homecoming game
Aug. 28 – Bayfield at Kirtland Central, 7 p.m.
Sept. 11 – Miyamura at Bayfield, 7 p.m.
x-Sept. 25 – Paonia at Bayfield, 7 p.m.
Oct. 2 – Olathe at Bayfield, 7 p.m.
Oct. 9 – Bayfield at Gunnison, 7 p.m.
Oct. 16 – Bayfield at Montezuma-Cortez, 7 p.m.
Oct. 23 – Alamosa at Bayfield, 7 p.m.
Oct. 30 – Bayfield at Pagosa Springs, 7 p.m.