Wolverines nearly blow 24-0 lead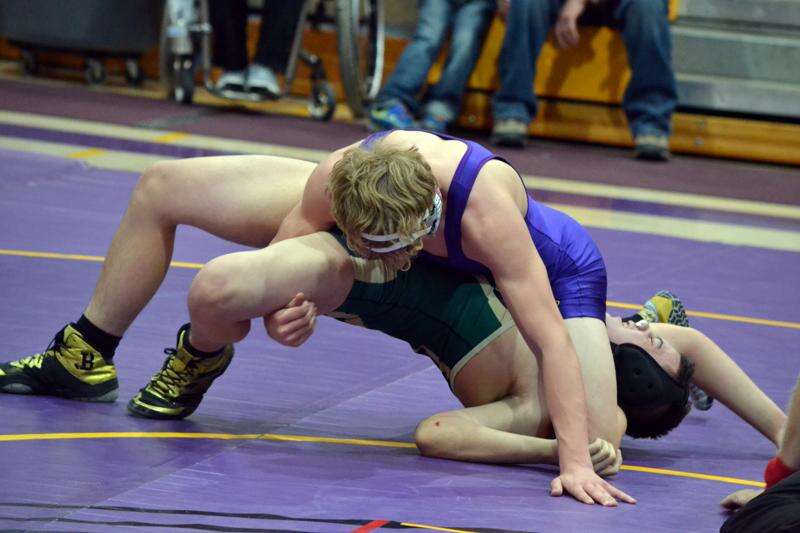 BAYFIELD – After scoring a pin on his senior night to put Bayfield High School up 24-0 in Thursday night's Class 3A Intermountain League dual against Monte Vista, senior wrestler John Foutz was fired up. He gave two fist pumps to an energetic crowd before sitting back down to cheer on his teammates to a win.
Foutz kept the Wolverines rolling at the 220-pound weight class after the No. 2-ranked wrestler in the latest On The Mat rankings pinned Monte Vista's Ethan Hotz to improve to 29-3 on the season. Foutz's win helped BHS hold on to a 39-29 dual-meet win after the Pirates stormed back with four consecutive pins to tie the score at 24-all.
The Wolverines claimed the final two wins of the night via forfeit to earn the win and improve to 2-3 in league duals.
"The nerves kind of pile up as you kind of get toward the match," Foutz said. "I just tried to stay calm and think that it was just another match. After the match, I was excited because it was senior night and everything. It's my last time wrestling in this gym, so I thought, 'I've gotta do something.'"
The Wolverines got off to a good start early, as Deegan Barnes beat Jaxon Martinez at 152 pounds in a 9-2 decision. In the next match, Bayfield's Kobe Prior came back from a 7-2 deficit at 160 against Levi Trujillo and scored the final six points to win an 8-7 decision.
Bayfield's Shane Moore scored a senior night pin at 170 over Dusty Duran. He scored the pin 41 seconds into the second period and was energized from his senior ceremony and loved the energy the crowd gave.
"We came out with way more fight than what we've had all year," Moore said. "The intensity picked way up this week in practice, and we wrestled stronger. From the crowd to coach (Todd) McMenimen's speech, we just came out with some fire."
Jason Duran of Monte Vita pinned Ethan Candelaria 23 seconds into the second period in the heavyweight division to get the Pirates on the board.
Bayfield assistant coach Colter McMenimen realized how big Foutz's win would prove to be, as the Pirates would not go down without a fight.
"That was really good for our momentum," he said. "Our bigger guys really wrestled well tonight. Ethan Candelaria had the best match I've seen from him all year. Once we got to the lower weights, Jonathan Chapman and Caden Krueger, that was the most aggressive they've come out all year. That momentum early on really helped all the way through to the lower weights to get us going. They had us beat at the lower weights, but we fought all the way through."
The Pirates controlled the second half of the night to make it a close finish. Monte Vista's Dominic Lopez pinned Chapman with 24 seconds left in the first period, Damian Lopez pinned Krueger at 113, and DeAngelo Archuleta pinned Keyton Cugnini at 120 pounds in the second period.
BHS' Hunter Anderson scored an 8-5 decision over Nathaniel Juarez at 136 to finally stop the bleeding.
"I thought our younger guys were good tonight," said Monte Vista head coach Omar Gonzales. "We were missing a couple of weights and had some injuries at the upper weights. Still, I told the guys to keep fighting and, if there's a chance to go for a pin, go for it."
In the final three matches, Monte Vista's Hunter Pacheo scored a 18-2 technical fall over Xander Hovenstine at 132, while Wolverines' senior Moritz Heider and junior Dylan Pickering won unopposed at 138 and 145, respectively.
Even though he did not wrestle an opponent, Williamson believed the dual win will only help carry the team's momentum forward into a big weekend. BHS will travel a short distance down the road Saturday to Ignacio for the 18-team Butch Melton Invitational.
"I thought tonight was big for us going forward," Williamson said. "The Butch Melton is always fun because you're going up against guys around the county and there are some really strong teams there. I like the crowds there and know we always get good support. I've taken second there the last couple of seasons, so I'm hoping to do a bit better on Saturday."
bploen@durangoherald.com