2019 survey shows 5,000 newly damaged acres in San Juan Mountains
After more than two decades, beetle kill across Southwest Colorado is finally showing signs of slowing down, but that's only because most trees at risk have fallen prey to the massive outbreak, a recent survey shows.
"The big spruce tree epidemic is definitely continuing," said Bob Cain, regional entomologist for the U.S. Forest Service. "But it's slowing down because it's running out of suitable trees."
Every year, the Forest Service, in partnership with the Colorado State Forest Service, conducts an aerial survey over most of Colorado's estimated 24.4 million acres of forested lands, tracking new areas where beetle kill has spread.
In Southwest Colorado, the spruce beetle epidemic started on Wolf Creek Pass in the late 1990s. Though beetles are native to the land, the insects' toll was exacerbated as drought, warmer winters and dense forests created perfect conditions for rapid spread.
Over the past two decades, the spruce beetle has torn through more than 884,000 acres – about 25% – of the Rio Grande and San Juan national forests, which, combined, total about 3.6 million acres, though not all of that land is spruce forest.
In 2019, flights over the San Juan Mountains found 16,000 acres of active infestation, and of that amount, about 5,000 acres were newly discovered areas of beetle spread.
Some of the most intensely hit areas, Cain said, were near Vallecito Lake and around Silverton.
"A lot of it is still in wilderness areas, which is where a lot of spruce is at," he said.
Whereas beetle kill in past years saw astonishing advancements over the landscape, the number of acres actively affected has declined for five consecutive years. But even so, the survey noted beetles continue to expand their footprint in the remaining spots of unaffected spruce trees.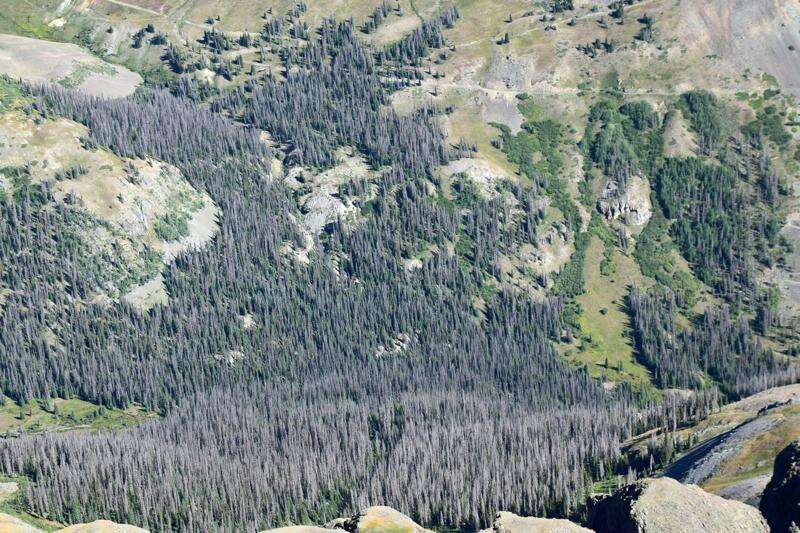 "Spruce beetle remains the No. 1 forest pest across the state," said Ryan Cox, a forester with the Colorado State Forest Service. "There may be less acres, but it's still on the move."
Another major issue is the roundheaded beetle infestation wreaking havoc outside Dolores.
Forest researchers first noted roundheaded beetles killing ponderosa pines in an area north of Dolores, known as the Glade, as early as 2011. Throughout the early 2010s, the acreage affected doubled year over year.
Then, the beetles' impact shot up. An estimated 11,000 acres were affected in 2017. That number increased to 27,000 acres in 2018.
The 2019 survey determined 22,000 acres affected.
"Unfortunately, it's due to a lot of factors – climate, stress from drought," Cox said. "And once we're at these outbreak levels, they tend to just move through their course."
The roundheaded beetle ranges from Guatemala to the Rockies, so the insect is native to this region. But in New Mexico, for instance, the beetle builds up over a year or two and then experiences a population die-off.
Researchers believe the drought in Southwest Colorado is paving the way for these beetles to thrive. For example, 2018 was the warmest year on record dating back 124 years, and the second driest year dating back to 1895.
The U.S. Forest Service and the Colorado State Forest Service are putting together a broad-scale tree-thinning project to help save trees where it's possible and try to reduce wildfire danger in the areas around Dolores.
"But as far as catching up with an outbreak, it's really difficult," Cox said.
jromeo@durangoherald.com