Forum this weekend to explore transitional housing concepts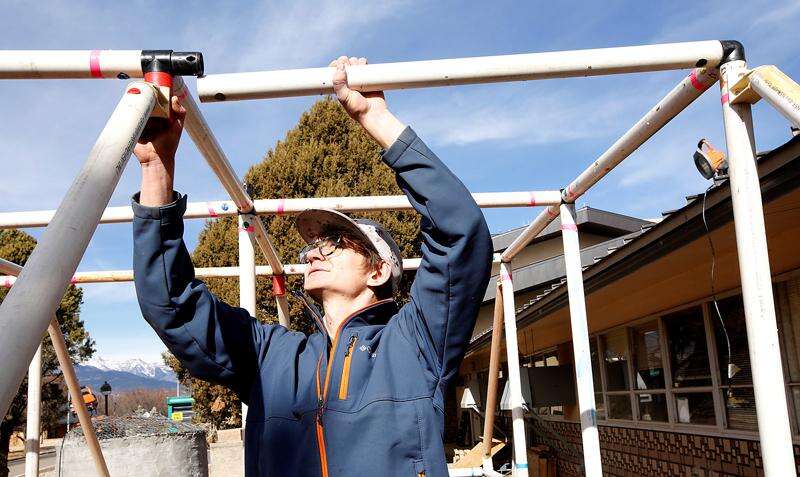 As city of Durango and La Plata County officials wrestle with options for a temporary camp for homeless people, some advocates are floating the idea of a tiny home village to house residents living outside.
The benefits of villages versus tent cities will be weighed during an upcoming forum focused on ending homelessness, hosted by Community Compassion Outreach, a program of Durango Christian Church.
Designs for lightweight affordable tiny homes that could fill a village will also be presented, said Donna Mae Baukat, executive director of Community Compassion Outreach.
The event will feature Don Burnes, who edited the book Ending Homelessness: Why We Haven't and How We Can, and the founder of Humanitarian House International, Stuart Ohlson, an architect who designed tiny homes that could be built by their occupants. Fort Lewis College engineering students are testing Ohlson's designs, and professor Don May will present their work.
Durango and La Plata County officials, as well as homeless residents, are expected to speak.
Baukat sees the event as an opportunity for residents to learn about homelessness and possible solutions.
"We have to face reality," she said.
Homelessness is on the rise across the state. In January 2017, a survey found 10,940 people were homeless in Colorado, a 3.7 percent increase compared with 2016, according to the U.S. Department of Housing and Urban Development.
Only 15 to 20 percent of homeless residents are highly visible in their communities; many others are living in their cars or in other unstable environments, Baukat said.
Rising housing prices, which show no sign of slowing down, are a contributing factor to homelessness. Even if Colorado exceeded record levels of building, it wouldn't create a surplus of housing in the state by 2025, a report funded by The Piton Foundation found.
Tiny homes are a much cheaper avenue for providing affordable housing. Tiny home villages have been built in Denver; Portland, Oregon; Newfield, New York; Olympia, Washington; and other cities.
Baukat described Opportunity Village in Eugene, Oregon – one of the earlier villages in the country – as a model that Durango can follow.
During the Occupy Wall Street movement, the city of Eugene did not break up protest camps because they were protected by the First Amendment, which guarantees the right to freedom of speech. When the movement ended, many advocates with the movement who had financial stability started to lobby on behalf of homeless residents they had befriended, said Dan Bryant, executive director of SquareOne Villages, a nonprofit that started Opportunity Village.
Since then, several alternatives to large encampments for homeless people have been started in Eugene, including Opportunity Village, a venture fully funded by cash and in-kind donations.
The nonprofit built support for Opportunity Village by speaking with potential neighbors ahead of time and building a coalition of support from community leaders who helped pitch the idea to the Eugene City Council.
"People in this community know we have a crisis on our hands," Bryant said. "We all see the people on the street, and we feel it's urgent we do something."
In addition to the village, Eugene has small legal campgrounds that house up to 20 people, warming centers that are open on cold nights and sanctioned dispersed car camping that allows property owners to host campers in vehicles, he said.
Opportunity Village is just one of the creative solutions to meet the needs of the estimated 1,500 homeless people in the city, but it has garnered broad attention after its success, he said.
The transitional village has served 150 people, of which about 60 percent have transitioned into permanent housing, he said.
A survey by the University of Oregon found neighbors of the village did not notice an uptick in crime after it was established.
The village provides residents with 80-square-foot sleeping cabins instead of tents, because they are warmer, safer and prevent theft, Bryant said.
"One of the biggest problems that anyone on the street faces is theft," he said.
Tiny homes in Durango would also protect people from the snow in the winter, Baukat said.
"Tents have collapsed on people under snow loads," she said.
In addition to the cabins, the village provides a common structure with bathroom facilities, food and a social worker to help residents with plans to transition out of the village, Bryant said.
Opportunity Village is self-governed, which is a common theme among successful camps and villages, Baukat said.
"The villagers do a pretty good job of self-policing," Bryant said. "They want to live in a clean environment."
Opportunity Village residents tend to stay between 15 to 18 months, but there is no time limit, he said.
Instead of sleeping cabins, villagers in Durango could live in the light-weight homes designed by Ohlson. The homes could have kitchenettes, toilets and a small study space.
"I think the thing we are after is to create a space that is in itself comfortable and dignified and provides a certain adequate utility for the occupant," Ohlson said.
Ohlson originally designed the homes, framed with PVC pipe, to be built in tropical countries after disasters. The design has since been modified with insulated panels, he said.
The FLC engineering class is working to test the structure's integrity, including its ability to withstand snow load and wind load and will redesign any weak components, May said. Other students are working to identity alternative designs that would compete with Ohlson's designs and alternative options for providing utilities to the structure.
The students have been tasked with keeping the budget for the house under $15,000, including infrastructure such as water and sewer hookups, May said.
Ohlson estimates a house could be in the $7,000 range.
Baukat would like to see the faith and nonprofit community back a village where the tiny homes could be built.
mshinn@durangoherald.com
A forum about ending homelessness will be held from 7:45 a.m. to 4:30 p.m. Saturday at the La Plata County Fairgrounds Exhibit Hall, 2500 Main Ave. The event is free. Speakers will start at 8:30 a.m. after breakfast. Keynote speaker Don Burnes will start at 8:45 a.m. A hot meal for homeless residents will be served at 3:30 p.m. A full schedule can be found at
communitycompassionoutreach.com
or the forum's
EventBrite page
.