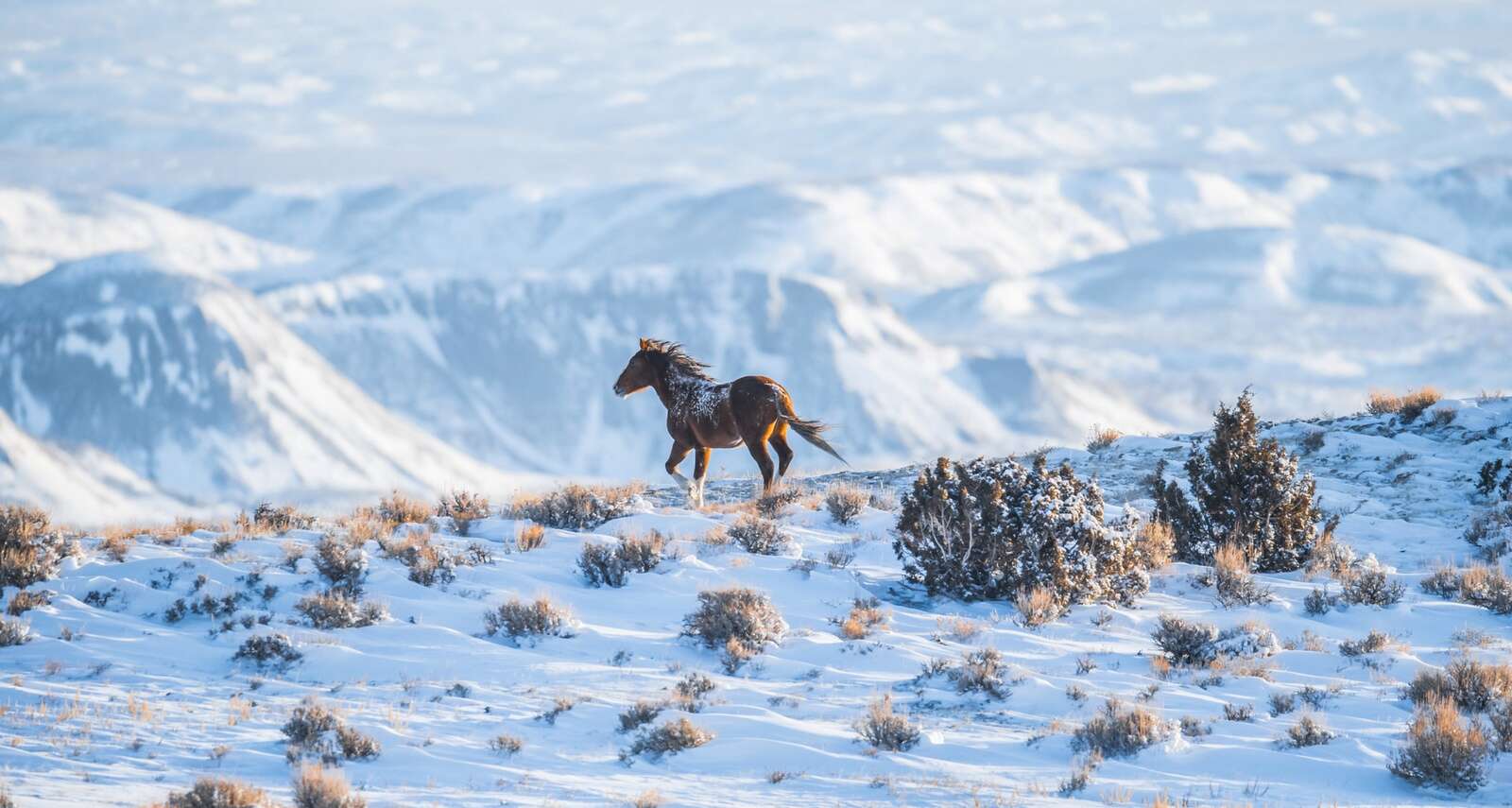 733 horses from northwestern Colorado targeted despite protests from Polis, advocates
For the second time this summer, a helicopter hired by the U.S. Bureau of Land Management will round up hundreds of wild horses roaming northwest Colorado in what the agency is calling an emergency operation to thin the herds.
The roundup in the Sand Wash Basin, in far northwestern Colorado near the Wyoming border, was scheduled to begin Wednesday and continue until the federal agency has removed 733 mustangs, which is about 80% of the population on the high-desert rangeland.
This two- to three-week operation comes after the July-August emergency removal of 457 horses from the West Douglas herd, in nearby Rio Blanco County.
The BLM's aggressive goal – leaving 163 horses in the 156,000-acre Sand Wash Basin – has met protest from mustang advocates across the country, including Colorado's first gentleman Marlon Reis, a longtime supporter of animal rights.
Reis posted on social media that he and Gov. Jared Polis suggested to U.S. Interior Secretary Deb Haaland that Colorado take on a "more active, co-managerial role" in overseeing wild horses and burros. He urged Coloradans to call members of Congress to protest the roundup.
Polis urged Haaland and BLM deputy director of policy Nada Wolff Culver in a letter Monday to "temporarily freeze any planned round-ups" for six months to allow for a "more thoughtful and inclusive process."
"I remain extremely concerned with the historic scale and condensed period of the BLM's proposed round-ups at Sand Wash Basin," Polis wrote in the letter, which his office provided to The Colorado Sun. "I believe that, through Colorado's unique position as a state with a long history of innovation and care for our public lands and wildlife, we can work more collaboratively with the BLM to effectuate more scientific and humane outcomes to herd management."
The governor said he had received an "outpouring" of letters from people opposed to the roundups.
"There remain legitimate concerns about the fate of gathered horses, and I believe that better collaboration with the state and advocates could improve assurances about their long-term well-being and the avoidance of any potential slaughter," he wrote.
But the federal agency has not swayed from its plan, scoping out the rangeland Tuesday with a contracted helicopter that will use low-flying maneuvers when necessary to push the horses toward a corral for trapping.
During the July-August roundup at West Douglas, nine horses were euthanized because of pre-existing fractures and injuries and one was put down because of a leg fracture that occurred during the roundup.
The emergency gather is needed, according to the BLM, "due to exceptional drought and lack of forage." The Sand Wash has sustained years of drought, causing the federal agency and volunteers to haul water to the mustangs several times in the past five to seven years, including earlier this summer, said Chris Maestas, with the BLM's Little Snake Field Office in northwest Colorado.
The land, shared with mule deer, elk and sage grouse, has in some areas turned to "moon dust" because of drought and overgrazing, he said. The grouse population in the basin has decreased 26% this year, Maestas said.
"With that many horses, it's become decimated," he said. "About 60% of the range has been destroyed. People are saying, 'It's not an emergency. Look at the horses today. They're fat and there is water.' We are concerned about what is going to happen this winter."
Maestas estimated it will take several years, with what the BLM considers an appropriate number of mustangs, for the range to recover. An estimated 150 horses have left the designated management area, jumping fences and slipping through open gates, to literally find greener pastures near farmland along the Little Snake River, he said.
Read more at The Colorado Sun
The Colorado Sun is a reader-supported, nonpartisan news organization dedicated to covering Colorado issues. To learn more, go to coloradosun.com.