Two fishers encountered the body in a remote area of the West Mancos River in Echo Basin
The body of Ian O'Brien, the 28-year-old runner who disappeared near Hesperus Mountain on June 24, was found Sept. 2 by two people fishing in a remote area in Echo Basin northeast of Mancos.
Montezuma County Coroner George Deavers identified the body, which was found in the West Mancos River, as O'Brien's in an autopsy performed Thursday. The cause of death was accidental drowning.
O'Brien grew up in Roxbury, New York, and spent the last six years in Southwest Colorado. He and his partner, Beth Henshaw, had just moved to Page, Arizona, but the couple returned in late June to camp on the west side of the La Plata Mountains, an area O'Brien adored.
On June 24, O'Brien set out alone to scout a route to the summit of Hesperus Mountain. He sent a picture of himself at the summit to Henshaw at 6 p.m. When he did not return that evening, Henshaw and friends Ashley and Mike Higgs grew worried and called authorities, starting the search.
A former field guide for Open Sky Wilderness Therapy and camp counselor, O'Brien was highly experienced in the outdoors and intimately familiar with the rugged wilderness surrounding Hesperus Mountain. His disappearance revealed the depth and richness of the community he had created across the country.
Montezuma County Sheriff Steve Nowlin suspended the official search on June 28, but the unofficial search lasted another 11 days. Between 25 and 80 volunteers showed up in Lucy Halls Park each day to traverse the overgrown wilderness looking for O'Brien.
Some volunteers knew O'Brien from Open Sky, some knew him from Prescott College, and others did not know him at all.
The incident command center for the unofficial search was quickly equipped with Starlink internet, radios and satellite communication thanks to the deluge of community support from across the country.
O'Brien's body was discovered in an area that had been searched "extensively," said county spokeswoman Vicki Schaffer. She said that water levels that reached between 3 and 4 feet had obscured his body from view until runoff levels declined.
"There is absolutely no way anybody would have seen him," she said.
Henshaw said there's a sense of pride that remains in her and O'Brien's community, now knowing that search efforts were targeted in the correct spot.
"We're all still really proud of the search that we did," she said. "We were searching in the right area, we were searching the right tracks and keeping people safe by not sending searchers in the river."
Deavers said he suspected O'Brien had died around 8 p.m. the evening of June 24.
"While this is not the outcome any of us wanted, we are at peace that we have found him and it gives us closure," the O'Brien family said in a statement posted online.
In a brief interview with The Durango Herald on Friday, O'Brien's sister Kelsey O'Brien Rodriguez said the family was simultaneously "devastated and relieved."
Members of O'Brien's community who participated in the search spoke to the challenge of simultaneously searching, grieving and fostering hope. Now, that has changed.
"We can fully grieve," said Gabe Hughes, who befriended O'Brien in college. "There's a grieving and a letting go and a release that comes with knowing that he has been found."
In the weeks since the search ended, friends of the "wilder-badass," as Henshaw once called him, have begun to carry rubber chickens – a beloved toy and a symbol of O'Brien's undying joy.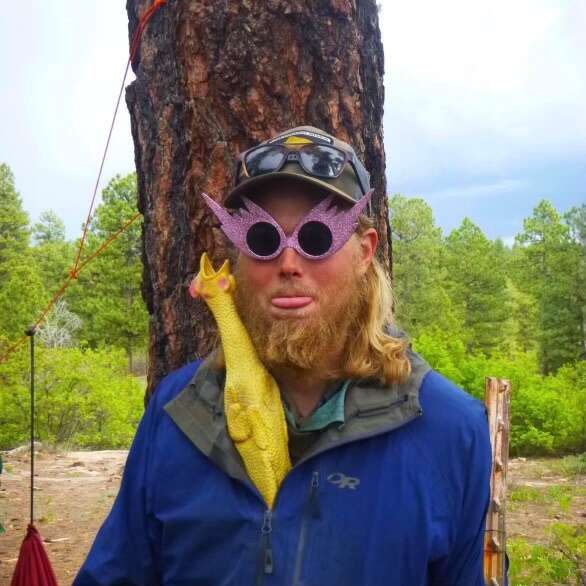 Henshaw said she intends to be no stranger to the land that she and dozens of others combed in search of her partner.
"I have a lot more love and respect for it," she said. "I'll always feel Ian's presence there in a joyful way. I'm excited to keep going there and keep experiencing the place that he loved so much and feeling connected to him through the land."
Details of a memorial in Durango may be forthcoming, Henshaw said.
rschafir@durangoherald.com