Durangoan returning to help native Nepalese village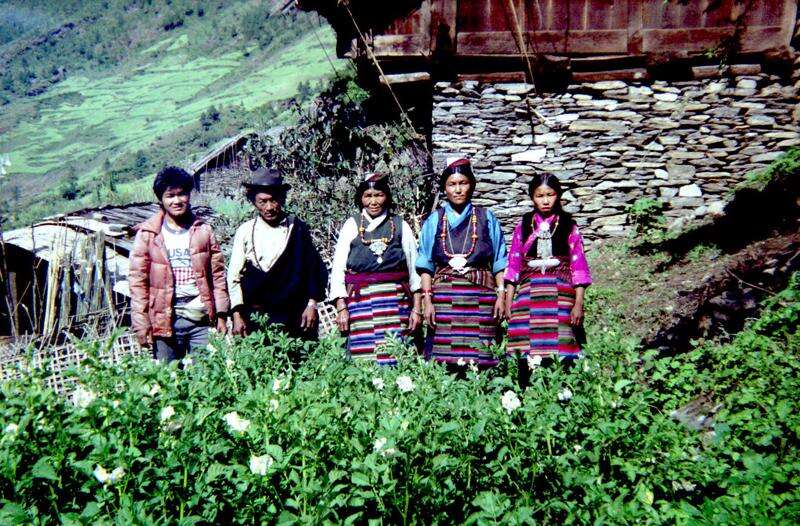 Karma Bhotia has come a long way in a quarter-century. He's changed continents twice, worked as a high-altitude mountain guide, learned the restaurant business and, with education and hard work, has thrived.
So when he recently saw a video that featured the remote village in Nepal where he was raised, it made him sad. Very sad.
"I couldn't stop my tears," he says. "I felt so bad."
What he saw was a village where women use mortar and pestle to grind wheat. Where the school shuts down when it rains because of leaks. Where electricity, computers, running water and sewage systems seem decades away. He saw conditions not far removed from the Stone Age.
The comparison between his life and that of the villagers is too stark to ignore. To Bhotia, now 49, the path is obvious: He needs to help.
Very possibly, you know Karma or his wife, Jyamu, or one of their three sons. Or you've been in their eatery. They moved to Durango in 2007 to establish the Himalayan Kitchen at Main Avenue and 10th Street. Their eldest son, Nima, is in the U.S. Navy. The other two attend Fort Lewis College.
Now the Bhotias, who also have opened the Dreams of Tibet gift shop next to the Himalayan, are part of the downtown social fabric. They feel blessed, and they want to give back. So in October, Karma Bhotia is going to lead a group of volunteers – with a few Southwest Coloradans in the mix – to his tiny native village of Chyamtang.
In Chyamtang, nestled on a small, sloping, rocky plateau above the Arun River not far from the border with Tibet, the American visitors will work on various projects, and, as most travelers do, will exchange cultures and ideas. One of the goals is to fix the leaks in the grade school roof. That fits nicely with Karma Bhotia's focus on education, which propelled his life.
"Education is the most powerful key to change humans' minds," he says during an interview in a corner of the Himalayan's banquet room. "I always think, we have to send pen and paper and love, not the bullets and guns and things like this."
Karma Tenzing Bhotia and Kumari Jyamu Bhotia were both raised in Chyamtang, a village of about 600 subsistence farmers. Karma says he was the third person of his generation in his region to complete high school. Jyamu was the first woman in the region to finish high school, and her accomplishment was so revered, she got to meet the Nepalese king (the monarchy was later abolished in 2008).
Jyamu became a teacher, and most of Karma's friends and family expected him to do the same. But he had other plans. Karma left to attend college, then found work where the money is: in the tourism industry. He spent the next 15 years as a mountain guide in Nepal, Tibet and India.
His life changed during a near-fatal trek in 1992. A porter's inability to climb ropes up to a pass at 17,000 feet forced Bhotia to set up an elaborate system to pull the porter up. The delay forced the group to spend a night atop the windy pass. When the expedition ended without tragedy, his Austrian client was grateful.
"When we got back ... he gave me the biggest gift," Bhotia says. "He told me, 'You saved my life. I want to do something for you.' He sponsored me to his country. That was the basic point changing my life."
For a while, he lived part year in Austria, part year in Nepal. In Austria, he became a cook. In Nepal, he established Apple Pie Expeditions. In 2000, the Bhotias headed for opportunity: the United States. They opened a restaurant in Pasadena, California.
Several years later, thinking they'd expand to another city in Southern California, they learned of an opportunity in Durango to buy the Golden Dragon and came to check it out.
Durango is about the same elevation as Chyamtang, similar geographically, and the people seemed warm and geared toward being happy, not all about money.
"This was meant to be for me," he says of moving to Durango.
He's been back to Nepal frequently, but not to Chyamtang since 1989. Recently, a journalist friend showed him a documentary he'd made that included footage of Chyamtang.
"I thought it would change a lot," Bhotia says. "Nothing was changed. Everything was the same as when I was a child there."
They're very hard workers, but their technology is so outdated it produces far less wheat, millet and potatoes than other methods readily available in most of the world.
"I'm not expecting to change all things," he says. "We want to support them, we want to help them, but not how we want. I want to know what they need. Then it's more effective."
The trip is all about improving education and providing opportunity. The school needs its walls and roof fixed after a 2012 earthquake. Bhotia says the community also needs better teachers, more opportunities for women and, not least, a lunch program for hungry kids.
Chyamtang is in northeast Nepal in the Arun Valley, whose headwaters lie in Tibet. Getting there requires a long trek, psychologically and geographically.
From Kathmandu, it's a quick flight to Tumlingtar, and a long day's jeep drive to Num. You're out of road, and now the physically demanding, seven-day, 60-mile trek to Chyamtang begins. (Num is also the taking off point for the oft-trekked Barun Valley, a tributary of the Arun that rises to Mount Makalu, the fifth-highest peak in the world.)
Recently, the Bhotias formed the nonprofit Karma & Jyamu Bhotia Foundation to foster education and economic opportunities in the Chyamtang/Mount Makalu area. A fundraiser Wednesday evening at Open Shutter Gallery will benefit the foundation.
Fred Boshardt, a foundation board member, says he's making the October journey halfway around the globe (11¾ time zones away) because he believes in Karma's vision. Boshardt is a builder by trade, and the Mancos resident plans to share his knowledge and put his skills to use.
"I want to be part of it," says Boshardt, who prodded Karma to organize a trek last October to Langtang National Park in Nepal. Boshardt was one of 14 on the trip, which went to an area far from Chyamtang. "I'm sure they have knowledge, things that we don't know. We will learn something; they will learn something."
Open Shutter owner Margy Dudley has displayed Karma Bhotia's photography more than once at her gallery and has been hearing him talk about helping his home village for about five years.
"He's been telling me about his dream for quite a while," Dudley says. "He knows he would like to eventually cover the region. But one step at a time."
She has been to Asia with the Durango-based Shanta Foundation, which aids rural villages in remote Myanmar. It's hard work to travel and communicate and live under unfamiliar Third World conditions; still, she regrets not being able to go on this trip.
"He's so honest," Dudley says of Karma, who is of Tibetan descent. "I feel sometimes I'm speaking to a Dalai Lama in town."
Already, the foundation has helped build a library, which paved the way for a high school to be built in Chepuwa, a two-hour hike from Chyamtang, whose kids make the trek every day.
As a global traveler, Bhotia has learned to see the big picture. And the picture he sees of Chyamtang is that of a village that might benefit from a shot of 21st century reality. It should be noted that although you won't find a sink with running water, you can use a cellphone – that's how Bhotia contacts his uncle in Chyamtang.
Karma Bhotia is looking at another big picture: his life. When you die, he believes, you leave only a legacy, and you take only love.
"We have to respect each other, and support each other, and love each other," he says. "One day, everybody has to die. What they take with them is love. Why do we not want to show this love in this world?"
johnp@durangoherald.com. John Peel writes a weekly human-interest column.
A fundraiser for the Karma & Jyamu Bhotia Foundation will be held from 5 to 9 p.m. Wednesday at the Open Shutter Gallery, 735 Main Ave. in Durango.
A silent auction featuring local artwork, photos by Karma Bhotia, a trip with the foundation to Nepal and more will end at 8 p.m. Door prizes will be offered and food will be provided by the Himalayan Restaurant.
The foundation helps schoolchildren in remote areas of Nepal. A group from Durango will trek to Chyamtang, Nepal, in October to help rebuild a school damaged in a 2012 earthquake.
The foundation's address is 992 Main Ave., Durango, CO 81301. Call Karma Bhotia at (626) 200-8009 or visit www.bhotiafoundation.org for more information.