Snowdown pulls off drag show, bed races, sexy car wash, Light Parade
Snowdown 2020 rocked and rolled, literally, all day Friday. Floats rolled down Main Avenue, lighting up the throngs of spectators with bright lights to the tune of "Sweet Child O' Mine" and more. Beds on wheels raced to win the coveted bed-topped trophy. Snowdowners showed their best sultry, sudsy moves on a 1955 Buick in the sexy car wash.
And the fun doesn't stop there.
The biggest day yet will begin today with about 50 events planned, including the Balloon Rally and Mass Ascension (8 a.m. Animas Valley); Kids Snow Games, with a special guest (10 a.m. Folsom Park off Florida Road); Outlaw Josie Pete Golf Tournament (noon at bars and restaurants throughout downtown Durango); Chili Cook-off and Bloody Mary Contest (noon-2 p.m. La Plata County Fairgrounds); Canine Fashion Show (1 p.m. McDonald's parking lot); Outhouse Stuffing (2 p.m. Gazpacho Restaurant); and the Booty Shaking Contest (8:30 p.m. Wild Horse Saloon).
Here's what's been going on: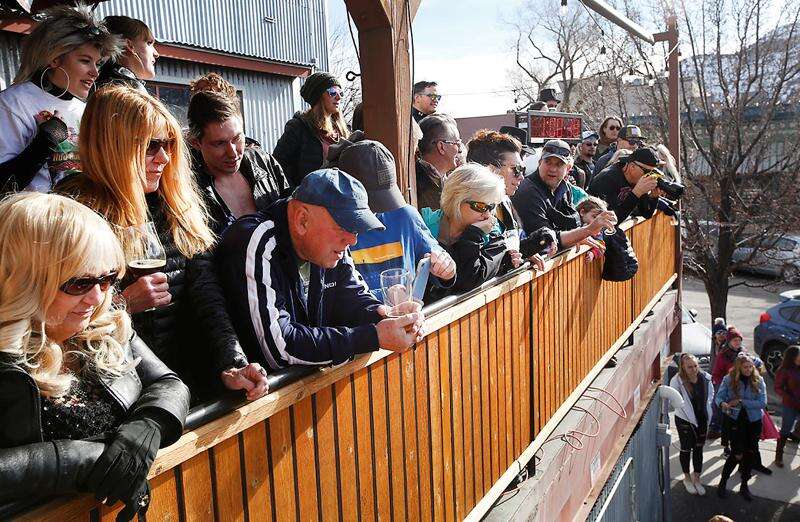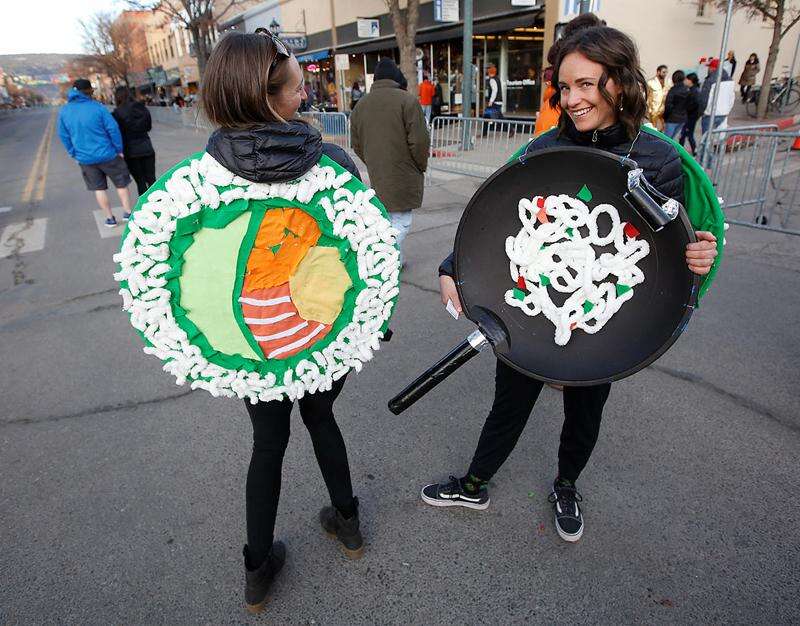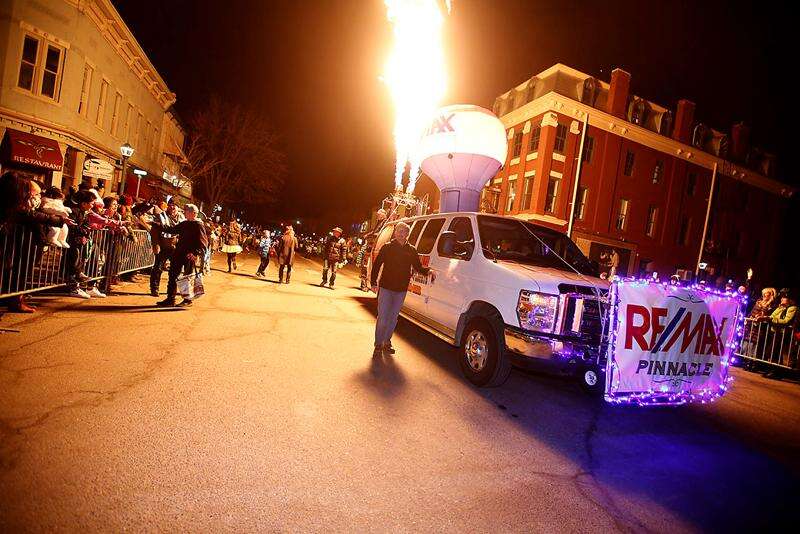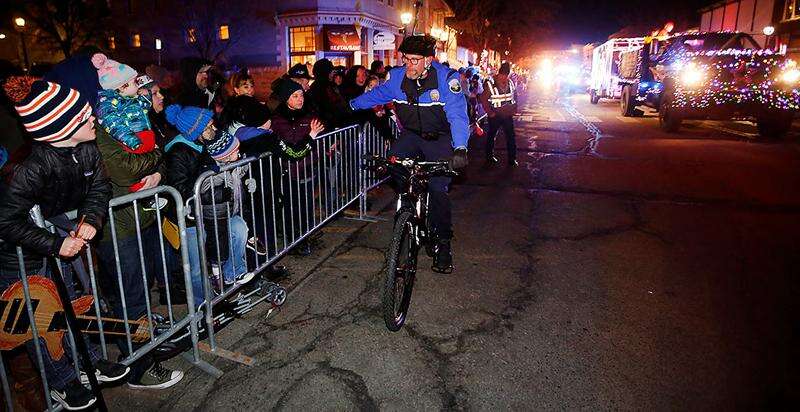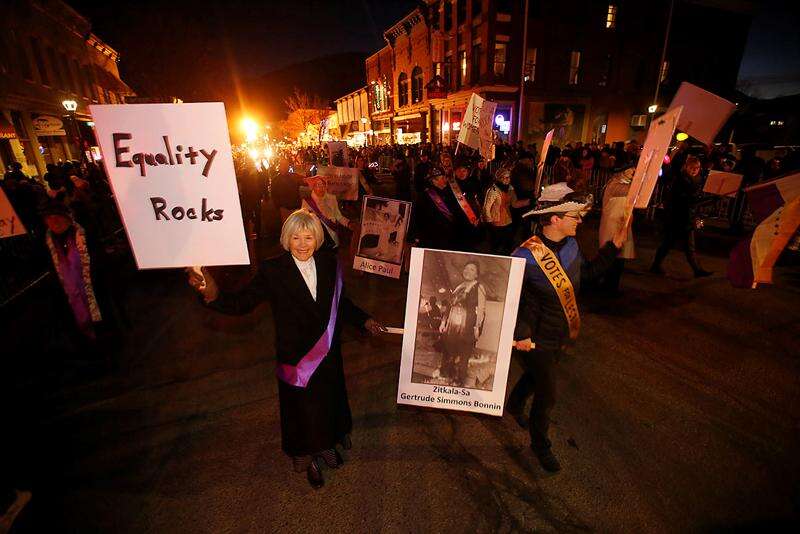 The fastest bed in DurangoThe final race of the 2020 Snowdown Bed Races event was a battle royale between Fort Lewis College, where the races first began in Durango, and the primary event sponsor, Bank of Colorado.
The bed races have a long history in Durango. They started at FLC, with fewer rules for safety, and the races made their return to Snowdown in 2019. This year, the event raised awareness for the 100 Club of Durango, which supports public service officers, emergency medical service providers and firefighters of La Plata County.
The event also featured celebrity races between classic rivals, like the Durango Police Department versus the Durango Fire Protection District and the city of Durango staff against La Plata County staff.
"It's a tribute to Durango and the people who live here," said Nick Van Vono, a Durango resident dressed in a rockin' brown wig, as he watched the wooden beds barrel down Main Avenue.
The two teams had already won against six other groups by the time they rolled their wooden beds to the starting point between Seventh and Eighth streets on Main Avenue.
During the race, it was a dead heat. They ran, they took onesies off and other team members put them on, and they ran again. In the end, the Fort Lewis College Alumni team outpaced Bank of Colorado and took home the gigantic, bed-topped trophy. And medals. And $150 in gift certificates.
Louis Van Vono said it was her first time watching the bed races, but it was already one of the best events of the week. She added it was fun to watch the teams switch onesies, which seemed to be one of the trickiest parts of the competition for some.
Kegs N' RosesTeams from seven of Durango's favorite restaurants dug, tossed, tapped and stacked their way through the annual Service Industry Scramble at Steamworks Brewing Co.
The obstacle course included rocking an air guitar solo, digging through wet spent grains for five roses, tossing two of the roses through a KISS-themed cornhole board, tapping five kegs, clearing items into a busing tray, and then, in true Snowdown style, chugging a beer.
"After my guitar solo, I was pretty amped to push through the barley to find the roses," said Holly Huebner with the Steamworks team. She and a teammate prepped for the event with a 5 a.m. workout session.
The Ken & Sue's team won first place and a keg of Steamworks beer with a time of two minutes and nine seconds. They beat last year's champions from The Ore House and the hosting team from Steamworks.
Sue Fusco, co-owner of Ken & Sue's, declared the team "unbeatable" after her colleagues finished the race. It sounds like Ken & Sue's might be challenging the other teams to step up their game in next year's scramble.
Sexy sudsA few Snowdowners weren't afraid to bare (almost) everything, despite the cold weather. After a delayed start as organizers waited for more participants, brave Durangoans stripped down to compete in the annual Super Sexy Rock 'N' Roll Car Wash at 11th Street Station.
Individual style showed through as contestants picked their own songs ranging from head-bangers to slow and sultry. As the sun slipped behind the clouds, later dancers kept rocking it out despite the lower temps. The event's emcee summed it up perfectly when he said, "Who knew you could get so naked in the middle of winter?"
Snowdown takes you higher (boom-shaka-laka-laka)About 50 competitors in the Snowdown Treadmill Challenge stepped into the ring (of spectators) and onto the treadmill at 11th Street Station. Their goal was to see who could climb the most vertical feet in five minutes.
Tate Legasca outpaced his competitors in the men's division, climbing 528 vertical feet in the middle of the cheering crowd. Imogen Ainsworth won first in the women's division after climbing 440 vertical feet. The champions got Durango Running Co. merchandise, while the losers just got out of breath.
'Are you an antique dealer?'Snowdown's Pick Up Line contest drew laughs – and groans – from the crowd at Animas City Theatre. About 50 people took their turn at the mic to see who had the most suave line. The best performance came from Zach Lawrence, aka Bob Loblaw aka Stringy, who didn't even want to compete. He got the crowd's attention with about 30 seconds of coughing.
"Are you an antique dealer? Because I've got some junk that hasn't been touched in a long time," he said. Then, he followed with, "Are you an appendix? Because I think I should take you out."
The performance earned 10 out of 10 from each of the five judges. Still, most of the people there encouraged others to never try a pick-up line.
"Do as I say, don't do as I do," Lawrence said. "If you're looking for true love, all you have to do is be yourself."
Work it and twerk itWhat do you get when you add splits, moon boots, Paula Abdul and a walk of shame? Snowdown's annual Drag Race and Fashion Show at El Rancho Tavern.
"The drag show is such a unique thing. Did you feel the vibe in there?" said Chris Lile, co-owner of El Rancho. "I don't know how to explain that."
The bar was exploding with energy during the show. With loud music blaring and the bar bursting at its seams with people, performers strutted, danced and grinded. Elton John, dressed in all white with angel wings, drew cheers from the crowd, then handed the stage off to eight other competitors. After the walk, the performers acted out their version of a shameful walk home after a long night out. Paula Abdul won best over all, David Bowie won best drag queen and Billy Idol won best woman performer.
Lile said at first no one wanted to do the event, but it has been an amazing success.
"It was one of the most amazing shows I've ever had. These contestants were absolutely fantastic," he said.
A well-beered beardCJ Wright might have the manliest beard in Durango after he won the Snowdown's Beard Growing Competition at Carver Brewing Co.
Six competitors started growing their beards in November. Wright's beard excelled in length, girth, glamour and weight bearing, measured in fishing lures placed on the beard, said Dasha Greidanus, an event coordinator. Wright also displayed his beard's excellence in absorption, a competitive category that requires dipping it in beer, squeezing out the beer into an empty glass and then drinking that glass.
Snowdown SpellebrationIn one of the more nerdy upsets of Snowdown, the annual Spellebration contest Wednesday ended without a winner or a winning word.
The Animas High School of Rock and the Mnemonsters tied for first place after battling nine other teams in a packed house with a lot of audience participation. The last word of the contest was Kauri, a type of tree commonly found in New Zealand.
As for The Durango Herald team? Well, we lasted longer than we did last year.