Durango's first child advocacy center nears opening
Children and families who experience sexual abuse often have few safe, trauma-limited spaces to turn to for help.
Emergency rooms can be hectic and intimidating, and the burden is often placed on children and their families to pursue the care they need.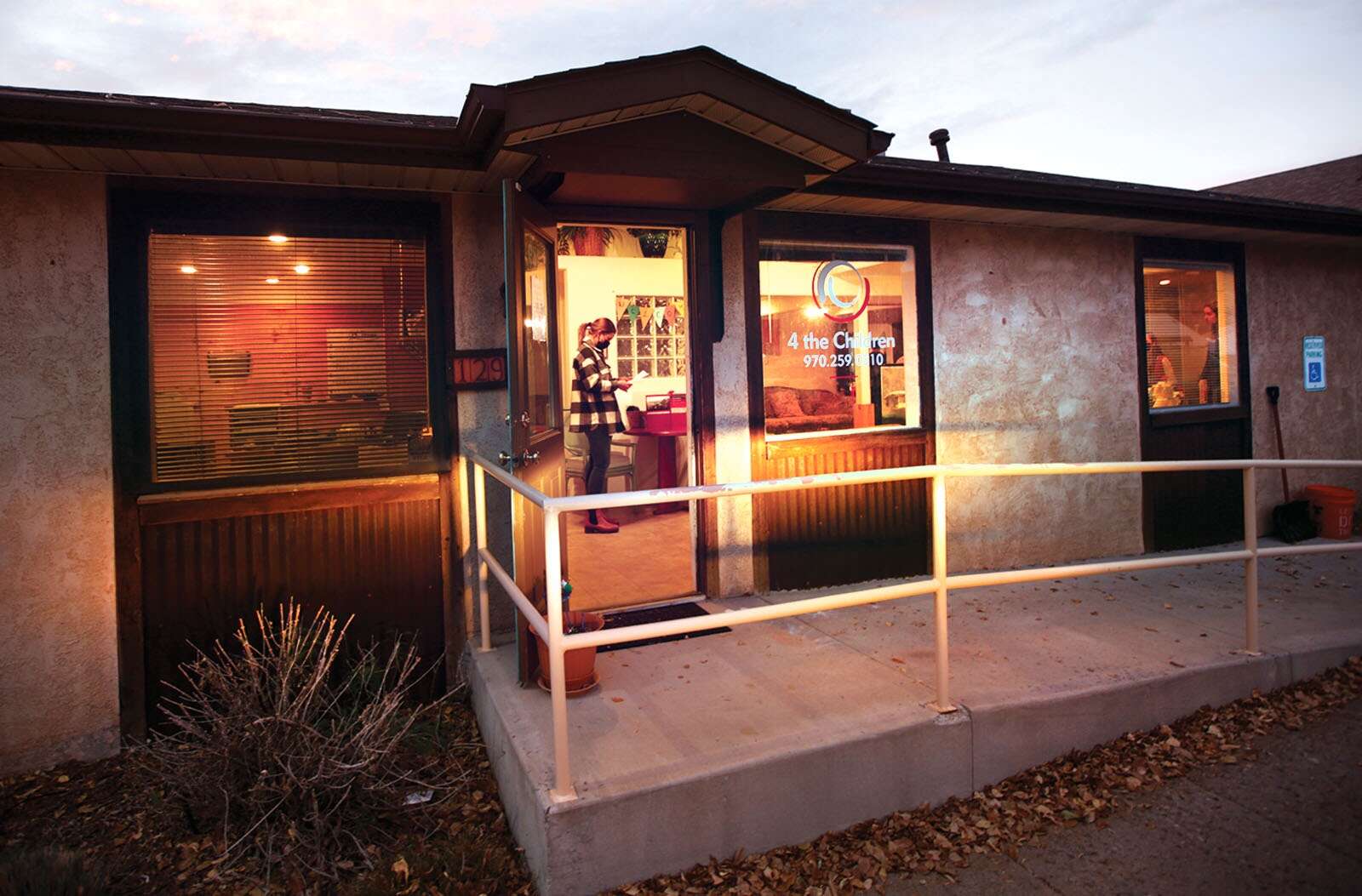 For decades, La Plata County's Department of Human Services has served as the lead on child sexual violence cases, coordinating with law enforcement agencies, medical examiners and sexual violence advocates and nonprofits to ensure that survivors receive the services they need.
But Colorado's 6th Judicial District, which covers La Plata, Archuleta and San Juan counties, has remained, until now, one of the few districts without a child advocacy center.
4 the Children, a Durango child advocacy nonprofit and umbrella organization for the national Court Appointed Special Advocates program, plans to fill the gap in child sexual violence services in La Plata County with a new child advocacy center, which will open in 2022 and provide children and their families with centralized care.
"This really adds another layer of support," said 4 the Children executive director Ashley Hein. "I do think that (it's important that) the community knows that this program is here and that this program exists. I think it might encourage more people to tell their story and more parents to come forward because it's done completely confidentially."
Child advocacy centers serve an essential function for pediatric sexual violence survivors. They provide a safe space where children and their families can seek medical care, mental health services, sexual violence advocates, law enforcement assistance and other therapeutic help under one roof.
In the past, families have been responsible for making appointments across multiple agencies for their child. Though Department of Human Services would do its best to minimize visits, children would often have to retell their traumatic story several times, said Bethany Bernal, a forensic nurse coordinator with Mercy Regional Medical Center and a medical services leader at the new child advocacy center.
"(The child advocacy center) really takes the burden off of the family, off of the parent, and it makes the child feel special, too," she said. "Everybody is coming to them and they feel supported and believed."
"I think it's a great way to collaborate," Hein said. "Child sexual assault and abuse has been happening and (community organizations) have been doing the best they can with what they have. This just hasn't been a resource available to them yet."
"It's our job at the center to make everybody feel safe and comfortable, so that this child only has to tell their story once," Hein said. "Everything happens here, and then we send them on their way and we provide them services afterwards, too."
For children who have experienced sexual violence, telling their story once and accessing services in a single, safe space makes a difference.
"When you're about to talk about one of the scariest things that's happened to you, you're going to be looking around and you're going to be seeing and experiencing," Hein said. "... We talk about this as a safe space to land and we want it to be warm and we want it to be welcoming."
The child advocacy center will feature a multidisciplinary team that includes medical specialists, law enforcement, family advocates, sexual violence advocates, and mental health and therapeutic providers.
The team will coordinate on every case to ensure that survivors and their families receive comprehensive care and support.
"By working with that team – the involved law enforcement agency, the involved human services agency, the child advocacy center, therapeutic supports – (they) can all make sure that the child's best interests are being met," said Martha Johnson, La Plata County's director of human services.
"It's so important that those kids and their families experience sensitive and effective response," Johnson said. "... Those kids and parents are going through so much that hopefully having the child advocacy center will provide them with that extra level of support."
4 the Children's new child advocacy center was borne out of the pandemic. Hein said the organization was forced to re-evaluate its programming, which included its Court Appointed Special Advocates and Supervised Exchange and Parenting Time programs, when it had to close its doors.
After learning more about child advocacy centers and their work, Hein realized the community needed a dedicated center for pediatric sexual violence survivors.
"It's not something that we like to talk about often in our community," Hein said. "People don't want to talk about the fact that children are being sexually assaulted in our community."
Sexual Assault Services Organization, a local nonprofit dedicated to sexual violence advocacy, serves about 50 children every year, said Laura Latimer, executive director.
"It was more than we had initially thought," she said.
In 2019, SASO helped 31 newborn to 12-year-olds and 21 13- to 17-year-olds who had experienced sexual violence.
In 2020, the organization helped 23 newborn to 12-year-olds and 15 13- to 17-year-olds.
So far this year, the numbers have increased. SASO has worked with 30 newborn to 12-year-olds and 19 13- to 17-year-olds to date.
"It's definitely not a subject that we're afraid to talk about," Latimer said. "We have identified and know the need in our community."
In 2020, 4 the Children began engaging with other community organizations, and the new child advocacy center, with a lot of work, has taken off.
The multidisciplinary team has begun meeting and outlining policies and procedures.
Fundraising is ongoing – the organization's goals are $200,000 by the end of 2021 and $500,000 by the end of 2023 – but the new center received a boost in recent weeks when medical staff members from Mercy donated $20,000.
After the medical staff challenged Centura Health to match the money, CEO Patrick Sharp signed off on another $20,000, which will help 4 the Children develop the child advocacy center's medical exam room.
"The silver lining in COVID is that our membership dues account had swollen because we were doing all Zoom meetings and not spending our dues money on social events like we ordinarily would," said Jim Birgenheier, spokesman for the group. "The issue got brought up that this would be perhaps the best place to put some seed money into the community and the medical staff universally chose to do that."
"It's all at once a tragedy and a happily-ever-after story where it's a shame that an affluent county doesn't have a child advocacy center, and I think we can resolve that," he said.
Community donations like those from Mercy staff members and Centura Health are "getting us to open and over the hump until we can start getting consistent grant funding," Hein said.
She said the new child advocacy center hopes to serve its first sexual violence survivor in 2022.
"We would love to be able to have our doors open to serve the most vulnerable members in our community," she said.
For those who have been working with survivors in the 6th Judicial District, the new center has been a necessary development.
"It's been a long time coming," Bernal said. "... This is much more of a national standard and it's patient-centered, trauma-informed care that we need to support these kids."
It pushes the Durango and La Plata County communities to finally discuss the difficult, but critical subject of child sexual violence.
"By bringing the child advocacy center to town, we're forcing that issue," Hein said. "We're talking about it right now."
"We have to open a dialog. That's all we can do," she said.
ahannon@durangoherald.com