Residents and visitors flock downtown as winter tradition continues
Snowdown will soon slow down as the week of festivities wraps up Sunday, but Durango was still very much alive on Saturday with a slew of events for residents and visitors.
The Chili Cook-Off at La Plata County Fairgrounds Exhibition Center opened to the public at noon. It featured 14 contest entrants who competed for prizes in categories such as vegetarian, red chili, green chili, salsa, chili with beans, beanless chili and people's choice.
Greg Yucha, who organized the cook-off held at the La Plata County Fairgrounds Exhibition Center, said attendance was down about 25% this year, which was Snowdown's return after being postponed in 2021 because of the COVID-19 pandemic.
The pandemic imposed a little more work for Yucha and volunteers this year because of COVID-19 protocols they followed, he said.
"We pulled a lot of volunteers from other Snowdown events," he said. "A lot of cast and crew from the follies were up late last night, came down and did a double shift and helped us out."
The cook-off needed "substantially more" volunteers this year to keep things running smoothly, Yucha said. Even members of the Snowdown board of directors lent a hand for the cook-off Saturday. But it ran smoothly, he said.
"Overall, the event was a lot of fun. A success," he said. "We're looking forward to continuing this Snowdown tradition."
The traditional Chili Cook-Off serves a fundraiser to continue Snowdown the next season, Yucha said. He thanked community members for attending the event, vaccinating and keeping the tradition alive.
Jacob Lienhardt of The Lively Daikon, an organic salad bar joint, showed off his chili-cooking skills with red cowboy chili. It included grass-fed beef, carrots, tomatoes, onions and chipotle peppers, he said.
This year's competition was Lienhardt's first in Durango, and this was his first Snowdown experience, too.
Maddie Tharp and Shea Davis were another couple of first-time contestants. They brought their vegetarian chili Saturday. Tharp said they helped fill the vegetarian niche because they were just one of two vegetarian vendors to compete.
It wasn't just Tharp and Davis' first chili competition – it was their first real foray into cooking chili. Despite that, they said people were enjoying the dish.
Davis called their creation beautiful.
"It's delicious," she said. "I mean, I'm biased because I'm the chef, but it's delicious."
Tharp wore a wizard's hat in line with the Magical and Mystical theme of Snowdown 2022, while Davis, dressed in green tights and a feathered cap, was dressed as Robin Hood – or Peter Pan, he said.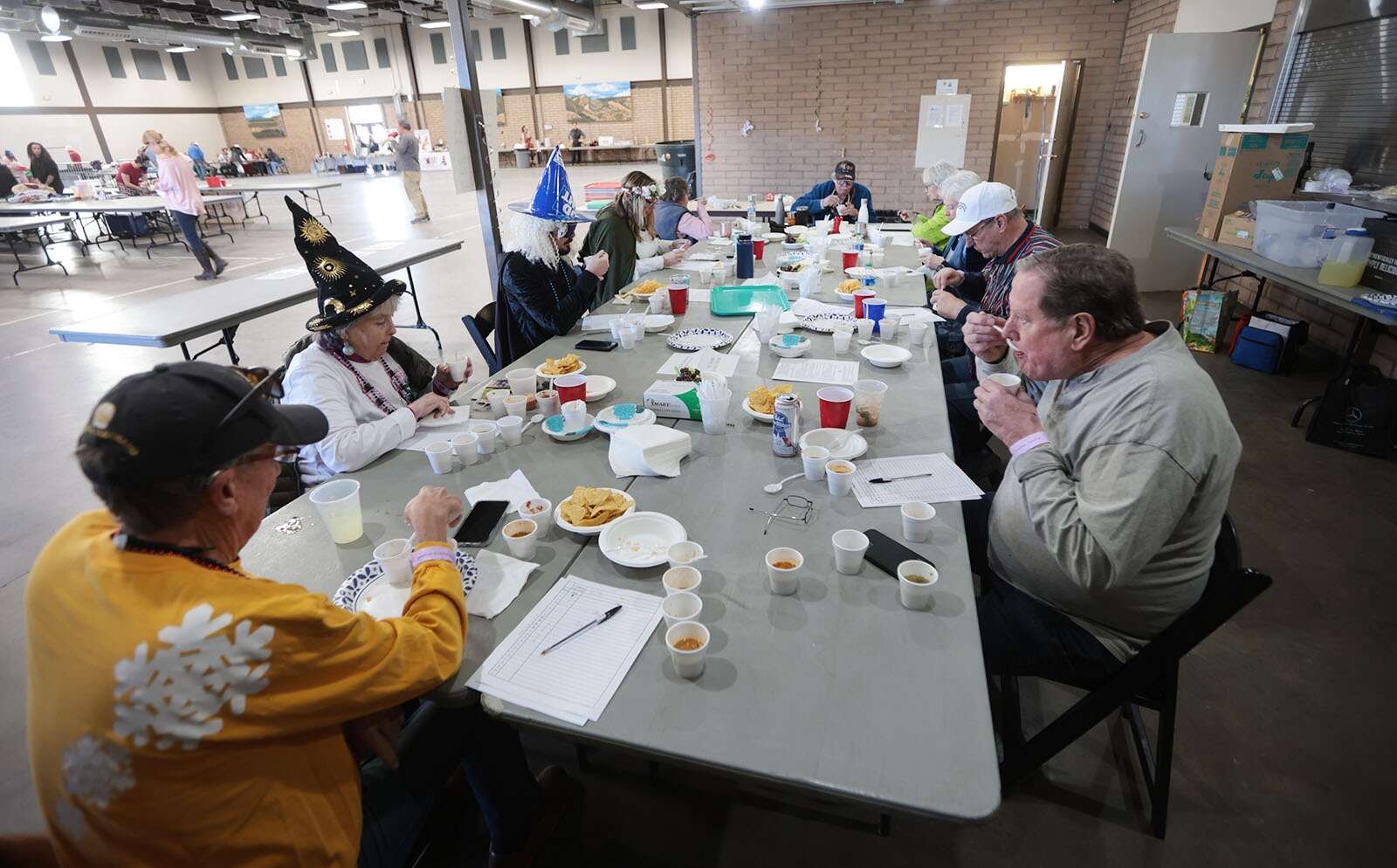 Donna Orban visited Durango from Tulsa, Oklahoma, for Snowdown with her mother and daughter. Orban and her mother, whose first name is Nancy and who introduced herself as Kiwi Serenity BrewHaHa, were dressed as magical – and majestic – unicorns.
"A group of unicorns is called a blessing," Orban said. "A baby unicorn is called a sparkle. We read this on Google yesterday."
The mother and daughter said so far, they've had a great time at Snowdown this year, their first time attending. But, they said, they are a little disappointed that so many events were canceled.
"This is literally the only thing I've done in a couple of years," BrewHaHa said. "I was back and forth on whether or not we should do it."
At the Canine Fashion Show, families and dog owners gathered around 1 p.m. in McDonald's parking lot to show off the best costumes they could conjure for their pets.
Rhise Taylor, 9, dressed her dogs Rosco and Delta as fairy and a wizard, respectively. Vanessa Taylor said Rhise suggested the Magical and Mystical theme used for Snowdown this year when she was seven years old.
"She wrote it all out at Magpies (Magpies Newsstand Cafe) and won the theme," Vanessa said.
Rhise said she wasn't sure what inspired her to suggest that theme, but Vanessa chimed in and said she was a little girl who loved unicorns. In the end, she added, they didn't end up dressing as unicorns, though.
Leslie Jensen and her family showed three English bulldogs – Django, Jazzie and Sophie – at the fashion show. Jensen made Django and Jazzie's costumes herself.
She said she used to attend the canine fashion show, but took about a three-year break after her old bulldog died. However, she said it was nice to be back this year.
"Making the costumes is fun to do," she said. "I didn't know how she (Jazzie) would do because she's a rescue and she had a really bad life. But she loves her costume."
cburney@durangoherald.com