Progress expected in 2023 on trails, bike park and emergency access at site southeast of downtown Durango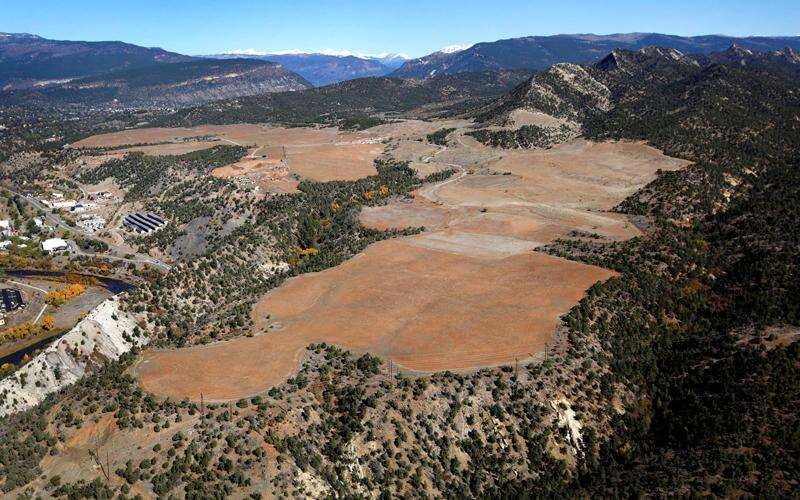 Durango Mesa Park, the 1,850-acre plain formerly known as "Ewing Mesa" southeast of downtown Durango, has been a target of development for years.
The Durango Mesa Park Foundation, which has owned the property since 2019, has engaged with the city of Durango and La Plata County in plans for the park, including economic development opportunities, open space and outdoor recreation areas.
The relocation of the county fairgrounds and the creation of new bike parks, dog parks, BMX tracks and disc golf areas have been discussed for development at the mesa, which sits 300 feet above downtown.
The foundation and its partner organizations expect big strides for some amenities talked about for several years, including work on demonstration mountain biking trails, the completion of emergency access road construction and a bike park master plan.
Ture Nycum, director of Durango Parks and Recreation director, said this is the year to "crack the nut" on what development will cost and to establish a timeline for building amenities.
And he is excited.
"I think we're at a point now within the next three to five months that we're going to have a really good idea of what we're going to need to do to get access up to Durango Mesa Park," he said.
Moira Compton, Durango Mesa Park Foundation executive director, said the organization's 2023 goals are "lofty," but work in 2021-22 has set the foundation up to knock them out.
The foundation is working with HDR, an international design and engineering firm, Progressive Trail Designs, USA BMX and the city to design the bike park, which is planned to include BMX amenities, she said.
Nycum said funding for BMX amenities have not yet been secured, so development might take time, but it is included in current plans.
Other plans long discussed by the city include a dog park and a disc golf course. Nycum, noting how many cyclists enjoy bringing their dogs to bike facilities, said plans include a fenced-in dog park and an 18-hole disc golf course.
Durango Parks and Recreation is still figuring out the budget plan for such amenities, he said.
Mike McVaugh, senior transportation engineer at HDR, said a bike park has been requested by residents for many years and he hopes to build a best-in-class bike park that outshines every other bike park in the state.
He said Durango Mesa Park is a "once-in-a-lifetime project" that stands to enhance the community of Durango.
He said he anticipates the bike park master plan to be completed in June.
In collaboration with Progressive Trail Designs and Durango Trails, Durango Mesa Park Foundation identified demonstration trails, mostly mountain bike trails, connecting Horse Gulch to Durango Mesa. A project is planned for the spring, maybe April, that will create several new trails and establish a long-term connection between Horse Gulch and the mesa, he said.
However, none of the plans can be accomplished without critical infrastructure work first, including an emergency access road, Compton said.
Nycum said the emergency access road is being planned to connect Ewing Mesa Road to the Durango Mesa Park site.
"The hope is to really work on getting that constructed this year so that we have that secondary access, so that we can provide emergency response as needed as we start opening up these facilities," he said.
In the the last week of December, the foundation received approval from a neighboring property owner to build an emergency access road, bringing an end to what Compton said has been a four-year process between the property owner, the foundation and Durango city staff members.
Compton said permission for the emergency access road was a "critical" development and that other work could not progress without it.
"It is the thing that mattered the most," she said.
City involvement and financing
Nycum said the city is splitting the costs of infrastructure planning and design for the park on the mesa.
The city of Durango is paying one-third of design costs while Durango Mesa Park Foundation is covering the other two-thirds, he said. The city and the foundation are splitting the bike park master plan and demonstration trail costs 50/50.
Nycum said the city will pay for one-third of HDR and the foundation's costs for projects in 2023. In 2022, Durango Parks and Recreation had $1.26 million in its budget for the Durango Mesa Park capital improvements project and has $1 million budgeted for this year. Additionally, the department has another $2 million budgeted for work in 2024.
"So all in all, we are looking at about $4.3 million that the city's looking to contribute to this project," he said.
cburney@durangoherald.com