Defiant Durango man happy to let city spend money disposing RV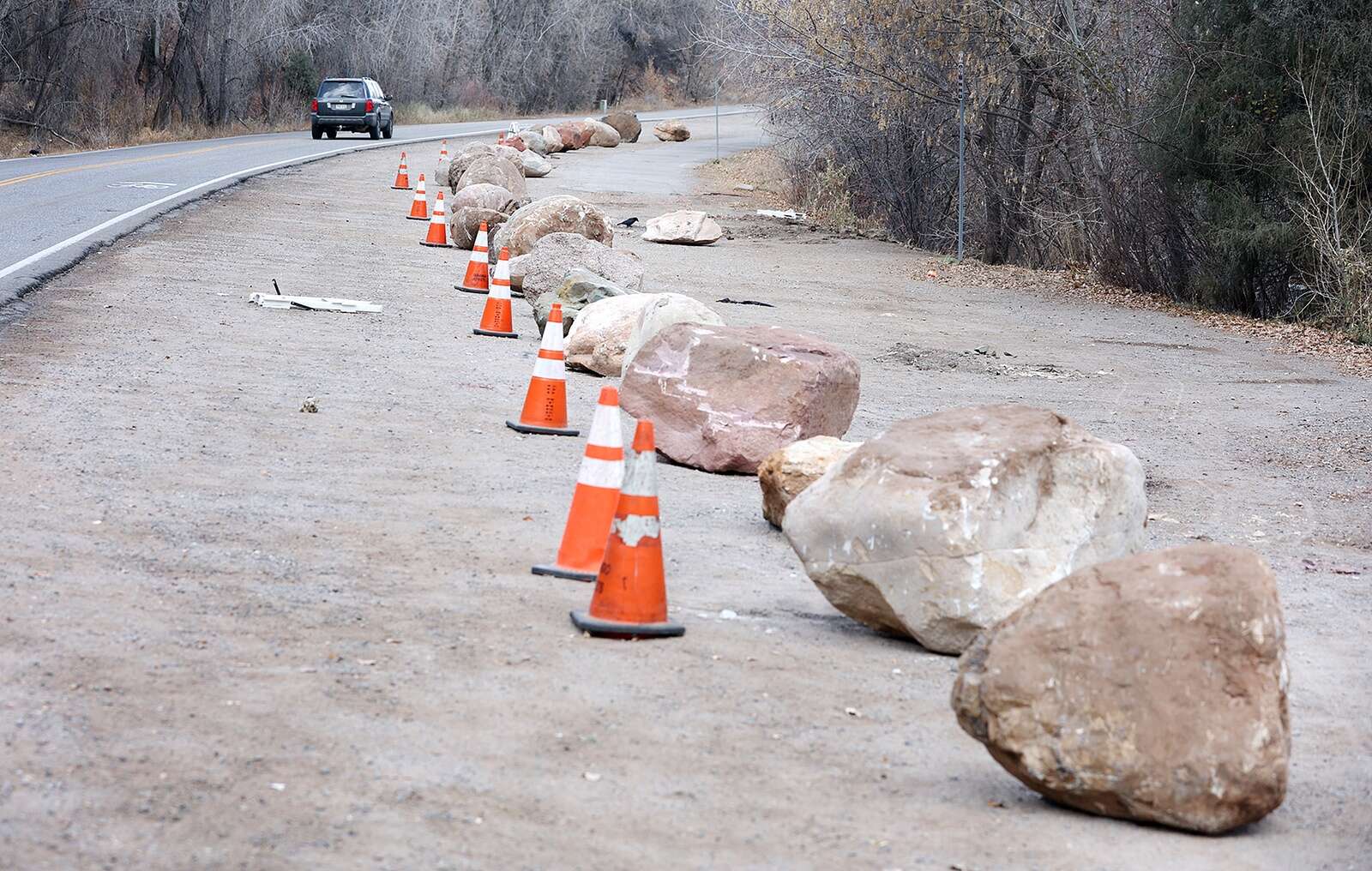 The city of Durango installed a line of boulders in the dirt unloading area on Roosa Avenue adjacent to the Animas River on Thursday to deter people from parking their vehicles, particularly RV's, overnight.
More than 30 boulders, about 2 feet by 4 feet in size, were placed about 10 feet apart in the dirt between Roosa Avenue and the Animas River, said Scott McClain, assistant parks director.
Tom Sluis, city spokesman, said Durango officials hear "persistent" complaints from residents in the area about RV's being parked in the unloading area for "extended periods of time" and there is a history of the issue along Roosa Avenue.
Brice Current, Durango Police Department deputy chief, said the city has been considering installing boulders for two years. It is well within the police department's ability to ticket people and tow abandoned or illegally parked vehicles, but for the most part, that is not necessary.
"Instead of going up and ticketing everybody we would just go over and talk to them so they wouldn't incur a big cost. Because a lot of them are probably struggling," he said.
But one man has consistently defied police requests to move his RV, he said. Matt Longwell, a Durango native born and raised, has parked his RV and trailer on Roosa Avenue intermittently over the 11 years he's been homeless.
Most recently, he was parked on Roosa Avenue just shy of three months. The last time he was parked in the same area, he was there just over four months, he said.
Longwell's RV was towed on Thursday, but that still hasn't deterred him. He said he will simply buy another "dollar RV" and let the city waste money disposing of his last one. And he said he is fine with repeating the process over and over again.
Current said on Saturday that Longwell did not have a valid driver's license and his RV did not have vehicle registration at the time it was towed.
He owns a trailer where he stores his tools and is planning to sleep in that Friday evening. He said he'll probably find a spot near the dog park and return to Roosa Avenue in a few days. He owned the RV and parked it on Roosa Avenue mostly just to make a point to the city anyway, he said.
He said the city should ditch its overnight camping ordinance. Businesses such as grocery stores and banks should be allowed to charge rental fees for overnight parking and neighborhoods should have residential programs that allow for overnight or extended parking for people who live in their vehicles, he said.
"There's no reason that an eight-block neighborhood can't have four residential vehicle dwellers that have abided by a system, went through the application process and maintained their accountability standard," he said. "There's no reason we shouldn't be utilizing these systems of revenue and accountability. And it's costing thousands to millions of dollars every single year to hold onto the stigma, and it's fruitless. It's futile."
The municipal code Longwell wants abolished says it is unlawful for an individual to "occupy any boat, camper trailer, camper coach, motor home, trailer coach, recreational vehicle, truck, commercial vehicle, or school bus" for the use of camping or sleeping on any public street, public right-of-way or city parking lot.
He said he is certain the city's laws about overnight parking or camping are unconstitutional and the Supreme Court would declare them so if a case ever reached it.
"This next generation, A) can't afford a mortgage – which means 'death contract' in Latin – and B) they don't want one. They're looking for smaller carbon footprints," he said.
Ideally, he would like to live and work from a minivan and use a residential parking program, if one existed, he said.
Deputy Chief Current said police don't want to ticket people or tow their vehicles because it can be expensive for the city. It costs the police department $500 to tow a vehicle, but disposing of it could cost up to $4,000 and taxpayers are ultimately paying the bill.
He said code enforcement officers are compassionate, but if nothing is done about extended parking on Roosa Avenue, more and more people will start parking there.
As far as the police were concerned, it was time for Longwell's RV to go.
"We just went and told him, 'Hey, we've given you the opportunity to rectify this yourself multiple times,'" he said. "But he openly wants to defy the rules and the law. It's not an issue of him wanting to camp. It's a decision he's making."
cburney@durangoherald.com