Pricey, classic race cars will stop in local towns during a charity run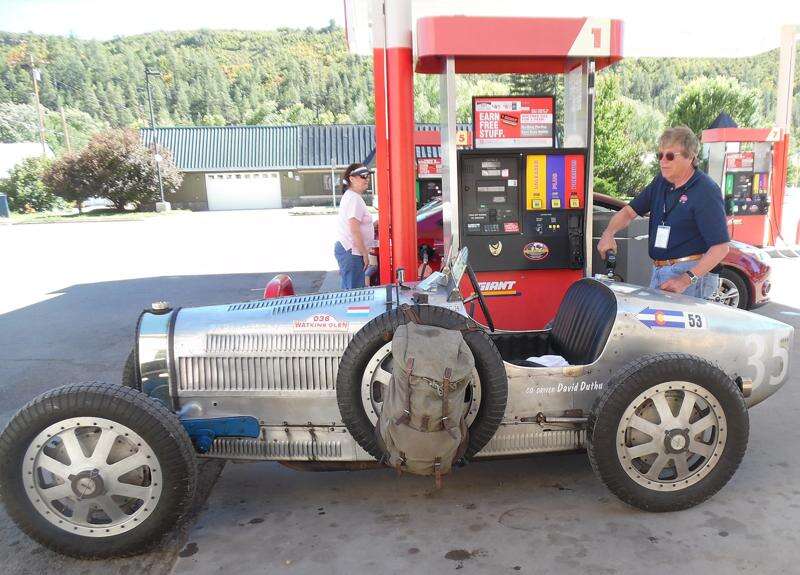 The popular Colorado Grand tour will again swing through Southwest Colorado, allowing the public to marvel at vintage race cars at stops in Telluride, Dolores and Ridgway on Sept. 13-14.
Check out 95 classic models from carmakers, including Alfa Romeo, Porsche, Aston Martin, Bentley, Jaguar, Ferrari and Bugatti at Mountain Village in Telluride on Sept. 13 and in Dolores on Sept. 14 between 10 a.m. and noon. The tour will then drive on to Ridgway for lunch on Main Street.
The 29th annual fundraiser benefits local organizations and provides college scholarships – doling out checks to small towns along a 1,000-mile tour.
Last year, the Colorado Grand raised $500,000 from entry fees and donations, said community liaison Eddie O'Brien.
"We donate to small towns on the Western Slope, everything from medical centers and amphitheaters to education and museums," he said.
If the group stops for lunch, $10,000 is donated toward a community need, plus $8,000 for a college scholarship. If the stop is for coffee, $1,500 is donated to a local project or charity.
"For our participants, who we call 'Granders,' it is an opportunity to bring out extraordinarily rare, museum-quality automobiles and drive them through the beautiful Colorado mountains," O'Brien said.
For the rural communities of the Western Slope, it is a chance to see classic race cars up close and to talk to owners. Many of the cars have a European racing pedigree.
"The nice thing about old cars is that people have been smiling and waving at us the whole way," said Bill Binnie, of New Hampshire, during last year's stop in Dolores. He drove a 1938 BMW 328, which won Italy's Mille Miglia endurance race back in the day.
Wayne Carini, host of the Discovery Channel's "Chasing Classic Cars," was part of last year's tour, pulling up to the Galloping Goose museum in his Aston Martin DB4.
The performance attributes and value of the cars are equally impressive.
A 1956 XKSS Jaguar, one of 16 in existence including Steve McQueen's famous model, is worth $6 million. A very rare 1962 Aston Martin DB4 GT Zagato looked very fine parked in Dolores and is worth a staggering $15 million. The owner of a 1933 Alfa Romeo said it can easily hit 120 mph with its supercharged straight-eight engine.
The event is escorted by the Colorado State Patrol. A contingent of mechanics accompanies the group as well, each with a specialty in certain classic models.
"The drivers love the wide-open road, talking about cars, and the friendliness of small towns they stop in along the way," O'Brien said. "Our drivers come from the U.S. and all over the world to participate."
Last year, the group donated $1,500 to the Galloping Goose Historical Society. In the past, Granders have contributed $5,000 toward restoration efforts for the Galloping Goose No. 5, and $10,000 for a new roof on the museum.