Bacone offers IHS senior unforeseen chance
Never asked to be the star, Elisia Cruz was simply asked by her Ignacio High School coaches to be, well, whatever.
No surprise then that on Thursday the senior committed to continue her student-athlete days at a college which only four years ago was forced to do practically, well, whatever just to stay "in the game."
Athletically, the school axed multiple sports and academically it cut faculty and sold off property.
Nevertheless, having been offered the chance, Cruz chose to ink a letter of intent to hoop for and study at reemerging Bacone College in Muskogee, Oklahoma, on Thursday before family, friends, IHS staff and others.
"Well, coach Damon (White Thunder, Bobcat boys' assistant) presented me this really good opportunity," she said, overjoyed to be taking a next step most opponents and fans never would have anticipated. "He knows how much I love the sport and how much I love basketball, so I took it, you know?"
"There was tryouts for the boys team, and I was personally invited by the girls coach to come play, try out," Cruz continued. "That's how it went! It just happened for me to be at a perfect time."
"Elisia, she came out just smiling, shaking hands … real friendly," recalled Bacone head men's basketball coach Ruben Little Head, who traveled to IHS Gymnasium for the occasion. "Really personable, positive … what not only myself but the women's coach – Coach Baker – looks for: Positive mindset, hard work ethic, and just being a good, coachable student-athlete."
Having helped Shasta Pontine's volleyball team finish 19-8 and reach the CHSAA Class 2A State Tournament, primarily backing up McCook (Neb.) CC-bound Alexis Pontine, then having helped new Lady Bobcat Basketball skipper Tony Gomez's crew go 11-11 in 2021-22 and reach the 2A-Region VIII semis, Cruz will be suiting up for a Bacone bunch in need.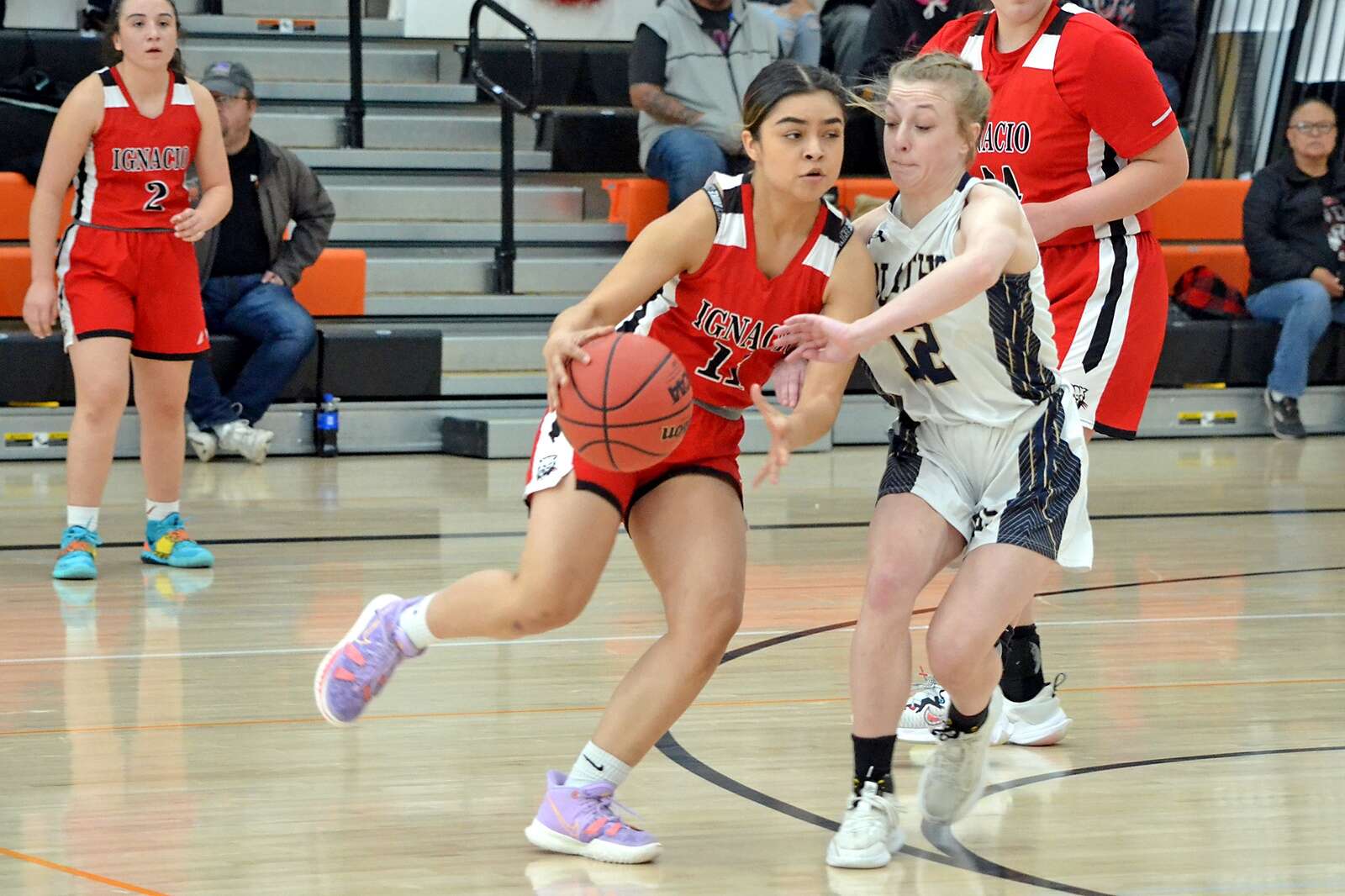 "She just doesn't quit," Gomez had said of Cruz (2.0 points, 1.4 rebounds per game). "She fights, she grinds and she competes."
The Lady Warriors finished a truncated 2020-21 season standing 8-9 overall, prior to Tera Jay Cuny-Baker's promotion to head coach in March 2021. Named Bacone's athletic director this March, Cuny-Baker's first official crew finished 1-24, downing Moore, Oklahoma-based Randall University 78-67 at the Champion Christian College Classic in Hot Springs, Arkansas.
BC did not qualify for the eight-team CAC Tournament, held Feb. 25-27 in Pleasant Hope, Iowa.
Having experienced success at IHS, Cruz indicated an eagerness to apply that toward progressing not only as a Lady Warrior on the court, but one off of it while attending Oklahoma's oldest institution of higher education. Bacone's 1880 founding predated statehood by some 27 years, but the school had to effectively be rescued in 2019 by multiple Native American tribes agreeing to charter it, and returned in late February at last to full Higher Learning Commission accreditation status.
"I think it was a really good experience to have," she said, summarizing her athletic year, which also saw her suit up for a few matches with Lady Bobcat Soccer, another sport BC offers. "Especially being my senior year – my last being a Bobcat – to have a really good team and good emotional support from my family and friends."
"I definitely know a few options (from which) I'd want to choose," she said, discussing possible classroom pursuits. "As of right now I'm going to go for my general studies, but a few options would be law, dental hygiene or business. I've always wanted to be an entrepreneur, start my own business and give back to my community."
"All of our student-athletes, when they come to Bacone, they become family," Little Head said. "We're a small private school, and that's exactly what you get: family. In the classroom, the class-size ratio is around 10-to-1, 11-to-1, so you get to know your professor on a first-name basis, get attention to detail."
Cruz was appreciative of everyone aiding her on her journey, particularly her mother Daisy Blue Star and her many coaches.
"They've helped me a lot, to find out who I was — and if I wanted to play this sport," she said. "It was very emotional to figure out, like, all the hard things coming my way, but they guided me. I'd like to say thank you to Damon; he's like my older brother. And to (IHS girls' basketball assistant) Avi(onne) Gomez for being like a sister to me."
"I'd really like to thank (IHS Girls' Basketball assistant) Travis Nanaeto for helping me," added Cruz. "He's an amazing coach – never gave up on me, never judged me – and was always there for when I wanted to shoot in the gym after practice."
"I know coach is very happy that she's able to gain another positive worker," Little Head said. "It comes down to attitude – I'd take a positive attitude and a good work ethic over a talented, egotistical selfish player – and that's just common sense, right? Coach wanted me to deliver that she's very glad Elisia decided to commit!"
"I signed the paper, something that I never thought I'd be doing; I'm very thankful for that," Cruz said. "All the people who'd have discouraged me and, you know, not given me the chance, I just proved them wrong. It's a dream come true."