Durango crop may be first to be successfully grown in the state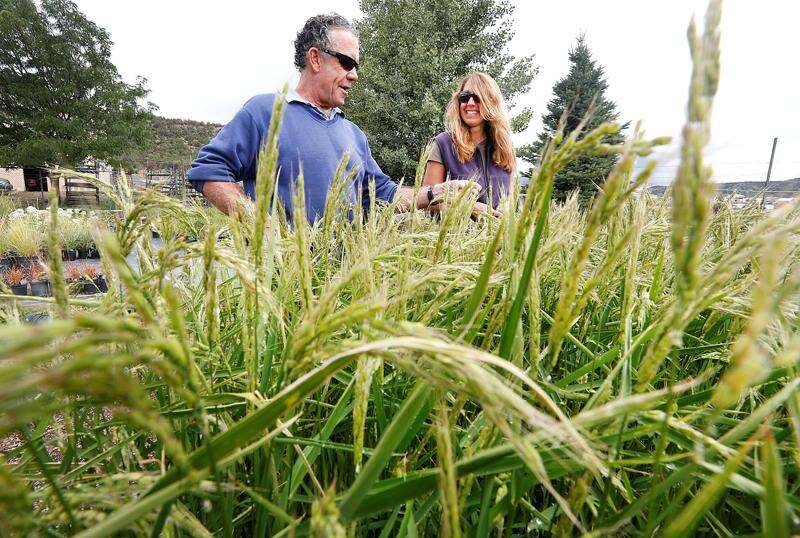 What would you say if someone claimed that rice can be successfully grown in Colorado?
"Oh, really? What kind of sake are you drinking?"
But it's true – there's a thriving rice paddy just south of town.
It's at Durango Nursery & Supply, where owner and horticulturalist Tom Bridge and his staff will soon harvest what could be the first crop ever grown in the state, let alone La Plata County.
"I've called every Colorado State Extension office, and the only person I've found who tried to grow rice was a fellow in Fruita. His experiment didn't work. So we might be pioneers," Bridge said.
Rice needs a long, warm growing season and plenty of water – tough requirements for our high semi-arid environment.
But Bridge is an undaunted gardener – and he had some serendipitous help on his improbable quest to grow something more suited to Southeast Asia than Southwest Colorado.
First, there is the type of rice. Bridge is growing a strain called Duborskian.
"It's from the Ukraine. All rice is a tender, annual crop, but this strain is tougher," he said.
How Ukrainian rice ended up in Durango is story in itself. The journey begins in Massachusetts.
Bridge was visiting his sister, Sue, at her Wildside Garden home, a sustainable property in Conway, a town in the west-central part of the state.
Sue was growing rice. In Massachusetts.
Intrigued, Tom wanted to find out more. Sue introduced Tom to her friend Christian Elwell, founder and owner of the South River Miso Co.
Miso is a traditional Japanese seasoning made by fermenting a combination of soybeans, rice, barley and sea salt. So, naturally, Elwell is tied economically and spiritually to rice. In 1982, he began growing rice in a dual-pond paddy from seeds obtained from Cornell University.
Bridge reckoned that if rice can be grown in the Bay State, it can be grown in the Centennial State.
His sister sent him some of her crop this winter. In April, Lisa Ahern, assistant manager of Durango Nursery & Supply and a Colorado certified greenhouse grower, worked her magic, germinated the rice kernels in starter cells and began growing the plants in the greenhouse. By mid-June, the rice starts were ready for the "paddy," an 8-foot galvanized stock tank.
"I needed something to control the environment, and had this big tank sitting out back," Bridge said. "It worked out perfectly."
The water in the tank warmed in the summer sun and the rice starts were immersed. Today, the rice stalks are nearing harvest time.
Chalk up the success of local rice production to warm water, Bridge said. "The rice on the outside of the tank grew faster because the sides warmed up, so it shows how temperature sensitive rice can be."
Now that rice is shown to grow at 6,500 feet among the piñon and juniper, will the cattle pastures along La Posta Road become the a hotbed for the world's most widely consumed grain? Not likely, Bridge said with a chuckle.
"Where the guy in Fruita failed was that he planted the seeds directly. You have to germinate them and grow them first under glass, then transplant them into warm water."
Small-scale rice farming fits into Bridge's approach to a more verdant and delicious world.
"I'm interested in food production in backyard units – and rice was uncharted territory," he said.
"When I first saw rice being grown in western Massachusetts and southern Vermont, I was amazed. They have been getting 100 pounds of rice out of a 37-foot-diameter paddy."
Who knows what the yield will be from Durango Nursery & Supply's stock tank. But whatever it is, the result will be ground-breaking as well as self-sustaining.
Bridge will keep some kernels for next year's crop and eat the rest.
"We just might have a customer appreciation day, with local rice and grilled bratwurst. Where else could you get that?" he said, only half joking.
"Or we could get together with the guys at Rainbow Springs trout farms just south of here and do local sushi," he said, with a hearty laugh.
Mike Smedley is the Herald's Action Line columnist and an obsessive gardener.