Two dogs and a rabbit were rescued by firefighters; family displaced
A family of six and most of their pets escaped a house fire early Sunday morning on Road K.8 northwest of Cortez, minutes before firefighters arrived, said Charlie Borden, battalion chief for the Cortez Fire Protection District.
Three other pets were rescued from the burning home. No injuries were reported.
The fire was reported at 2:30 a.m. When firefighters arrived, it had engulfed the kitchen and dining room and was moving upstairs, Borden said.
Flames were blowing out windows in the front and back of the house, he said.
Fire crews and equipment from Lewis-Arriola and Dolores agencies also responded, along with the Southwest Health System ambulance.
Firefighters poured water on the blaze and knocked it down in 15 minutes, Borden said, then searched for hot spots and did cleanup work for two hours.
Family members corralled most of their pets during their escape, but two puppies and a rabbit remained inside.
Two Cortez firefighters found the dogs upstairs hiding under a bed and rescued them. A rabbit in a cage downstairs was also rescued.
The dogs suffered from smoke inhalation. They were given oxygen by rescue crews and recovered.
The fire started while the family was asleep, Borden said. A family member was alerted to the emergency when stored ammunition exploded from the heat of the fire.
The fire caused damage, and contents of both rooms were lost. Smoke damage occurred throughout the home.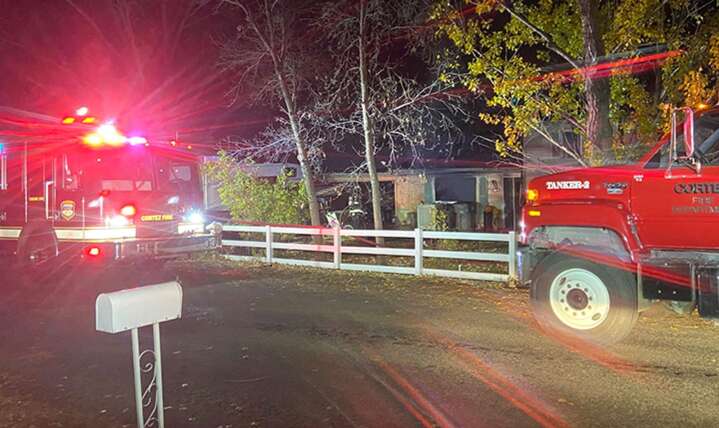 The cause of the fire has not yet been determined.
"It was the middle of the night, we are really thankful everybody got out," Borden said.
The family has been displaced until cleanup and rebuilding can take place. They were taken in by relatives.
A fundraising drive has been organized to help the family recover and rebuild, Michelle Simmons said.
Donations can be made to Dolores State Bank under the emergency account of Mariah and Crue Robertson.
Donated clothing can be dropped off at the Montezuma Republicans office on Main Street in Cortez during business hours.
jmimiaga@the-journal.com