Open house Sept. 17 at municipal airport features plane and helicopter tours
More than 500 people attended the Four Corners Fall Fly-In Saturday at the Cortez Municipal Airport.
The event featured free sightseeing flights, helicopter tours, aviation information, aircraft displays, Civil Air Patrol, a classic car show, food trucks and Cortez aviation history.
A centerpiece was the plane for Denver Air Connection, the new commercial carrier for Cortez, which will begin service Oct. 1.
The public toured the airline's twinprop Metroliner. It is configured for nine passengers but has a capacity for more than double that.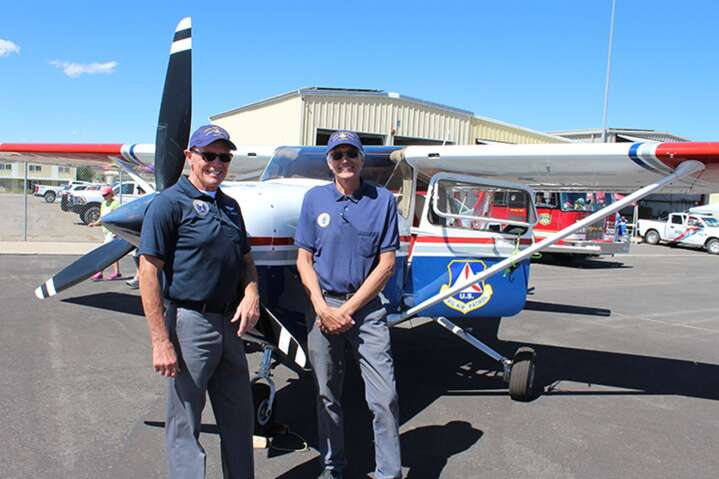 The pressurized plane can fly at 23,000 feet elevation and cruises at 250 to 330 knots, said cargo pilot John Peterson. Each turboprop has 1,100 horsepower.
"It is smooth and able to fly above most turbulence," he said.
Another benefit is the plane is flown by two pilots, a captain and first officer. The Metroliner can fly through clouds and is equipped to handle atmospheric icing.
The Mesa Verde Squadron of the Civil Air Patrol were present at the event to provide information on program opportunities for youths ages 12 to 18.
Cadets receive aerospace education and get flight instruction in a Cessna turbo T-182, said mission pilot Chris Roach.
"We have been in Cortez for 30 years," he said. "It is a great opportunity for youths to get a head start in the industry."
During the coronavirus pandemic, enrollment dropped to 10 cadets from 20, but it is rebounding, and enrollment slots are available, said Jeff Bynum, a transport mission pilot.
Cadets receive five pilot training flights and five glider flights, and the training counts toward a pilot's license. The program is affordable, with annual dues of $60.
If the cadet goes into the military, flight training in Civil Air Patrol counts toward military rank.
Civil Air Patrol meetings are held every Tuesday at 6:30 p.m. at the American Legion, 320 N. Harrison St. in Cortez.
Down the tarmac, Montrose Helitack showed off its Bell 205. The Type 2 firefighting ship has hoist capabilities for rescues and firefighting and has a 270-gallon bucket. It can hold a nine-person firefighting and search and rescue crew.
Also at the event, flying enthusiasts Garth Greenlee and Gerald Vincent met with the public and told stories of Cortez's aviation history.
Southwest Memorial Hospital's Classic Air Medical helicopter was on display, and visitors talked with the crew.
Colorado Highland Helicopters, of Durango, offered helicopter sightseeing flights for a fee.
The event had information for the Cortez Flying Service Flight School, and a flight school out of Farmington Experimental Aircraft Association had displays.
"It is a giant aviation open house," said Cortez Municipal Airport Manager Jeremy Patton. "There's a lot of excitement for it from pilots and the general public. It has generated a lot of interest in the schools."
Patton said the goal of the event is to raise awareness of local aviation services and inspire the next generation of aviation professionals.
"There are a lot of great jobs in this industry that pay well and are fun, challenging and adventurous," he said. "Cortez is a great place to get your start in an aviation career and connect with mentors. The Fall Fly-In is where people can learn about all the opportunities we have in our community."
Airport upgrades
When Denver Air Connection begins servicing Cortez in October, it will offer two daily round trips to Denver International Airport and two daily round trips to Phoenix Sky Harbor International Airport. It will replace Boutique Air.
The Cortez Municipal Airport is licensed for commercial carrier service with up to nine passengers per flight. The new airline has a capacity of 30 passengers but was refitted to carry nine for the Cortez route.
Patton said the airport is upgrading to meet FAA qualifications for commercial carrier service for up to 30 passengers. The goal is to qualify by next year.
At that point, Denver Air Connection is prepared to provide commercial carrier service with twin-engine jets that have 30-person capacity, he said. Patton noted that the new air carrier has larger cargo capacity than Boutique Air, with more room for skis, snowboards, bikes and golf clubs.
The Cortez Municipal Airport has seen increased business because of the recent temporary runway closure at the La Plata County Airport, Patton said.
jmimiaga@the-journal.com